TigerDirect has good deal on it this weekend.

I have been using mine for the past month with with excellent results. No problems with any of the reported issues that I have read.

I have the projector ceiling mounted with 7m hdmi cables and power on a battery backup.

Main video source is a Macbook Pro with HDMI to DisplayPort convert.

2010 build date

not even lost settings? (i.e. user color, eco mode, quick power on/off) that's strange. did you happen to look at your firmware version?

Not as of yet. I will check the firmware tonight and let you know.

In over two months usage, the only settings ours won't remember is the mute (for the built in speakers). The easy workaround for this is to set the volume to 0, and it appears to remember that.

In a couple of hundred on/off cycles (626 hours), it's only forgot "everything" two (maybe three) times, and it takes about 20 seconds to fix them.

Firmware 1.18. Sticker date "October 2010". Remote has solid buttons (not translucent).
Connected to a Denon receiver via a 25ft HDMI cable, which pipes out signals from the blu-ray player and the Xbox360. Ceiling mounted upside down.

thanks. I have 1.13 and it forgets a lot. if they only supported user upgradeable firmware like their other projectors do...*sigh*

Finally checked and I am on 1.18 as well.

It seems that everone's price on this model went up $80 - $100 on the same day. Three days ago I could have bought one from an online retailer I often purchase items from for $785 delivered, today that price is $875. And the price went up for all of the retailers I had been considering, and they all went up on the same day. What gives?

interesting that owners of the projector review good and the bad thing, clear panorama to have, of buying futures. Thanks

well, its time to mount my pro8200 projector :3
this is the projection room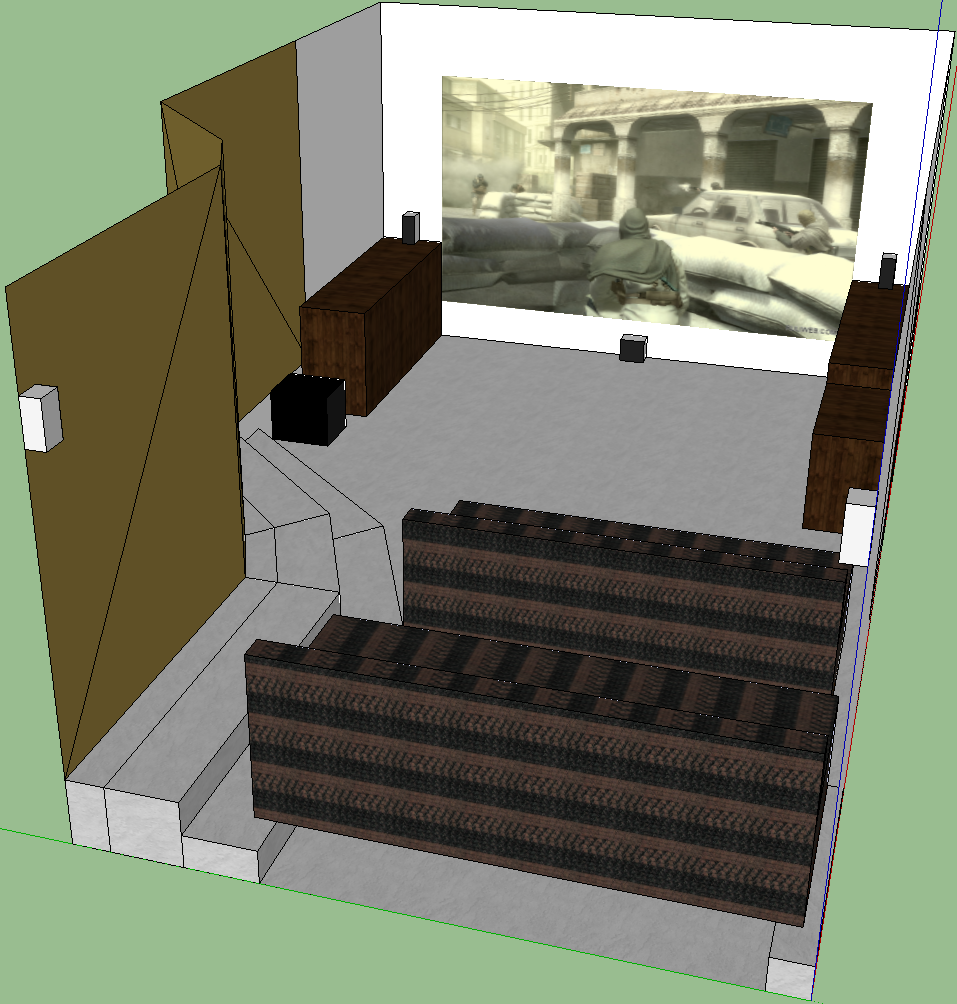 the screen size is 135'', so the projector is projecting the picture 58 (!!) cm lower then his lens
its ok but a bit to low for me, a floor mounting is not possible.
my question is, will it be allright to mount the projector at an angel that is not algined 90 degrees with the wall? or the image quality will take to much damage.
thank you,
Orof
Assuming the PJ has a keystone adjustment, you should be able to tilt the PJ. But know that it will probably decrease resolution a tad.

as i suspected.
so the best thing to do is to set it directly infront of the wall.
thank you
Hi all,

I have a 20x11' room with 12' ceilings. I want to use a projector for a near full time PC display (4 - 12 hours/day), occasional multimedia use (films), and occasionally taking it on the road. The Pro8200 seems like a reasonable choice with its 6000 hour lamp life and light weight. Is anyone using it for this purpose, and are there issues such as the lamp not lasting as long when run full-time, or soft focus for text? I don't expect perfect, but it has to be "good enough" for typical PC uses (web browsing, spreadsheets, etc).

Thanks!

Have you checked into VSs business PJs?

For typical PC use, suggest you check out BenQ MW512 - 6000hrs lamplife, 2700 lumens brightness, Wxga (1280x800) native panel resolution. @ $650 on Amazon

I don't understand why you would recommend a projector with 800 horizontal lines over one with 1080 horizontal lines for PC use.
That said, I've used the Pro8200 for PC use and it works surprisingly well. Very sharp, even at 100"+ sizes and excellent contrast.
Thanks.. indeed, if it's going to be 100+ diagonal inches, high resolution can really be exploited.
The Pro8200 seems like a crossover data (business)/film projector, which is why I'm most interested in it. The main thing that's holding me back is "DLP rainbows," since I've always had LCD in the past.
Rainbows are primarily seen with strong vertical light-or-white sections on dark backgrounds. This is not terribly common when using a monitor.

I can make myself see rainbows on the Pro8200, but I can also make myself see them on DLP TVs, and I've had DLP TVs for about 7 years... It's never bothered me, or anyone else I've met in person. Unless you have a physical ailment that rapidly cycles your eyes back and forth, I think rainbows are nothing more than a curiosity.

Thanks again tremor13. If the unit I get works perfectly the Pro2800 seems like the best choice for my needs, so I've placed an order. Now I just need a roller screen that can cover most of the big window, I will try to find a flat grey model.

PC in normal use is typically set at xga (1024 x 768) resolution. The BenQ's 1280 x 800 resolution, I thought, would be just perfect besides it costs alot lesser than the Pro8200.
I use mine in 720p and 1080p for computer applications and I don't see the point of 1080p for that application either. I actually prefer 720p for computer use, and 1080p for playing video. personal preference and what you get used to I suppose.

With the large size (no squinting), why would you not want more resolution? Maybe it's just my typical task (software development), where I want as much screen real estate, in resolution and size, as possible.
it's just much easier for me to see. the larger the resolution, the smaller everything is (icons, text, etc). My screen is 80" and it sounds like yours will be much bigger which will probably make a nice difference.

I'm looking to get a <$1000 projector. I've narrowed it down to the Optoma HD20/200X or Viewsonic PRO8200. I've scoured both threads here at AVS. From what I comprehend, the PRO8200 seems have slightly better performance, but suffers from fairly buggy firmware issues and poor customer support. I plan on using the projector in my basement viewing room for the occasional movie and some PS3 gaming.

I plan on posting this in both threads to get contrasting viewpoints.

Thanks

Did you check out the Panny AE4000?

it is possible to be regulated the six colors independently, Red, Green, Blue,Cyan, Megenta, Yellow? thanks

I ordered my Pro 8200 from NewEgg last week. Received it yesterday.

Build Date: July 2011
Firmware: 2.13

I have only played with it for a couple of hours but from the 4 power cycles, I havent lost any setting yet. I bought it for $720 after 10% discount.

Do you think ordering the 80" pull down screen with $40+ s&h charges is a good value?

Can someone please provide your calibrated settings for the PJ. I used the values provided on ProjectorRevies but wanted to see if anyone else has been able to further fine tune it?

I just received my 8200 last night. I only tested it for about an hour, but the black levels are respectable and I thought the image was sharp, but I really need to calibrate the colors better. I want to second srikps request for any detailed color calibration settings.

FYI my unit has a build date of July 2011.

Thanks!