Member
Join Date: Nov 2009
Location: NorthEast
Posts: 39
Mentioned: 0 Post(s)
Tagged: 0 Thread(s)
Quoted: 0 Post(s)
Liked: 10
Hello everybody,
Once again I must reach out to all of you to get some advice. I am the proud new owner of a Sony VPL-HW10 projector, which has a stunning picture. (i purchased it used). I have decided to go with a 92" screen, which is going in my living room, but will only be used in the evening for movies with complete light control of the room. I have ordered a cinetension2 cinegrey screen with a gain of 1.0. I am wondering, would I see a big difference between that and the cinewhite 1.1 gain version of the same screen. I have been projecting on my white wall all afternoon and have been blown away, but feel that the brightness of the picture is just where I would like it, in one of its brightest modes. I feel the contrast has been fine so far, with both Kung Fu Panda and The Dark Knight. Should I return the cinegrey screen for a cinewhite? will I notice a big difference. I like good black levels, but also likes a picture that pops, and on my white wall, with the 2.4:1 picture of Kung Fu Panda I couldn't even see the black bars on the top and bottom(blew my mind!!). any advice would be greatly appreciated as I have ordered the cinegrey already but dont see it being too much of a problem exchanging it for the cinewhite. thanks!

some info:
projector throw distance: approx 13'-14'
screen size: 92"
very low ambient light
primary use: movies(thats it!)
Senior Member
Join Date: Feb 2007
Location: Upstate, Ny
Posts: 287
Mentioned: 0 Post(s)
Tagged: 0 Thread(s)
Quoted: 0 Post(s)
Liked: 10
Is there a way to temp instal the screen just to test it out before sending it back? That way you can tell if there even is a problem with the screen you have. I would test out the screen you have and then if it doesn't have the look your after, then exchange it for the other screen. my $0.02.
---
.."wouldn't you like to be a pepper too?"
AVS Forum Special Member
Join Date: Jun 2004
Location: arkansas
Posts: 3,118
Mentioned: 5 Post(s)
Tagged: 0 Thread(s)
Quoted: 794 Post(s)
Liked: 204
Grey screens are for ambient light. 92 inches though should still be plenty bright.
Join Date: Dec 2006
Posts: 9,076
Mentioned: 0 Post(s)
Tagged: 0 Thread(s)
Quoted: 0 Post(s)
Liked: 19
Quote:
Originally Posted by
arikmichaelp
Hello everybody,
Once again I must reach out to all of you to get some advice. I am the proud new owner of a Sony VPL-HW10 projector, which has a stunning picture. (i purchased it used). I have decided to go with a 92" screen, which is going in my living room, but will only be used in the evening for movies with complete light control of the room. I have ordered a cinetension2 cinegrey screen with a gain of 1.0. I am wondering, would I see a big difference between that and the cinewhite 1.1 gain version of the same screen. I have been projecting on my white wall all afternoon and have been blown away, but feel that the brightness of the picture is just where I would like it, in one of its brightest modes. I feel the contrast has been fine so far, with both Kung Fu Panda and The Dark Knight. Should I return the cinegrey screen for a cinewhite? will I notice a big difference. I like good black levels, but also likes a picture that pops, and on my white wall, with the 2.4:1 picture of Kung Fu Panda I couldn't even see the black bars on the top and bottom(blew my mind!!). any advice would be greatly appreciated as I have ordered the cinegrey already but dont see it being too much of a problem exchanging it for the cinewhite. thanks!
some info:
projector throw distance: approx 13'-14'
screen size: 92"
very low ambient light
primary use: movies(thats it!)
I would stick with the grey 1.0 gain screen, but I would mount the projector at 11'. That would increase your foot lamberts so that you could use econo and later once the lamp fads more, go to normal power to make up for the lost lumens. You do not want to have a set up where you are requiring max lumen output from the projector from the start. That will cause you to replace lamps quicker. I take it that you are the guy that bought Dragonbud0's HW10? Congrats.
Join Date: Dec 2006
Posts: 9,076
Mentioned: 0 Post(s)
Tagged: 0 Thread(s)
Quoted: 0 Post(s)
Liked: 19
Member
Join Date: Nov 2009
Location: NorthEast
Posts: 39
Mentioned: 0 Post(s)
Tagged: 0 Thread(s)
Quoted: 0 Post(s)
Liked: 10
Due to the SciFi channel's never ending Back to the Future marathon, I'm flush with quotes
so allow me to thank everyone and to also quote Marty McFly "it's been...educational".
Everything I have read in the past year or so, and believe me I have been an avid AVS stalker for a while now; has pointed me to a grey screen for my particular situation, But as I'm sure all of you can relate to, it's nice to get some reassurances from some experts in the field (or atleast enthusiasts!
).
Also, to quote president Reagan, and recently used in one of Obama's speeches (which his speech writer ripped off from Reagan!), "doveryai, no proveryai" or for you non-russians out there (me included) "Trust, but verify".
Also, I have been wrestling with various ideas of how and where to mount this projector so that it looks nice, however this being an apartment, I can't REALLY run the wires inside the wall or attic. But the more I look into it, the more I am realizing that I need to ceiling mount and have the wires run exterior of the wall. ( it will look bad though!). also, I have a popcorn ceiling, anyone have any advice on how to mount the mount to such a surface without causing significant amounts of damage!?
**one idea of wire concealment, is to have the projector mounted to the ceiling with the lens at 11' which will leave about 2 to 3 feet of clearance from the back wall and the rear of the projector. Perhaps a hollow column running from the floor to ceiling could conceal the wires? has anyone seen or heard anyone trying this? will a column be too 1980s? Am I asking too many questions!?!?!?
Finally,
@ MJG100 - Yeah, I'm the guy that snagged the HW10 from Dragonbud0. He was a pleasure to deal with and very informative. overall, a very nice guy and hopefully in a year or two he will be selling whatever projector he is going to go with next and maybe I'll snag that one too!
Again, thank you all for your advice. I will post pictures as this project progresses!
AVS Forum Special Member
Join Date: Dec 2008
Location: Philadelphia
Posts: 5,627
Mentioned: 11 Post(s)
Tagged: 0 Thread(s)
Quoted: 391 Post(s)
Liked: 307
How about a shelf mount .. could be a free standing bookcase or top of a cabinet behind the seating.. no holes required..
Member
Join Date: Nov 2009
Location: NorthEast
Posts: 39
Mentioned: 0 Post(s)
Tagged: 0 Thread(s)
Quoted: 0 Post(s)
Liked: 10
Quote:


How about a shelf mount .. could be a free standing bookcase or top of a cabinet behind the seating.. no holes required..
I have considered this avenue, however there are a few reasons why it has not been the most appealing solution. A) There is a window directly behind where the projector would have to go, so a bookcase would block it, and a shelf would not work out so well. blocking it isn't really an option as during the day it is nice to get the natural light in the room. B) the bookcase would have to be, more or less, placed so that the back of the primary couch is right against the front of the bookcase, in order to achieve the throw distance that I am after, that is not really a pretty solution, as far as aesthetics. I'm not a decorator or anything, but I really don't want to make my room look cheesy just for a projector. Thank you for the suggestion, however, it has been tossed around.
Quote:
originally posted by me! arikmichaelp on 5/16/2010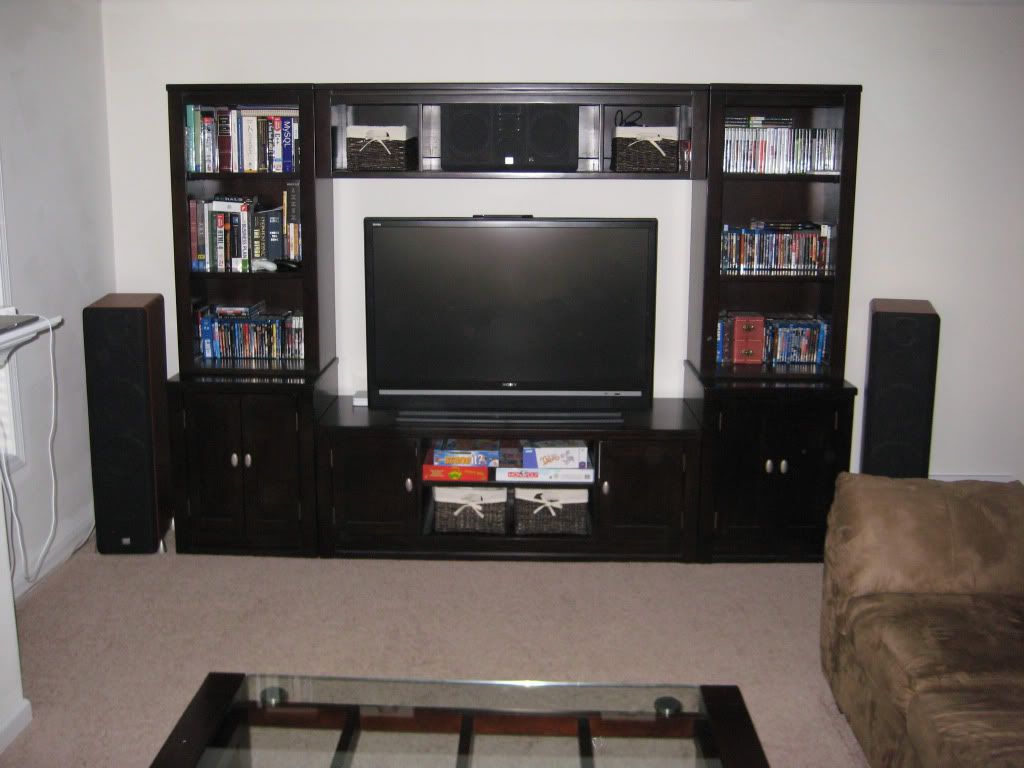 My daily setup consists of a Sony 50" 1080P SXRD rear projection, which has an amazing picture, I had it professionally calibrated, and Seeing the picture on this set has spoiled me to no end.
So the ideas:
For the screen, I am thinking about mounting it off of the top of the entertainment center; I was going to construct a hollow box roughly 8 inches tall out of wood, wrap in in black velvet or something like that (something black and non-reflective) so that it doesn't look like wood. then mount the screen to that box and run the wires through it to the back of the entertainment center. I figure that will look better then hanging it from the ceiling? any thoughts? I saw this done on another forum, and I am confident that with a little creativity I can do it in a way that looks even better. My entertainment center is 110" wide, whereas the projector screen housing is 108" wide, leaving 1" per side. I feel that will look better then having it overhang, as I have seen in other forums.
As far as the projector:
From bookcases, custom built pedestals, projector wall mount arms and ceiling mounts; I have been spending a considerable amount of time deliberating on which option will afford me the best looking outcome as well as a secure and flexible installation. As stated above, I do not think a bookcase will work very well, so that option has gone out the window. (see what I did there!?
). For the same reasons, the pedestal is also a no go. In the infamous words of my brother, who shares this apartment with me, "negative ghost rider, pattern is full", which was his way of killing the hideously simple, yet still hideous looking concept of the custom built pedestal. I know the quote is Top Gun, but it works coming from him because he just happens to be a flight engineer.
This leaves wall mount arm or ceiling mount. Either way, I imagine the projector will be at a height that requires the projector to be in the inverted or upside down configuration, due to the image drop inherent with the lens of the projector(and most projectors; or so I gather from my research). So no matter what I do an adjustable mount of some sort WILL be required, or so I surmise. The mount that has won my heart for various reasons can be seen here:
http://www.peerlessmounts.com/dyn/Pr...categoryID/193
or seen here:
http://www.amazon.com/Black-Precisio...3918115&sr=8-5
The thing about ceiling mounting is, A) this is an apartment, and B) I have popcorn ceiling, which I have to believe mounting the mount to the ceiling will damage that ugly ceiling finish, and I wish to keep my security deposit intact!
So, this leaves me wall mount, but There is also a problem here. the plane of the lens, when parallel with the rear wall, requires a distance equal to 65" to obtain a 11' throw from the projector to the screen. So, I am pretty handy; and I am now in the process of designing an arm that mounts to the back wall, is hollow for wire management, and will allow me to mount the bracket and projector at the end. I haven't run the math on the Moment force yet, But I imagine that if I design it for a 35 pound load at the very end, I should get an idea of the forces involved. Has anyone done this, heard of this, seen this? I am really curious if I'm alone with this conundrum. positive/negative feedback welcomed!
Senior Member
Join Date: Feb 2007
Location: Upstate, Ny
Posts: 287
Mentioned: 0 Post(s)
Tagged: 0 Thread(s)
Quoted: 0 Post(s)
Liked: 10
So, here are some teaser shots - pictures and build write up to come...
The glare in the second pic is in the movie. More to come.
---
.."wouldn't you like to be a pepper too?"
Posting Rules

You may not post new threads

You may not post replies

You may not post attachments

You may not edit your posts

---

HTML code is Off

---