Member
Join Date: Jan 2012
Posts: 16
Mentioned: 0 Post(s)
Tagged: 0 Thread(s)
Quoted: 0 Post(s)
Liked: 10
My Wife and I are building a house, and we are putting in a media room over the garage. I would like to do a dedicated home theater, but I think it will turn into more of a media/play room. That being said, I need help deciding which projector and screen would be best for us. I tried to visit the only local company that handles theater rooms, but they would not give me the time of day. We are looking to spend up to $2,500 on a projector, but we would prefer to be around $1,500. We would probably go an additional $500-$1,000 for a screen

Room dimensions:
14' wide
26" length
8' ceiling height (knee walls start at 5")

There will not be much ambient light in the room, as it has one window that I plan on blacking out.

I see that a lot of people recommend the benq w6000 or the epson 8350/5010 projectors. We have had a large DLP TV in the past and we did not have any RBE problems. We have an LCD TV now, and we like that picture also. We will watch 30% movies, 30% sports, 20% HDTV, and 20% gaming. We have a 3D TV in our Den, so 3D is not a big selling factor for us. What would everyone here recommend?

As for the screen, I would like to go with 120" fixed frame. If I go with 120" it will have to be mounted about 6' high and the bottom of the screen would only be about 14" of the floor. Is that to close to the floor for comfortable viewing? Also, would the sloped ceiling give me problems with light reflection because they will be so close to the screen? I plan on painting the ceiling/kneewalls a flat black or dark brown.

I would really appreciate any advice you could offer.
AVS Forum Club Gold
Join Date: Oct 2004
Location: Houston
Posts: 4,604
Mentioned: 0 Post(s)
Tagged: 0 Thread(s)
Quoted: 6 Post(s)
Liked: 20

Run power and 2" conduit from your rack to your PJ location, pre wire your speakers, then come back when your house is done. PJ tech only gets cheaper and better all the time. If you buy something now you will only regret it later.

Same is true of most of the other components, though less so for speakers and subs than receivers.

If you really want to do it up go to the dedicated theater design and construction forum and read up about some of the optimizing things people do to get the room right (see the 4th link in my sig).
Member
Join Date: Jan 2012
Posts: 16
Mentioned: 0 Post(s)
Tagged: 0 Thread(s)
Quoted: 0 Post(s)
Liked: 10
Thanks for the advice. I have looked at a lot of the theater builds over there. There are some really great looking theaters out there.

I was trying to get an idea of which projector I wanted so I could have power an conduit run to the proper place. It seems like there could be some variance in where the power drop should be because of the throw distance. Am I thinking about that wrong?
AVS Forum Club Gold
Join Date: Oct 2004
Location: Houston
Posts: 4,604
Mentioned: 0 Post(s)
Tagged: 0 Thread(s)
Quoted: 6 Post(s)
Liked: 20
Take each of those models and play around with their throws to determine what placement works for each model and each screen size. Come to a consensus spot based on that. There are calculators at the vendors.

If you are only 30% movies you may want to stick with 16:9, but if you want a bigger impact for movies the other variable is if you want a 2.35 scope screen.
Member
Join Date: Jan 2012
Posts: 16
Mentioned: 0 Post(s)
Tagged: 0 Thread(s)
Quoted: 0 Post(s)
Liked: 10
DIY Granddad (w/help)
Sloped Ceiling Bonus Rooms often present unique challenges. But seldom nothing that cannot be accommodated if one has even a modicum in flexibility and willingness to do what "must" be done.
Probably 75% of all the dozens of Home Theaters I've done over the last 8 years have been sloped Ceiling / Kneewall "Bonus Room" affairs, so I might be able to offer you some insight on what you can do, should do...and what you should either try to avoid, or run screaming the other direction from altogether.
A prudent choice of color for the Sloped Ceilings, one that has as little potential for Screen output reflection as possible is a good start.
**
The more consideration given to that particular, the closer you can let the Screen's upper corners crowd the slopes, resulting in the gain of a few extra inches of height off the floor for the bottom of the Screen. In the Bonus Room Theater example shown below, you'll note how close the upper corners of the Screen are to the sloped Ceilings, and that even with a ultra dark Flat Brown paint, that a very small degree of reflection can be seen when viewing a very bright image such as the Supernova Nebula pictured. But at least such a small degree of reflection does not affect the overall quality of the available contrast the projector delivers. (see the second image below taken in a completely darkened room...)
An Example of a 110" diagonal DIY Screen in a 14' wide Bonus Room that has Tan Walls and a Dark Brown Shadow area that encloses the Screen wall and adjoining sloped Ceilings. PJ is a Panny 2000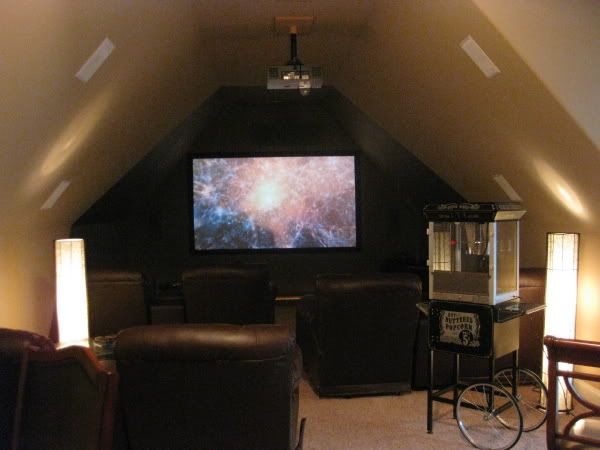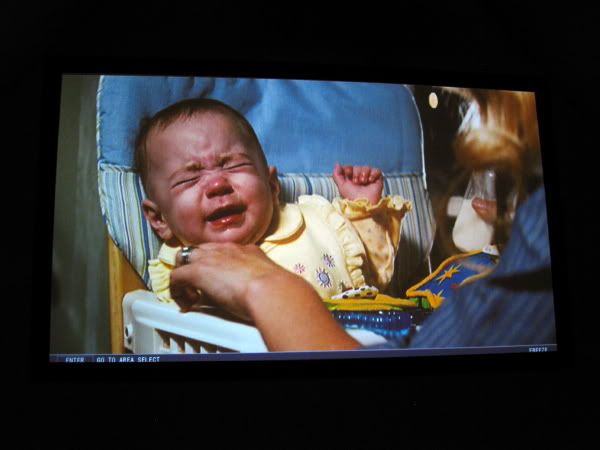 So don't cry....there is potential for great things ahead!
Your desire for a 106" -wide" 120" diagonal screen in a 14' wide (floor width) room is definitely a factor in your needing to mount the Screen so low. While this won't be so terrible a thing for anyone viewing from a single row of seats, the sheer height of the back of such seating will block the lower area of the screen from view if someone is standing back further than 6' from the single row of seating.
That being said, either you need to scale back to a 100" Diagonal Screen (85" wide) and collapse your viewing distance so as to make the smaller screen present the same viewing aspect of the larger screen, or accept the fact that viewing content from the seats is an activity that is removed from doing so further back in the room.
The construction of a 12" high Riser can afford you the potential of adding a second row of seats (...something many if not most dedicated Theaters posses...) Opting for the smaller screen, and therein being able to raise the height of it's placement also serves to allow for such.
Sound. Well, although you didn't mention it, making a good choice as far as speakers, and arranging speaker placement is absolutely critical in such spaces, because frankly, they are terrible as far as acoustic considerations.
PJ choice & placement is also critical due to the shape of the Room / Screen wall, and proximity of the Sloped Ceilings. You need to place the PJ within 10% of it's minimum Throw distance, and as high onto the ceiling as possible. This means selecting a PJ with considerable Lens Shift capability, or one that has at least 14" of image offset. The latter will however require that you mount the Screen to a specific height to accommodate that preordained limitation.
Absolutely you'll need to consider a High Contrast Gray Screen to offset room reflections and to assist in improving Contrast (8350) or allow the selection of a PJ like the 5010 and let it cruise along on Low Lamp mode for the duration.
Is the room still under full construction with Stud Walls open? Any thought given so far to location of the A/V equipment?
Lots to consider...and while for some of us the obvious answers might seem almost intuitive and simple, making such decisions fall squarely on you, and you schedule, budget, willingness to consider alternatives to preset ideas, and above all else, a goodly helping of patience should you decide to elicit several opinions.
That's it for now....more input as to you actual needs, wants, desires, and expectations is needed to really hone in on a definite route to take.
You may PM me for specific and detailed advice on any aspect of your build, and then weigh my responses against others you'll get. This being a Forum dedicated to projectors, waxing too prolific on the entire Build process might grate a bit on some.
Feel free to post up a dedicated Thread here. We can help you on all points.
http://www.avsforum.com/avs-vb/forum...rune=365&f=110
But in closing, let me state that if the budget can stand it, opt for the 5010, and don't be reluctant to instead go for the 8350, as the savings you'd realize between the two by going for the 8350 will allow you all the more leeway for any unexpected but absolutely necessary decisions (...and expenditures...) that are bound to surface....soon.
Posting Rules

You may not post new threads

You may not post replies

You may not post attachments

You may not edit your posts

---

HTML code is Off

---