Newbie
Join Date: Apr 2004
Posts: 4
Mentioned: 0 Post(s)
Tagged: 0 Thread(s)
Quoted: 0 Post(s)
Liked: 10
Hello, we are remodeling our kitchen. On one wall we are flush mounting a Apple 23" Cinema display connected to a PC in a remote location through in wall wiring. We will watch TV and play music from on this computer and I am looking for decent speakers to compliment it.

I have wired for two in ceiling speakers about a foot off the wall and about 2 to 4 feet apart, centered on either the display. The speakers are not in the wall because its a thin (4") external wall and they would subtract form the insulation. (old house). I could also place a center speaker on the wall surface below the display, but I have not yet found one of suitable size and dimensions.

I am concerned that when watching tv, if the sound is only coming from those ceiling speakers, the audio will seem displaced from the display. Its an 8' ceiling and one typical view area is about 8' away (the kitchen work area) and the other is 3' from the display (the breakfast table is right in front of the display)

Question 1) Is this true? Or would picking the correct stereo ceiling speakers provide acceptable TV viewing and music? Its a kitchen so we are not looking for Home Theatre like quality, but I am hoping for something a little better the typical built-in TV speakers.

I would like to mount a small, flat 'center' speaker just below the display on the wall surface, but the aesthetics are important. The Apple monitor lays flat against the wall (we recessed the mount), so ideally the speaker would be on the order of 1" to 2" thick and less than 21" wide. The display is 21" x 14" x 3/4".

Question 2) Does anyone know of a small, flat, wall mountable center speaker? I have not been able to find any. A flat bar speaker would be acceptable.

I am looking to spend several hundred on each speaker, but would consider any price for a speaker that works well in this setup.

Thanks for your time considering my situation. Over the years the members of AVSForum has been a great help to me and I appreciate it.

--BobG
AVS Forum Special Member
Join Date: Aug 2004
Location: sierra ecuadoriana
Posts: 6,155
Mentioned: 0 Post(s)
Tagged: 0 Thread(s)
Quoted: 205 Post(s)
Liked: 114
You probably won't find any center less that 5" deep. And if you did, probably won't sound very good.
Using in-ceiling speakers is not a good idea at all for front speakers, even ones that can be angled.
The center I would use for that situation is a JBL Studio LC2 center. Its 12-1/4" x 22" x 5" (H x W x D). It is an inch longer than your screen, but it is a very good center, and comes with a wall mounting bracket. Available in Beech, Cherry, Black
And can be found for good prices on Amazon and Harman Audio ebay store.
Here is a pic and the matching wall mount L810, L820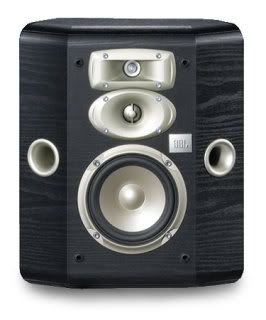 ---
Custom, one of a kind pair, MJC212 mains, mod PT800 center, PT800 surrounds, SUB1500s. Parasound P7, Citation 19, Parasound HCA2205A, HK AVR3600, Marantz TT, Samsung BD player, Denon DVD-A player, MacBook Pro w/ Dirac Stereo Suite.
Posting Rules

You may not post new threads

You may not post replies

You may not post attachments

You may not edit your posts

---

HTML code is Off

---