Advanced Member
Join Date: Jun 2012
Posts: 791
Mentioned: 0 Post(s)
Tagged: 0 Thread(s)
Quoted: 61 Post(s)
Liked: 69
Damn, Don, you nailed it! That is EXACTLY how I see it.
Member
Join Date: Jul 2004
Location: NC
Posts: 102
Mentioned: 0 Post(s)
Tagged: 0 Thread(s)
Quoted: 8 Post(s)
Liked: 20
I sure miss my Tympani IVa speakers, as there's no substitute for cubic inch displacement.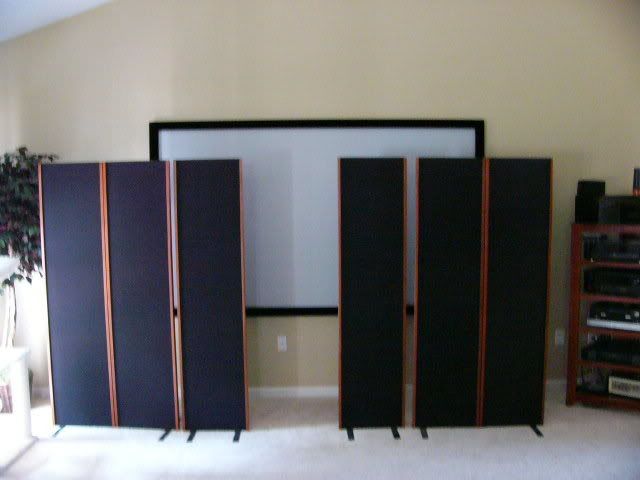 And since I sold them I built the 8ft long sub with (4) 18" Stereo Integrity drivers. I have contacted the guy I sold them to and we are waiting till he moves here to retire so that I can buy them back.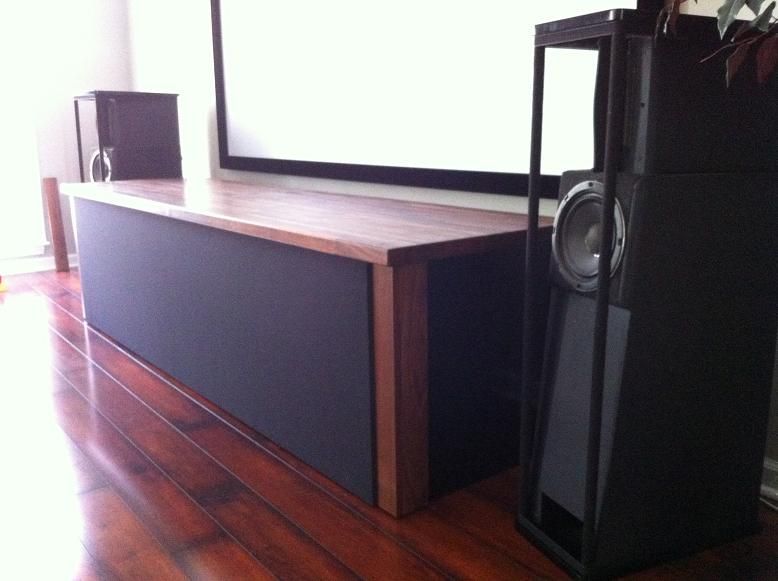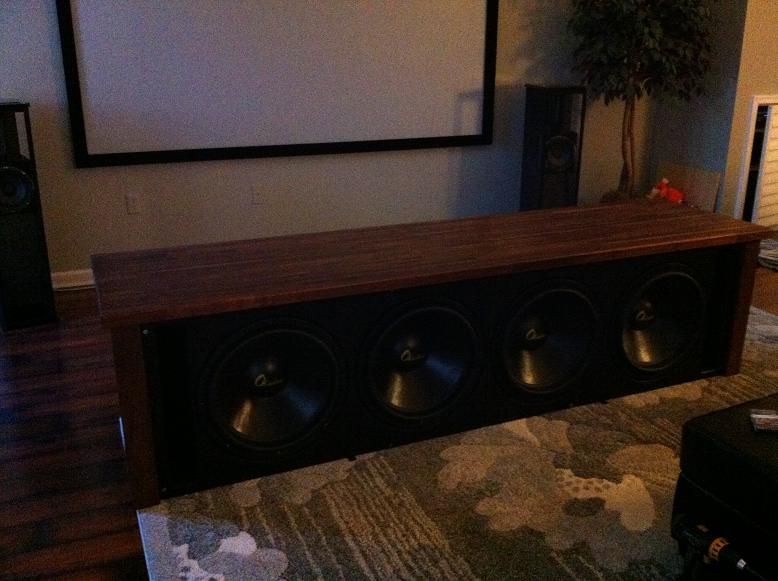 ---
Earth: The Insane Asylum of the Universe, nowhere else could things be this screwed up.
---
Last edited by 16hz lover; 04-11-2015 at

06:02 PM

.
Advanced Member
Join Date: Jun 2012
Posts: 791
Mentioned: 0 Post(s)
Tagged: 0 Thread(s)
Quoted: 61 Post(s)
Liked: 69
I'm really hoping my next house will have a room big enough for me to be able to have my T-IV's (not a's, though) set up as woofers.
Member
Join Date: Mar 2014
Location: CR Iowa
Posts: 55
Mentioned: 1 Post(s)
Tagged: 0 Thread(s)
Quoted: 27 Post(s)
Liked: 16
Super MMG to .7...upgrade, sidegrade, or ?
---
Engage OCD:

I'm planning on having dual subs in my setup (AVR with Audy XT32 dual sub mngmt) in the very near future and I'm looking at the 2 DWMs with the Super MMG as being superfluous. I've done several configuration experiments with REW measurements and I'm not finding a measured justification for having DWMs at all even with the single budget sub I have now. In addition, another motivation to change my front speakers is that I'd like to change the color over to all black since I changed over to a projection setup after the SMMG purchase. My room is 10x12x8 and I'm pretty sure 1.7s would be too large. That leaves the .7.

Is the all QR panel of the .7 a significant sound character difference than the QR/PM combo of the MMG/SMMG? I ask because I had MMGW/MMGC center/surrounds at one point and could never get them to match the main MMGs. Moving to MC1s for surround and going without a center channel made a night and day difference. It's completely seamless now and I'm concerned that the .7's all QR panel might have a little sound character mismatch with the QR/PM of the MC1.
---
Life is Lambertian
Senior Member
Join Date: Jul 2006
Location: Long Island, New York
Posts: 230
Mentioned: 0 Post(s)
Tagged: 0 Thread(s)
Quoted: 33 Post(s)
Liked: 37
I am quite happy with my CC5/DWM center channel, especially regarding matching the LR's and Surrounds (see my signature).

Here is some food for thought: My room is a dedicated music/theater room 11x13x8. I am not using projection, a 60" Sony instead. All my Maggies are black, the walls painted a deep, dark, slate blue ..... and when the lights are dim ....... all those panels simply disappear visually. Don't dismiss the 1.7's too quickly unless their ideal position in your room interferes with the image "throw" of your projection.

I keep a bucket beneath the seat in the main listening position. It is used to catch the jaws of all who hear my system for the first time.

Last side note: An Emotiva XMC-1 w/Dirac Full Live Upgrade and a Cross Spectrum Labs Calibrated UMIK-1 is sitting, boxed, in my home waiting to replace my UMC-1. As soon as work frees up and I install it and "settle it in" I will report back.

Good Luck with your adventure and let us know how it goes!
---
Magnepan 1.7's (LR)
Magnepan CC5/DWM (Center Channel)
Magnepan MC1's (Surrounds)
Rythmik F12 (Sub)
Emotiva UMC-1 (Processor)
Emotiva XPA-2 Gen2 Drives the 1.7's
Emotiva XPA-5 Drives the Center and Surrounds
Oppo BDP-103
Senior Member
Join Date: Apr 2011
Posts: 369
Mentioned: 0 Post(s)
Tagged: 0 Thread(s)
Quoted: 18 Post(s)
Liked: 11
Hi.

Currently I do 60% movies & 40% music.

I am looking at upgrading my fronts... after auditioning a couple of speakers... I had narrowed my selection to Martin Logan - Montis... Then I discovered Sanders Sound M10... and they look very interesting....

I have not heard any Magnepans, and wanted to ask if they are similar to electrostatic speakers... Do you get a 3D effect for Magnepans?

Does anyone have experience with Sanders M10 ? and how would they compare to Magnepans ?

Would Magnepans be good for HT ?

Regards.
---
Fronts: B&W CM8
Center: B&W CM Center
Surround: B&W CM1
JL Audio F112
Integra DHC-80.3
Emotiva XPA-5
OPPO 93
HTPC
Posting Rules

You may not post new threads

You may not post replies

You may not post attachments

You may not edit your posts

---

HTML code is Off

---