Speakers
> Please Join and post what speakers you have
Front: Klipsch RB-61
Center: Klipsch RC-52
Side: Polk RC60i (in ceiling)
Back: Klipsch RS-10
Sub: SVS PC-Ultra 13

Right now I'm stuck with some 'not so great' Sony speakers that came with my HTiB, looking to find some new ones.

I just set my system up over the weekend. I am new at this so I may have calibration questions.

Front - SVS SBS-01
Center SVS SCS-01
Surround - SVS SBS-01
Sub - SVS PB12
Receiver - Onkyo SR 705

Ron

PMC -TB2+, Mains; PMC - DB1+, Surrounds; PMC- TB2+c, center, PSB - Subsonic 5i subwoofer.

Front Left:
Center:
Front Right:
Surround Left:
Surround Right:

All Mackie HR824s

Rear Surround Left / Right:

A pair of crappy Sony speakers that I bought at a garage sale.

Sub:
No sub, saving for one atm. But right now the 824s provide enough base to piss off the neighbors.

Receiver:
Onkyo sr705 (for the preamp-outs).

I have 4 matching Wharfedale Rubiance RB-21 book case speakers.
I have 2 matching Wharfedale Rubiance CR centers.
I have 1 15" powered Definitive sub woofer

The RBs are bi-wired to my Onkyo 805 reciever. The CR are single wired.

BTW, if anyone has a couple (up to 4) of the RB-21's that they want to sell, then PM me. I'm trying for a 7.1 and can't seem to find them anymore....

Failing that, anyone got any useful ideas on the Diamond 8's?

Seggers

Front and Center: Focal Profile 918's and 908cc
Side and Rear Surrounds: Polk LC60i's (in-ceiling...major WAF)
Subs: Paradigm Signature Servo (w/SMS-1)

Associated Equipment: Anthem AVM50, Emotiva MPS-1, Denon 3910, Anti-Cables

Wife system:

F/C/S: Polk RM10
Sub: Velodyne SPL1000 II

Vienna Accoustics
Fronts: Bachs
Center: Waltz
Surrounds: Waltz
Subwoofer: REL Q201E

KLipsch
Front: RF-7
Center: RC-7
Surrounds: CDT-5800-C
Subwoofer: Epik Conquest

Its a start.

Fronts - Aerial Acoustics 7b
Center - Aerial Acoustics CC3b
Rears - NHT Super Ones
Sub - Epik Caliber

Equipment
Pre/Pro - Integra DTC 9.8
Amp - Theta Digital Intrepid

So I just got the speakers installed 7.1 in my new basement "Theater" room. Here's what I have.

Front L/R: Speakercraft AIM Cinema 5 In Wall Speaker (In Wall Towers)
Center: Speakercraft AIM LCR 5 In Wall Speaker (In Wall Center)
Side L/R and Rear L/R: Speakercraft AIM Cinema 3 (In Wall Towers)
Subwoofer: 2 Speakercraft BassX W-12 In Wall Powered Sub (Run off two BassX W-12 Amps)
A/V Receiver: Denon AVR3808CI

I know I know... I didn't want in-wall either but the wife made it happen.

I am running a pair of Infinity Primus 362s as mains, and well unfortunately my 'theater' if you call it that is just stereo at this point. What I want to complete it:
Primus 142 for rears
Primus C250
and some sub - it's gotta be affordable though
Randy, I was just surfing the net for good deals on speakers, and Harman Audio, the parent company of Infinity, has a store on ebay. There are some incredible deals on infinity speakers if you like them. I am super pleased with the 362s and want to match the voicing of my whole system.
Mains...Definitive Technology Mythos ST

Front Center....Definitive Technology

Side.....Klipse

Rears....Axioms

Right now just the speakers from an Onkyo HTIB. I believe it was 790 or something. I've purchased an Onkyo 705 receiver and currently looking at upgrading speakers.

Ok;
Here they are:
Family room 5.1 set-up, Atlantic Technology system 350's, bought 2000 from 1Call, my first "real" HT speakers:
Basement HT 7.1 set-up (in process).
Paradigm Monitor series:
- (2) Frt Monitor Series 9
- (1) Center CC-390
- (4) Rear/back surrounds ADP-390
I budgeted around $2k (or so) for my speakers (w/o sub-woofer), these fit my price point, I went to a few dealers and listened to different brands and really liked the Paradigm Monitor series price/value/performance.
I went with the Series 9 instead of the series 11 Fronts, reason being is my room is not super large, 14.5 wide x 18.5 deep by 8.75 tall, 2,300 cubic feet of volume. If I was around 3000 cubic feet volume would have opted for the Series 11's to fill that bigger space, hopefully the Series 9's will fill my HT room fine.
Here are the paradigms mounted in the family room for their "break in" period.
Front LH and Center with grille removed to "show off":
Pict showing all 4 of the ADP-390 mounted for their break in period.
Notice how my current AT 350's fit nicely on that beam? I have no where to store them, at least they are out of the kids reach up there.
I joked with my wife about having our own mini "tower of power" if we hooked all those up at same time.
Polk audio center RT400 .
Polk audio Mains RT800 .
Polk audio Side surrounds FX300 .
Polk audio back surrounds MKII .

Audio gear.
Yamaha HTR 5790 Preamp .
Audiosource amp 300 powering mains.
Audiosource amp 200 bridged powering center .
Onkyo m-282 powering side surrounds .

Fronts: NHT Classic 3's
Center: NHT Classic 3C
Surround Side: NHT Absolute Zeros
Surround Back: Polk RM201's
Subwoofer: HSU VTF3 MK3

2 channel right now, will finish the home theater soon.
Currently
Front Left and Right: Sonus Faber Domus Grand Pianos

Fronts: Paradigm 9se MK3
Center: Aperion 533-VAC
Surround: Aperion 433
Sub: Aperion S8

Audio equipment
Denon 3808CI
PS3 for streaming audio and Blu-Rays

Ascend Sierras baby.
phantom center
Onkyo CSV720 speakers for rears...they're no slouch and the perfect size for rears

Home theater, 3 M&K S-150 up front 4M&K SS-150s in back 2 M&K 150 subs, powered by a Denon 4802r. Hobby room Def Tec BP-2000s powered by Carver M 1.5t 600wt/channel amp and Carver C-1 pre-amp.
Garage Altec Lansing A 7-500s powered by Mac 1700 receiver, also a set of ADS L-1230s powered with a Yahama. Also some Altec bookshelf speakers and a pair of KLH duel 12 in woofer 3 ways

I am running M&K S125 fronts and center, with mk k4 tripoles in the rear and a M&K sub. I am thinking of selling these and getting some new B&W's.

Any input on the B&W speakers??

I have definitive technology bp8b fronts def tech c/l/r 2500 center def tech pro cinema 80 rears and two def tech pro sub 100s

Totem Acoustic Rainmaker L,C,R
Totem Acoustic Mask (TAC8) in ceiling rear channels
Totem Acoustic Storm Subwoofer
Samsung DLP rear pro flush mounted into wall
Marantz SR7500
Dell XPS 410 tower HTPC
Marantz DV6001
DirecTV H, um something, HD DVR
Lattis Vaux 8x8 switch for cameras
Controlled by Convergent Living Muse wireless TP

all vintage:
6 advent model ones. 10", 1"
2 nakamichi s-1as. 5", 1/2"
powered by: also vintage 35 yr old
pioneer qa800a quadraphonic 4 ch. amp (not surround). purchased new by me in tokyo, 2-'73.
sourced with:
toshiba hd-a30-feeding hd pj.
nakamichi 600 cassette deck (vintage-32 yrs old-purchased new)
akai direct drive turntable (vintage-$12
at local thrift store)
zenith dvd player for cds.
various other players, machines, etc.
all work perfectly. xcept zenith dvd player, no video output but it has nice front display; hence-cd player. it was free.
will add surround sometime soon.
Got a nice 2.1 setup for a college student. Recommended for those on a budget.
Polk RTi A3 bookshelves
AV123 X-sub
Marantz SR4002
PS3
Q6600-based/Geforce 8800GTS 640 based PC
Samsung LNT-4061F
Roland TD-10EXP Electronic Drum Brain with Hart StudioMaster Triggers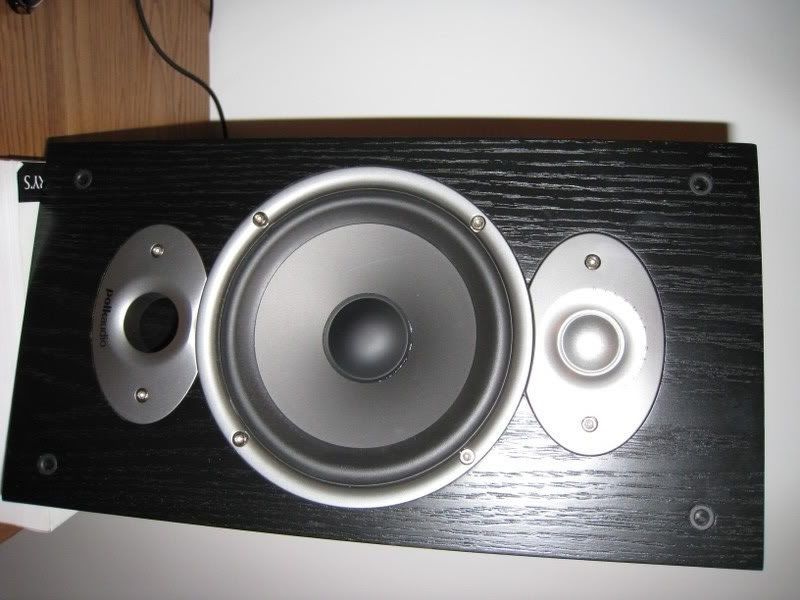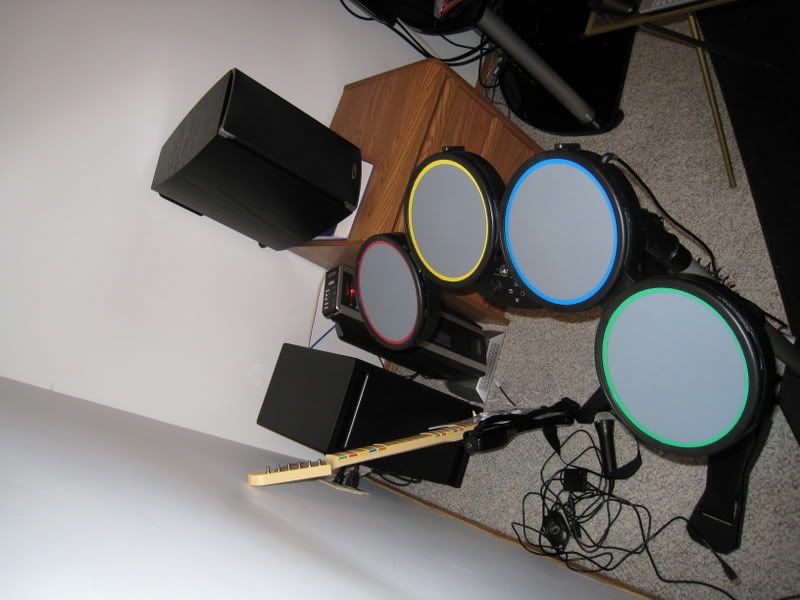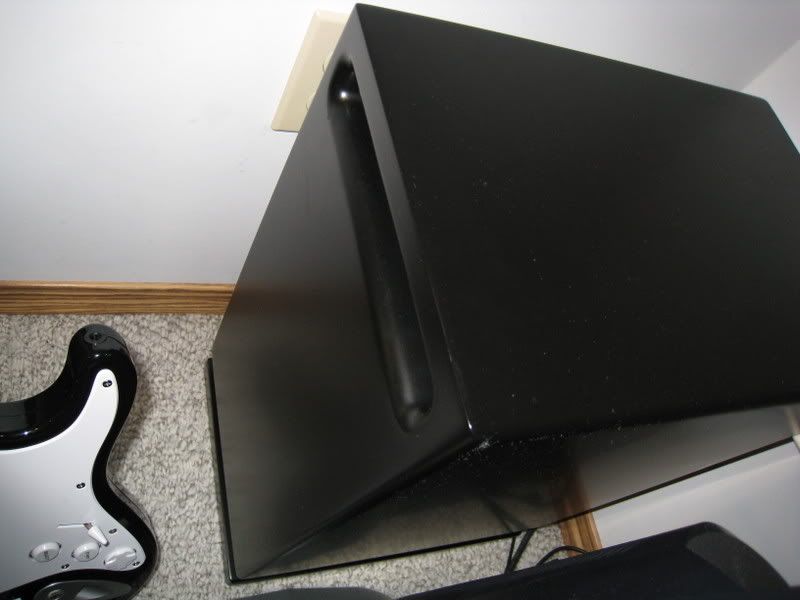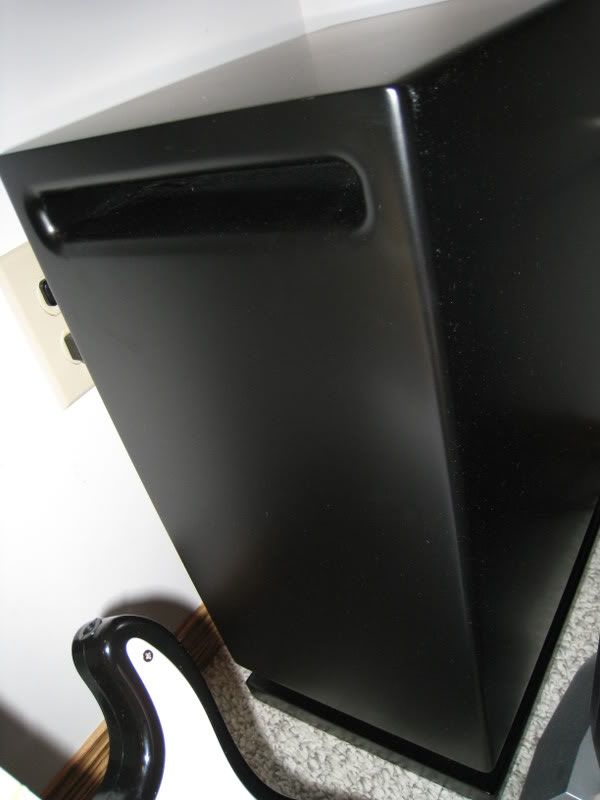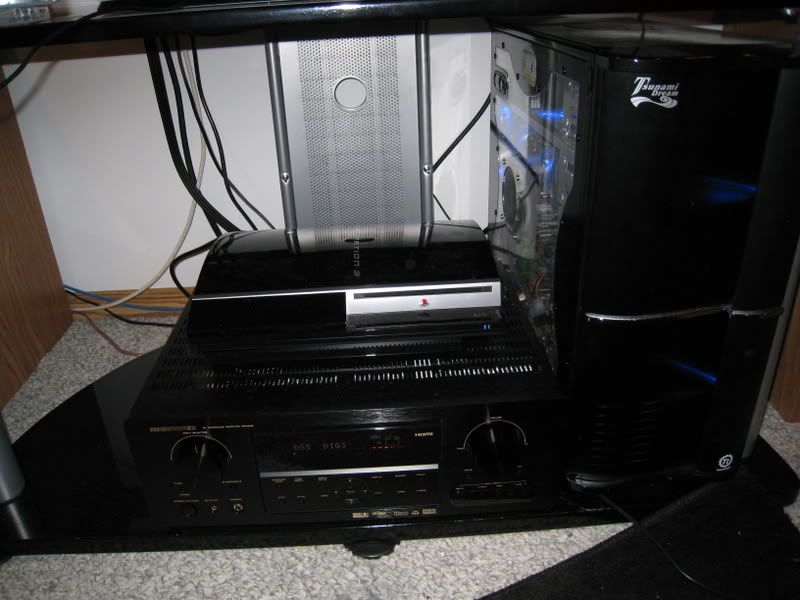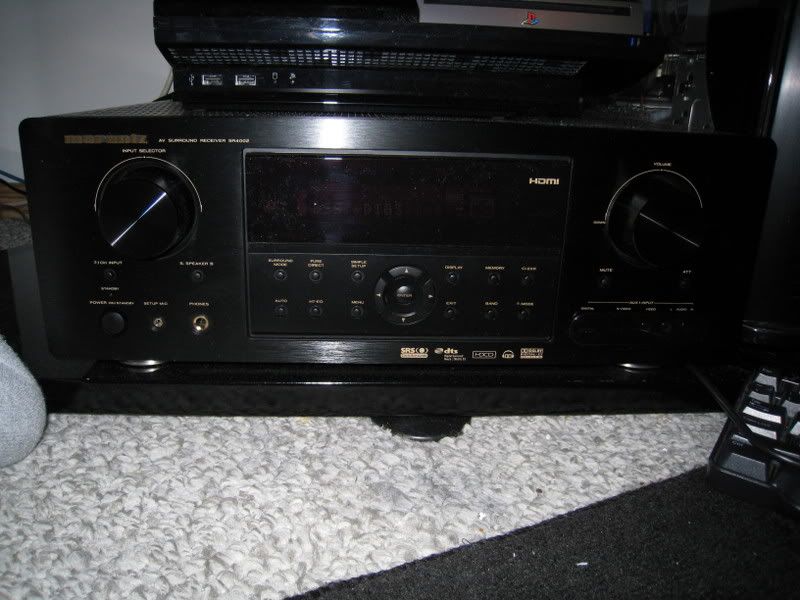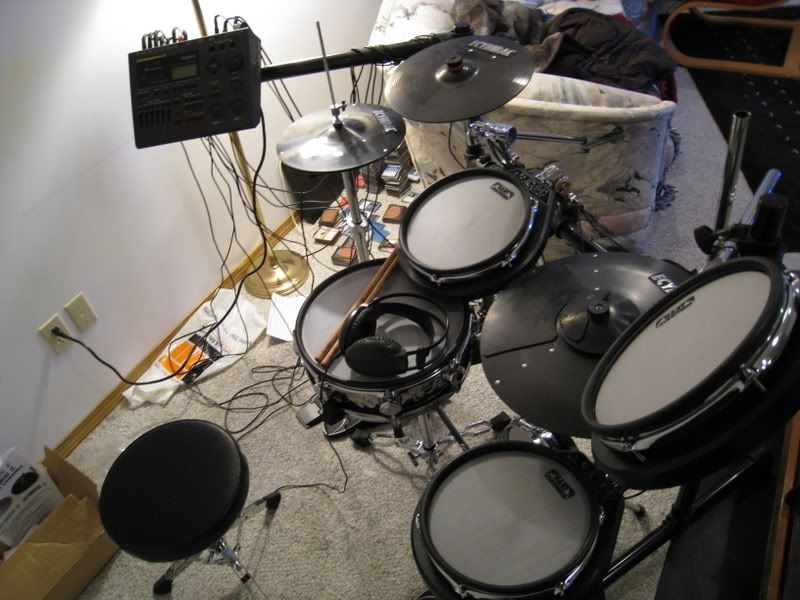 I've had this set up for about 4 years:

Mains: JBL S38II
Center: JBL S-Center
Surrounds: JBL N26II
Sub: Athena AS-P300
Receiver: Kenwood VR-6070

Would like to upgrade the receiver since I feel it is the weak link in my system. When running with only the mains (no sub) things are retardedly bassy and vocals are hard to hear. The receiver has very little adjustment options, but has served me well for the past 5+ years.

Ditched my old Sony HTIB back in July when my fiance and I bought our townhouse. Went with the JBL Venue Series, great speakers for the money.

Fronts - JBL Venue Stage
Center - JBL Venue Voice
Surrounds - JBL Venue Arena
Sub - JBL Sub 10

Come May when we get this "tax stimulus package" or whatever I'm going to be looking for something to replace my STR-DE895.