Sorry, I don't know the model number.
I just took a photo of the back of my Mission Bookshelf speakers: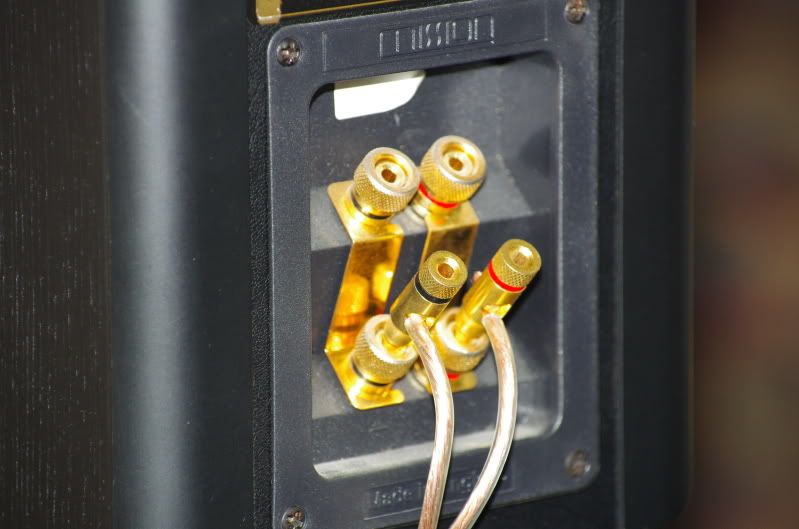 The top two posts are the Negative and Positive posts for the tweeter, and the bottom two are the posts for the woofer (I think).
As you can see, my speaker wire is screwed into a banana plug which is interted into each post. The nuts on the posts are screwed down tight on the bridging plate.
The banana plugs are optional. You can insert the wire directly into the hole in the post (not the hole that the plugs are plugged into, the one perpendicular to them) and tighten the nut down onto the wire.
If you are missing the plates that connect the top and bottom posts, you can simply jumper them with extra speaker wire. Just make sure everything is secure.
Hope that helps
I believe your speakers must be newer than mine.

Wisely on yours they connected the tweeter and woofer posts (that was my guess too) with nice large, permanently mounted plates. On my speakers they used this odd pin and post connector which is not only easily lost, but far less elegant. Yours is a modern design and mine apparently steam punk.

I'm just wondering where the model number is?

I'm not too familiar with Mission speakers so I don't know what your post connection would look like, sorry.

As for the model number, mine are listed on the back label. I can't think of anywhere else.

Can you wall mount the mv 2 and the mv 4? Also, will they take banana plugs? The amount of info on the web about these models is next to none. Im looking at buying one or the other to use as my surrounds!

Just checking in.
I bought m72's over a decade ago. Love them.
They still act as my fronts.
I bought some used 731's for rears a little while ago ($60 CDN, how can you go wrong?!). Great addition, they work very well with the m72 fronts.
I used to use the m7c1 centre, but it was always a weakspot IMO. Center is now a Polk CS1. Bass from an Energy 10".
Onkyo 576 connecting HD box and PS3 to the TV
Cheap but IMO, very effective setup.
What's Mission's reasoning for putting the tweeter below the woofer?

Hi. i'm new here and i got the Mission M35i,M3c2i, and M30i for my system. I really like the sound of my Missions.
Welcome to the Mission club
Not too many of us around here anymore
I just picked up myself some new (old) 704s from my father-in-law, and now I have found myself with the issue of mismatched center and L/R.

Any idea how I should proceed from here? Any good brands that should match well enough?

Ran into the same problem with my old 764i. I love a matching center. I bought a complete mission system years ago. 733 front, 73c center and 73 rear. I HATED the center, it seemed like mission just made a cheap center and rears just to be able to sell their great front speakers as a HT package. I spent many years not running a center and even tried replacing the 73c tweeter with a 733 tweeter. Now I even see guys with 75 series speaker that have 73c and 73 speakers sold as a set.
I'm not a fan of center channel design so I believe in a matching tower or bookshelves. I'm now running 3 - 764i's as fronts, 2 - 733 (will be replaced with 762i's soon) as sides and 2- 761i's as rears.
If I were you I would try and find the bookshelf versions of your speaker line and use that as a center.
Hi there,

I'm currently stricken with upgraditis. I was looking at the MV line but it is to my understanding that this line has been discontinued, is this correct?

Also, I'm not able to get a corresponding center if I go ahead with this purchase. I could always use a bookshelf for my center, but due to space constraint, a dedicated center would be prefferable. I could contact Mission directly but is there any dealers in Canada that I could contact to see if I could get my hands on one?

Anybody had a chance to listen to the Athena Audition series (currently have) and compare it to the Mission MV line? I know it's a long shot but hey, nothing to lose.

I could also maybe get my hands on the MX series, a better choice?

thanks guys.

well then, either they're not really good, or Mission owners are so happy that they get upgraditis
Hey guys,

I recently got a ahold of a pair of second-hand Mission M73 floorstanders (black finish). Cosmetically they're in great shape, no damage, unfortunately the woofer on one of them is blown. Calling around Toronto, i've been told it's going to cost me somewhere in the neighbourhood of $125 to $150 to get it fixed.

Now I don't have a stereo setup at the moment, and was looking to get ahold of some decent Mission speakers before these fell into my lap (Mission was the brand my dad owned when I was a kid, nostalgia). I don't really know anything about stereo equipment in general, let alone specific models, so my question is, would it be worth spending $150 to get these in working condition? Or would I be better off putting that money toward a different set?

Any advice would be appreciated!

A couple months ago I bought a pair of mission 790 SE I'm very happy with them, has anyone heard the 794 or 796 models and they make center channel to match the 790. Has anyone listened to a full home theater set up
Thanks

Hi all!
Seems quite dead in this thread. Are there no more Mission-owners left?

I just bought used Mission 5.0 -system from my local hifi-shop, Mission 774 -front speakers, Mission 77 ds -back/side speakers and Mission 77C center speaker.
Got them about 330€ plus cabels about 50€.
Fronts and center plays very well already but now i am trying to figure out the best way to mount the side/back speakers.

Any thoughts if that was a good deal or not?
There is no outside flaws in any of the speakers and seems that all works without any hassles.

-MrRane

Quote:
Originally Posted by
MrRane
Hi all!
Seems quite dead in this thread. Are there no more Mission-owners left?
I just bought used Mission 5.0 -system from my local hifi-shop, Mission 774 -front speakers, Mission 77 ds -back/side speakers and Mission 77C center speaker.
Got them about 330€ plus cabels about 50€.
Fronts and center plays very well already but now i am trying to figure out the best way to mount the side/back speakers.
Any thoughts if that was a good deal or not?
There is no outside flaws in any of the speakers and seems that all works without any hassles.
-MrRane
Sadly I have moved on. The laidback sound of the older Missions was good but not what I was looking for. Also that crossover... that crossover was no good and not worth a rebuild for me. My brother-in-law loves them, gave them to him for helping me replace my water heater.
As to answer your question, the DS stands for Dipole I would assume, so I would mount them slightly above ear level directly to the left and right of your seating position. Basically point the top of the pyramid (if I might call it that) directly at your ears. I got the older bipole version of these and they work great for surround.
Hey ladies and gents,

I worked in the retail sound business in the late '70s. Sold tons of high end stuff when it was really getting going. I eventually went into athletic clubs because it was just as cool and had beautiful women. I then bought a pair of Mission 770s. Coupled with nice power amp and preamp, and a Carver Sonic Hologram Generator, the imaging was spectacular. ( did add a Velodyne sub).

And still is. My home theater system uses expensive NHT speakers all around, but they don't compare in critical listening to the Missions. Not even close. Soundstage, depth, ability to point to an instrument with eyes closed, etc.

So sometimes things don't really get better, they just get computered up. The quality of the drivers for the price was superb in Missions. Can't speak to the newer models, but you have to trust what you hear. I know from selling the stuff that often, people waited for the 'sound expert' (salesperson) in a high end store to tell them what sounded better. If you have Missions, keep them and use them. I did pop a tweeter once but found a replacement. I guess once an high volume guy, always a high volume guy.

Best of luck to you searching for the 'best sound'. It's a fun journey.

Hi all, First post and new owner of a pair of M64i fronts and M6AS sub. I am yet to purchase a center or rear speakers yet.

Has anyone got to listen to the M6Ci Center channel speaker? I'd be interested to know what people think of it.

Hello all fellow Mission speakers lovers
I am really thrilled with my new set (bought them this summer only)
I started a thread about how to dampen the "knock" between those guys & my hardwood floor
I just went on the mission website & I was shocked to see similar speaker to mine on a pic, you see them standing on the rug spikes on a hardwood floor ?????

Hi got mission 735 towers had for over 15 years need to replace with bookshelfs any suggestions new house and new furniture no room

Wow. A Mission thread. :-)

I have a pair of 770 Mk IIIs that I bought either late 70s or early 80s. Also a pair of 761s connected to my Sony 55EX645 through an NAD integrated amp (great stereo imaging on these, the sound often seems to come from outside the speakers) from the late 80s. Just to complete the Mission family I also have a 775 turntable, 774 tonearm and Mission cartridge and used to use a Cyrus integrated amp with the 761s. So as you can see I was a big fan of Mission. I used to drive the 770s with Apt Holman gear.

Couple of questions.

1) Anyone know of a place where I can buy replacement foam speaker grills for the 770s (Mk III) ?

2) If I put the 770s and 761s together what central speaker and subwoofer would you recommend to get a 5.1 system? What receiver ( my days of owning seperate components have gone).

3) A local dealer has a Mission MV 5 series 5.1 system with a Harmon Kardon 1565 receiver. Any comments. I like detailed but balanced sound, not too bright and not too boomy.

Thanks

Hello everybody!
Did anyone had a chance to compare Mission m35i to Monitor Audio RS6??
Currently I'm using RS6 and one friend sells m35i with quite a good price..
Receiver im using is Onkyo TX-NR609.
Should i go and try those Missions?
Thanx in advance!

Hi all, been running 774s with Audiolab 8200CD and Audiolab 8000A mkII amp for a couple of years as my music system and very happy with the Missions. Recently purchased an AV setup of M74s / M7C1 / M7DS with a Yamaha RX A2010 AV amp, Panasonic DMT BDT-500 blu ray player and Rel Q100E sub. Never had a decent AV before and I am really impressed with the quality of this system. I am now experimenting with various combinations on the speakers and amps to see what sounds best for music - my wife won't live with 2 pairs of floorstanders for some reason......

OK, results of my tests is that overall 774s win.

The M74s arguably deliver a slightly clearer sound, and bass extension is better (no suprise, bigger drivers) but the 774s are so much better at soundstaging. The sound of the M74s is 2 dimesional by comparison. Music is simply more involving and fun with the 774s. The REL sub is nicely tunable to subtley extend the LFs for music and easily fills out the sound for movies. Also found my old M77 better as a centre than the M7C1.
The Yamaha amp does a good job too against the Audiolab for music, not necessarily better but good enough for music to make the Audiolab redundant.

Hi guys,
I have just found this thread and have been reading all the posts with great interest , I have had Mission since 1994 and still use 761i's as main speakers, not sure I could ever part with them as they were my first introduction to 'proper Hi-fi' as I bought them to upgrade my old 'Midi system',
I am now running a Yamaha RX-V1700 Receiver (130w X7) with brand new Mission MX1's on rear channels, M70's on front 'Presence channels and have just bought a Dali Zensor 1 to use as centre speaker as nothing bigger will fit into cabinet
But the set up is sounding brilliant now
I have long wanted floor standing Missions , but can bring myself to not have the old 761i's up front. I recently had a demo of MX3's, but was underwelmed , but I think it was the amp that the shop was using , as two weeks later I listened to the MX1's and was amazed with their sound, in fact they are almost better than the 761i's, so the MX3 should be better than them really , given a proper demo.
It's also really nice to hear that there are so many Mission fans in the US
I am in the UK so its easy for me to get Mission products, but even here I get the feeling Mission are still a brand that only Hi-fi fans know about .
Anyway, thanks for reading
Vas
Oh, forgot to say I am using a Paradigm PS1000 Sub, had that for 15 years now
I figured I should probably support the thread :P

I purchased a full set of Mission gear last year and I couldn't be happier! For the fronts I got a set of MX5s, an MXC2 for the centre and a set of MX1s for the rear.

The cool thing was the company that sent them must of thought the MX1s were individually boxed because they sent me 2 sets of MX1s, score!