Newbie
Join Date: Apr 2015
Posts: 4
Mentioned: 0 Post(s)
Tagged: 0 Thread(s)
Quoted: 3 Post(s)
Liked: 0
thanks for the info! i didn't come across this and i have been searching for a solution for quite a long time. I did however fix it using the re-flowing method which has some redeeming qualities to it! tested it tonight and works perfectly. lets hope that it holds out until 2017 then i can send it in!
Newbie
Join Date: Sep 2015
Posts: 1
Mentioned: 0 Post(s)
Tagged: 0 Thread(s)
Quoted: 0 Post(s)
Liked: 0
Thank you, acoronaiii and oscarav098. This procedure worked great for me. I was actually quite surprised when the audio and networking came back just like that. I thought it was a long shot!
I had my HDMI board repaired by an authorized service center about 3 years ago for different symptoms, so I wasn't sure that they would do it for me again. This saved a lot of time and energy. Thanks again.
Newbie
Join Date: Apr 2016
Posts: 1
Mentioned: 0 Post(s)
Tagged: 0 Thread(s)
Quoted: 0 Post(s)
Liked: 0
I bought my Onkyo TX-8050 receiver in October 2012, so it is now out of warranty. Today (April 22, 2016) the controls froze. I called Onkyo product support at (800) 229-1687. As soon as I mentioned that the problem is well known on the internet, the support person directed me to onkyousa.com. I clicked on "Support,"and then on "Special Service Program". I entered my receiver's serial number and was approved online for free repair, including free shipping both ways. Four-day delay for the mailing materials to be mailed to me USPS. I hope that the process goes as smoothly as it seems.
Member
Join Date: Jan 2005
Location: Lexington Kentucky
Posts: 16
Mentioned: 0 Post(s)
Tagged: 0 Thread(s)
Quoted: 2 Post(s)
Liked: 10
Great to know Onkyo still does this. The problem was far reaching and Onkyo took a long term approach. Well done imo.
Member
Join Date: May 2017
Posts: 29
Mentioned: 0 Post(s)
Tagged: 0 Thread(s)
Quoted: 15 Post(s)
Liked: 0
Quote:
Originally Posted by
oscarav098

Hello,
About 3 weeks ago I posted that I had purchased an TX-NR3008 but a couple of days after receiving the unit it started showing all the symptoms described in this thread.
Since I purchased the unit at such a good price I didn't want to just return it and buy a lesser receiver for the same or higher price. Being an EE I felt confident enough to give this repair a shot and post it here so that other forum members could benefit from my experience at fixing it.
Here is a brief summary of failure analysis and corrective action:
1 - Symptoms: After three days the receiver started to: be unresponsive to remote commands, turning on by itself, locking up and finally switching itself to the cbl/sat input.
2 – Research: Googled the problem and found this thread referring to this very same type of failure and found out this problem affects not only the TX-NR3008 but several models in the same Onkyo lineup of receivers.
3 – Information: The AVSForum thread mentioned that Onkyo put out a SB with a corrective action which requires the IDE cable between the logic control board and display board to be replaced and in some cases the 40 pin connectors at each board. The reason given is that some type of Conformal Coating on the PCBs was not properly removed during final assembly and this causes a short somewhere in the cable ends and/or connectors.
4 – Corrective Action: I purchased an off the shelf 40 pin IDE computer cable and 2, 40 pin, right angle connectors. I decided to replace one part at a time find out the exact cause of failure. The steps as detailed below are for replacing all parts.
I – First locate the 40 pin IDE Cable. See yellow arrow on picture below:
Notice the number 1 pin is on top indicated by the redline on the ribbon cable.
II – The logic control board is located at the back of the receiver. See yellow arrow on picture below.
III – Replacement procedure:
A – Remove Cover. 3 screws on back and 3 screws on each side.
B – Remove front panel. 3 Screws on top, 3 on the bottom and 1 screw hidden behind the front panel by the headphone socket.
C – Remove the Display board. This requires the removal of a metal cover that holds the display in place. Is has several Philips head screws.
D – Carefully remove the IDE disconnect from display board.
E – De-solder and solder new 40 pin connector. (May not be necessary)
F – Install in reverse order.
Now move on the logic control board.
A – Remove the DAC board. (Red arrow).
B – Carefully remove IDE disconnect from logic board (Yellow arrow).
C – De-solder old 40 pin and re-solder new 40 pin connector. (May not be necessary)
D – Assemble in reverse order.
After performing the replacement of each part, one at time, I tested the receiver and every time the receiver continued to show the same symptoms.
So I started to think that the gooey conformal coating on the PCBs was still a problem. Back during disassembly I noticed that both the display board and the logic control board were completely covered with this stuff. So I decided to head over to my nearest Radio Shack and purchased a can of Precision Electronic Cleaner. See picture below for the remains of the gooey stuff on the front panel after spraying it.
I sprayed the front display board by the connector and removed all that gunk and tested the unit. Same thing.
Then I sprayed the logic control board on the back side (through solder points) and tested. Same thing
Finally I sprayed the logic control board on the front (where the logic microprocessor is located) making sure I sprayed all components and tested. Success!!!!
Apparently the PCB conformal coating is shorting some of the pins on the microprocessor board.
After doing this final step the receiver worked. Not only it worked but all functions that may have been a little buggy or slow to respond, like Zone 2, Zone 3 and Networking, worked flawlessly. I've been using the receiver now for 2 weeks without a problem.
I hope this write up helps forum members understand the problem and what I did to fix it. Remember if you decide to perform this fix I am in no way responsible for any problems that may arise from such activities. This post is for informational purposes only.
Below is a picture of the receiver as is currently installed and dare I say, working!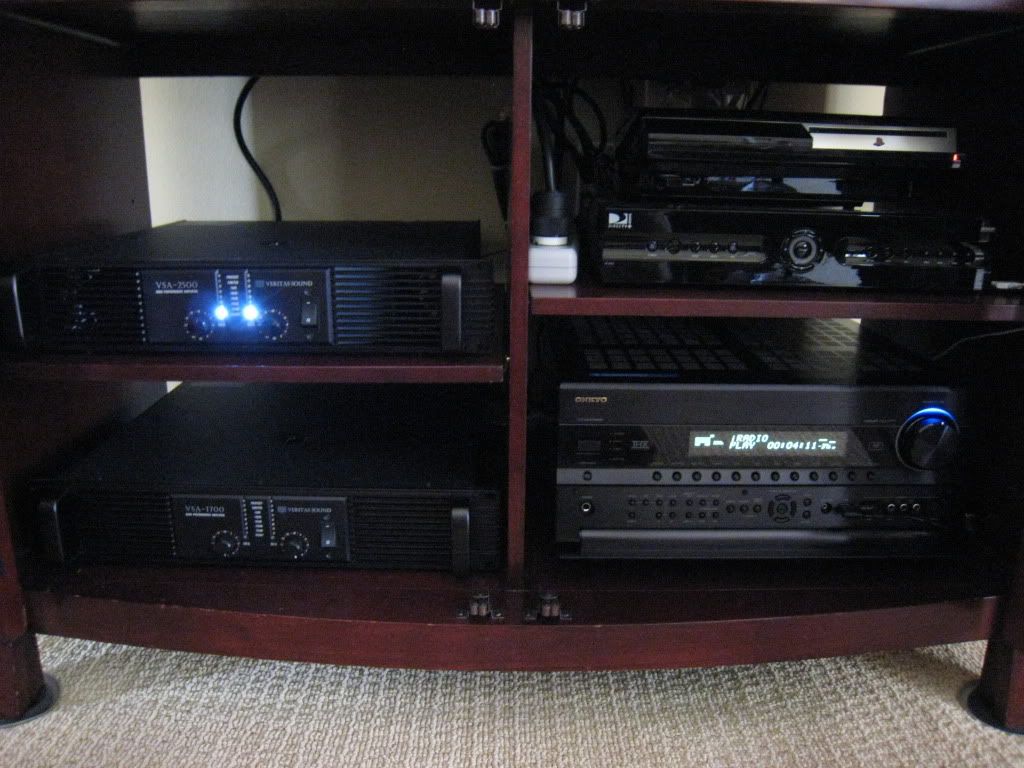 Home Theater consists of:
- Onkyo TX-NR3008
- DirecTV HR23 DVR Receiver
- Sony PS3
- Philips 52" LCD
- Veritas Sound VSA-2500 – 1100 Watt RMS Per channel for the Subs
- Veritas Sound VSA-1700 – 500 Watts RMS per channel Zone 2/3
- Ipad for control using iRule.
- Global Cache GC-100-12 Gateway.
If you have any questions feel free to PM.
I also try to disassemble front panel to remove and replace the 40 pin FFC Cable from my Onkyo TX-SR875 but I am unable to do it. Please can you guide me how to remove front panel to take away the FFC cable.
Tags
Onkyo , Onkyo Tx Nr717 , Onkyo Tx Nr906 , Onkyo Brand , Onkyo Tx Nr414 , Onkyo Tx Nr515 , Onkyo Tx Ds 656 , Onkyo Tx Nr807 , Onkyo Ht Rc270 , Onkyo Tx Nr708 , Onkyo Tx Nr808 , Onkyo Tx Nr1008
Posting Rules

You may not post new threads

You may not post replies

You may not post attachments

You may not edit your posts

---

HTML code is Off

---