Member
Join Date: Apr 2013
Posts: 138
Mentioned: 0 Post(s)
Tagged: 0 Thread(s)
Quoted: 0 Post(s)
Liked: 12
sine i t was time to do my monthly cleaning of the dust out of my amps i figured id share some pics and reviews
i got this amp brand new off ebay this is how the ad reads
Specifications:
2U Professional Power Amplifier
ATR (Accelerated Transient Response) technology for ultimate punch and clarity
Momentary Peak Output 4500 Watts
2200 Watts @ 2 Ohms
1100 Watts @ 4 Ohms
550 Watts @ 8 Ohms
XLR, ¼" (6.5mm Jack) Balanced Inputs
Speakon and Banana binding post Outputs
Front-to-Rear Airflow and Dual Cooling Fans
Frequency response 10Hz – 50kHz at 1.5 dB
Total Harmonic Distortion: Less than 0.1%
Input sensitivity & Impedance: 0.77v
Signal to Noise (20 Hz - 20 kHz) > 90dB
Dimensions (WxDxH): 20.1" x 13.4" x 6.3"
Weight: 20lbs
AC 115V-230V Switchable.
for short while i used this amp to drive a pair of 4 ohm 12inch subs and it worked out great., i then powered a pair of micro wreckers in a 2 ohm stereo load and the amp still worked great at max power for 4-6 hours on end
i since have moved this amp to main duty since i bought some really heavy duty high powered amps to drive the 15 inch microwreckers i built
obviously those rating in the add are peak ratings and id say slightly inflated
rms figures should be closer to
250wpc @ 8 ohms
400 @ 4 ohms
700 ish at 2 ohms
when i ran the micro wrecker sin 2 ohm loads this amp would get them hot enough were u could smell the voice coils heating up and thos espeakers will take 500-550w rms
my only complaint on this amplifier is that u cannot bridge it or run in parallel
wish i had a rig for testing actual output for u guys though
they make 3 models of this amp this is the middle version, the larger one is bridgeable
and heres some pics of the internals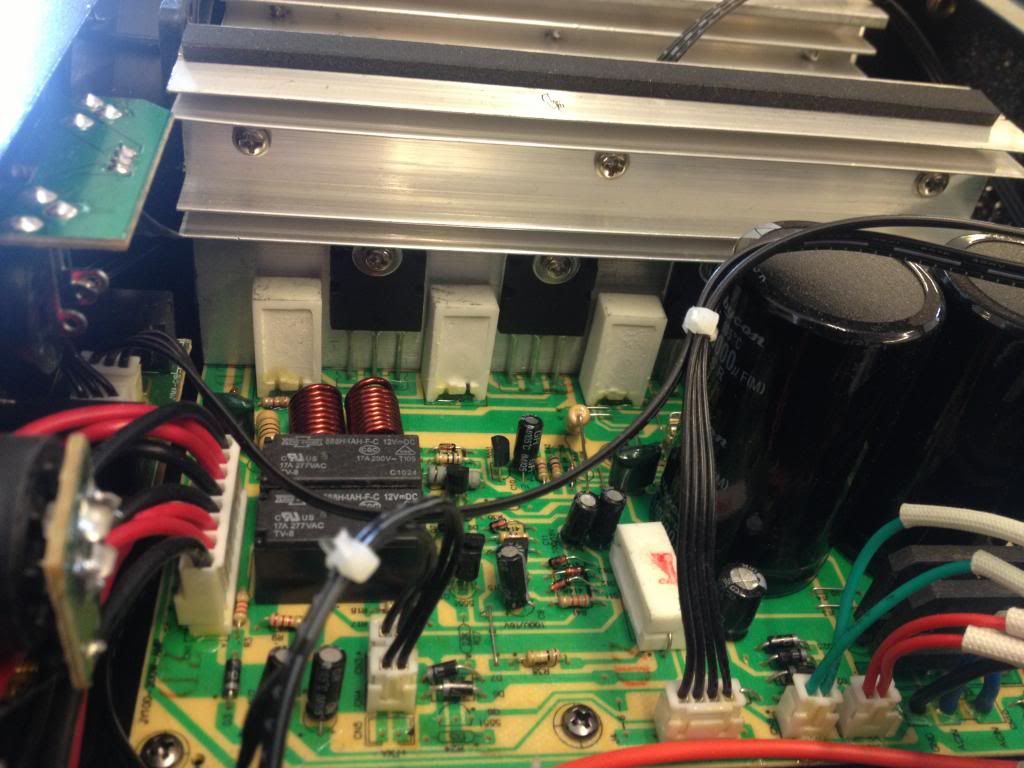 Member
Join Date: Jan 2011
Posts: 76
Mentioned: 0 Post(s)
Tagged: 0 Thread(s)
Quoted: 31 Post(s)
Liked: 27
Can you give any more details on the sound of the amp? IE Does it have a high noise floor, or does it hiss or anything?

I bought one on ebay (the 2000 watt) model for 35$ shipped, and i thought I'd use it for some ATMOS ceiling speakers, or to replace the amp for my kitchen/deck speakers and use that one for my atmos if this one is too "hissy".

Thanks.
Posting Rules

You may not post new threads

You may not post replies

You may not post attachments

You may not edit your posts

---

HTML code is Off

---