Senior Member
Join Date: Mar 2007
Posts: 379
Mentioned: 0 Post(s)
Tagged: 0 Thread(s)
Quoted: 0 Post(s)
Liked: 10
I'm in the process of building a HT. The room is 23x11x8.
There is an HVAC system running across the room, basically above the couch, which travels left to right. There shouldn't be a lot of reflections off that since the speakers are not pointed towards it.
However, I do have some concern about reflections in the room. I read a few articles on the topic, but would like some recommendations on what to buy or build. I would like to know specifics on how many and what size of sound absorbers to use. I don't know a lot on the topic, but I figured (2) 24x36x2" absorbers on the back wall would be a good idea, and maybe two bass traps in those back corners. Maybe these?
http://www.amazon.com/Corner-Bass-Tr...9002004&sr=8-4
Maybe these as well, or build my own.
http://www.amazon.com/Auralex-Studio...9002004&sr=8-5
As far as speaker setup, "toe-in" of the front and rears is for reducing reflections, is my guess. Always made sense to me to do it. So I plan on doing that.
I would really like some info. on where to buy or what to build and any suggestions to change what I plan to do.
Thanks, much appreciated.
Senior Member
Join Date: Nov 2007
Location: ON, Canada
Posts: 238
Mentioned: 1 Post(s)
Tagged: 0 Thread(s)
Quoted: 0 Post(s)
Liked: 15
Can you post some pics of the room and the intended speaker and listening positions? Reflections will be everywhere including your HVAC. Will the room be sealed or open to other parts of the house?

Room acoustics is a heavy topic that involves physics. Before you buy or try to build anything, I HIGHLY recommend a little education by reading Dr. Floyd Toole's book. Current wisdom is the treat the bass region (below about 500Hz) with absorption while treating mid/high frequencies with a combination of reflection, diffusion, and absorption. Bass traps that are made from fiberglass should be a minimum of 6" thick with a 6"-8" air space behind it. DIY bass traps should be easy enough to build.

Depending on how 'alive' or 'dead' sounding the room is currently, you'll want to consider diffusion to preserve the upper freq energy. Experiment with listening with the first reflection points on the side walls as bare reflective, diffusive, or absorptive. If you do go with absorption, make it 6" thick as anything thinner acts like a low-pass filter and skews the freq range of reflections striking it and reflections of those reflections. When using diffusion for the sIde wall first reflection points, use something that scatters sound horizontally such as curved polyfusers or QRD's. Polyfusers should be 12" thick and QRD's should be more than 6" deep so that both styles work down to about 500Hz. You can stuff fiberglass into the curved cavity of the polyfuser so that it acts as a bass trap while being hard enough on the side facing into the room to avoid absorbing mid/high frequencies.

Lastly, I'd recommend investing in an acoustical measurement tool to see what your ears are hearing and to compare treatment effectiveness to a baseline measurement to see the benefits or to contrast different treatment locations in the room. Get Toole's book first though!
AVS Forum Special Member
Join Date: Apr 2003
Location: New Milford, CT, USA
Posts: 6,188
Mentioned: 11 Post(s)
Tagged: 0 Thread(s)
Quoted: 264 Post(s)
Liked: 359
Skip the foam and either build or buy proper bass traps. Acoustic treatment is not as complicated as many believe, but it does require understanding some basic principles if you plan to DIY. Start here:
Acoustic Basics
--Ethan
Senior Member
Join Date: Mar 2007
Posts: 379
Mentioned: 0 Post(s)
Tagged: 0 Thread(s)
Quoted: 0 Post(s)
Liked: 10
Thanks, I will post some pictures of what I'm dealing with.

Right now the room is empty, so there's just a lot of echoing.
Senior Member
Join Date: Mar 2007
Posts: 379
Mentioned: 0 Post(s)
Tagged: 0 Thread(s)
Quoted: 0 Post(s)
Liked: 10
This is the entrance. The hallway is about 6 ft long and goes up and around to a set of stairs. There is no door.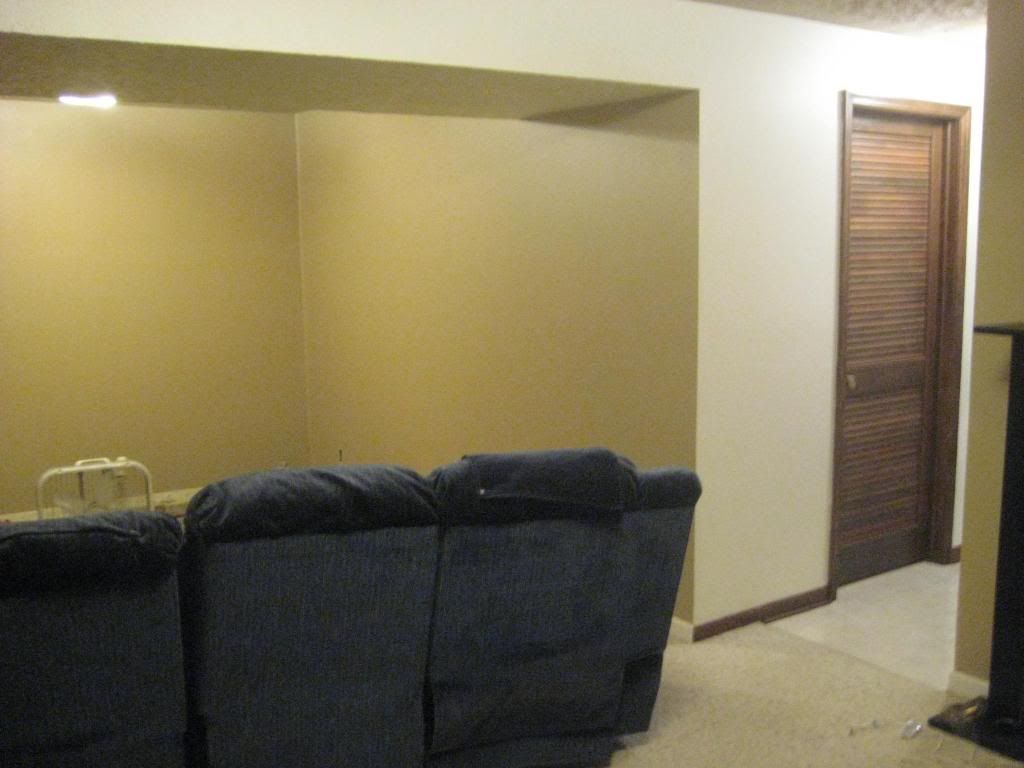 Looking towards screen wall.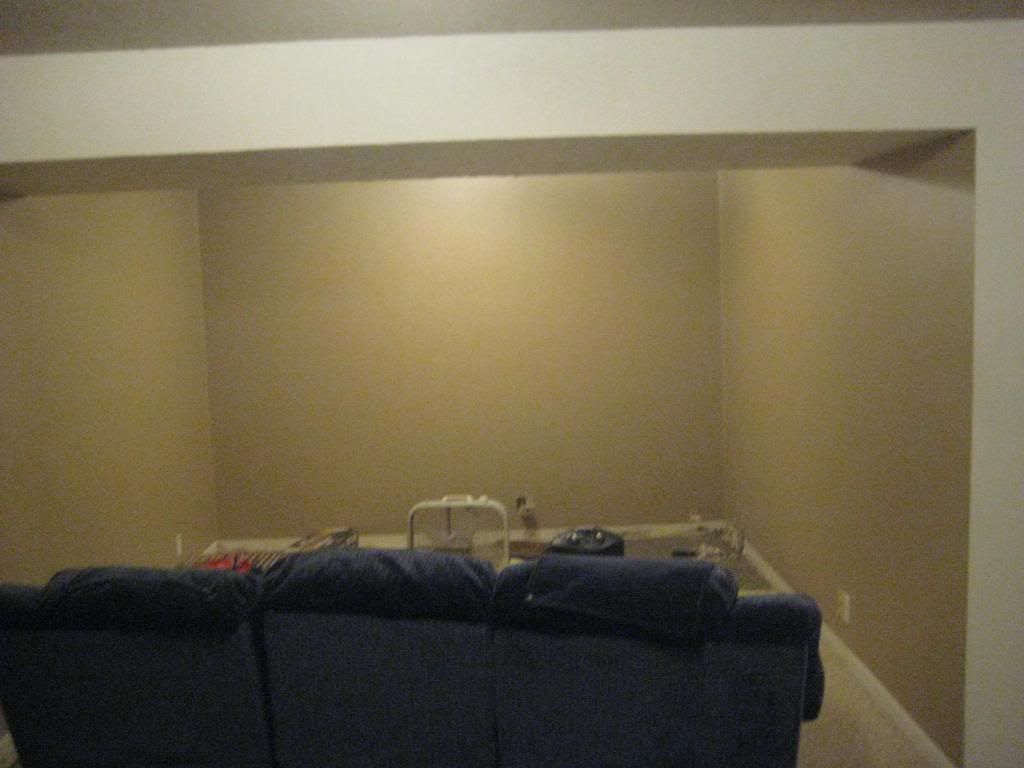 Rear wall. Curtains will be replaced with something that completely covers the windows.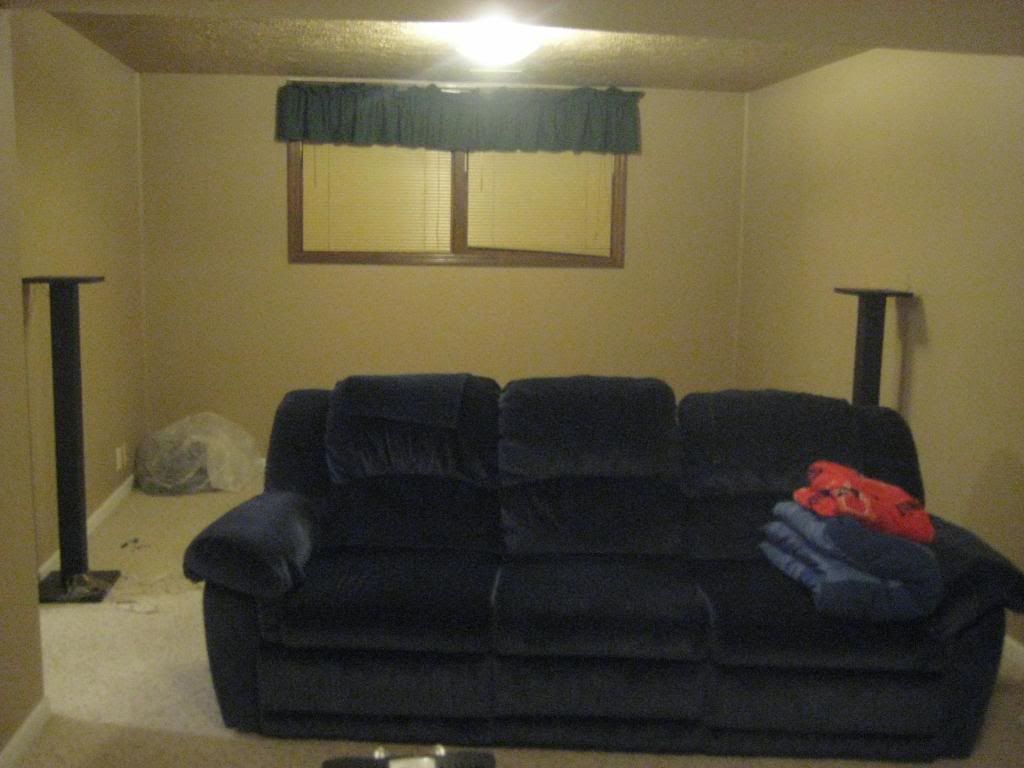 Can lights put in
Looking at screen wall.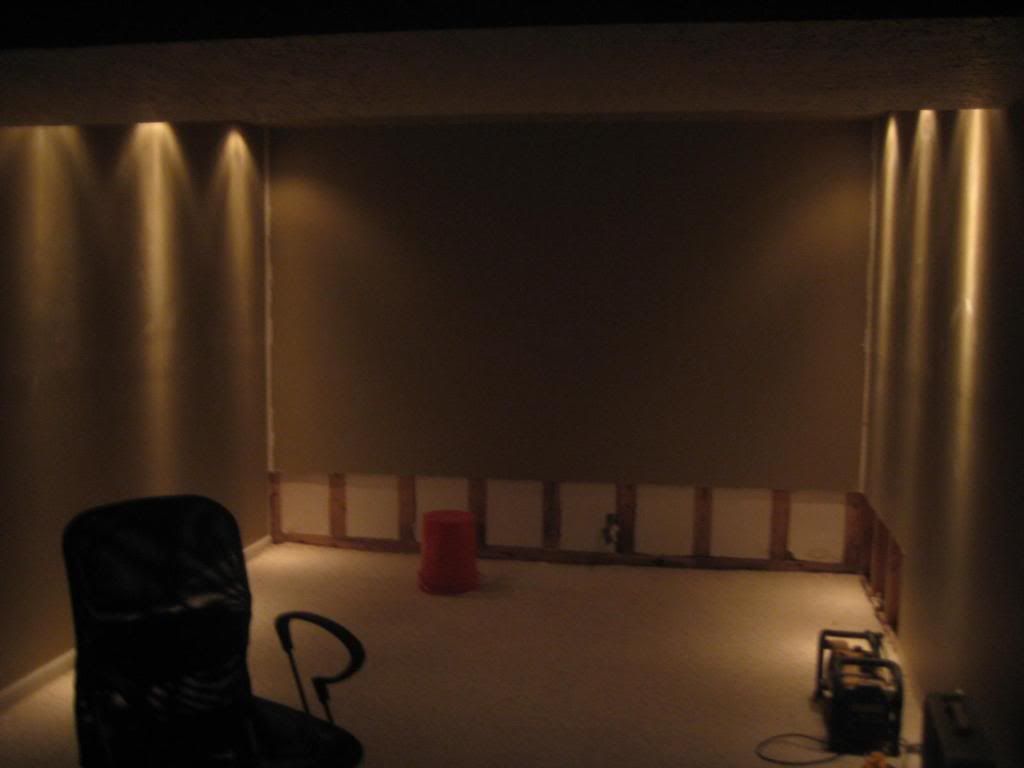 The room itself will be painted a grayish color. I figured that was best, but I am no interior designer
. I thought maybe I could do a darker gray on the ceiling, but still undecided. The screen wall will have a painted white screen, probably make a good 3-4 inch border for that, in black.
Posting Rules

You may not post new threads

You may not post replies

You may not post attachments

You may not edit your posts

---

HTML code is Off

---