Member
Join Date: Apr 2008
Posts: 167
Mentioned: 0 Post(s)
Tagged: 0 Thread(s)
Quoted: 16 Post(s)
Liked: 10
Hey guys,
Im in the process of upgrading all of my speakers & receiver and am kind of stuck on figuring out how to place them. My issue is with the Surround speakers & the Rear Surround speakers. Originally in my setup I had dipole speakers as the rear surrounds, and some crappy Onkyo HTiB speakers as my surrounds. This placement worked alright although the dipole rear surrounds were pretty much in viewers ears when sitting on the couch (which wasnt a bad thing for music etc but sometimes overpowered movies at moments). The main listening position is infront of my computer/tv sitting on a chair. The couch is the secondary listening position which only gets used for movies/watching tv which is only about 20% of my HT usage.
See attachments for original placement.
My room dimensions are
11.5ft length x 9.5 wide x 7ft high
New HT setup:
Receiver: Onkyo TX-NR709
Front L/R: Jamo C803
Center: Jamo C80CEN
Surround: Jamo C803
Surround Rear: Jamo C400SUR
Subs: HSU STF-2 / HSU VTF-2 MK3
Problem is, that I have read that dipoles are better placed as surrounds and that would make more sense to me, but this leaves me with no room whatsoever behind my couch for my new Jamo C803 speakers (fairly large bookshelf speakers) as my room is already pretty small. If i move the couch up a foot and angle the new speakers towards the back of our heads the room would feel cramped. I mean I could keep the same placement as before and just replace the Onkyo HTiB speakers with the Jamos as my surround speakers and keep the dipole speakers as my rear surrounds but i dont know if thats the most efficient way to maximize performance.
Another thought that came up is to drop the rear surrounds and place the dipoles as the surround speakers, and than use the secondary set of Jamo C803 bookshelfs as front high speakers.
I would appreciate any input and recommendation in regards to my setup.
This is the current speaker setup that i have been using for the past year. Excuse the mess im in the middle of redoing the whole place
Main listening position is right infront of the desk. 80% of my HT usage which mostly consists of music.
Back wall with the dipoles and a somewhat view of the surround speaker which is about a foot behind my primary listening position but is in the mid point of the wall.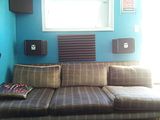 Advanced Member
Join Date: Mar 2005
Location: Portland Oregon
Posts: 865
Mentioned: 0 Post(s)
Tagged: 0 Thread(s)
Quoted: 0 Post(s)
Liked: 13
Couch on wall rear speakers have issues as you very well know.

You only do movies/TV (5.1 content) on the couch 20% of the time? Maybe just roll with 3.1 or 2.1 this 20% of the time and make your Primary space the A grade 7.1 spot.

Assuming your desk is the Main or 80% position you speakers look pretty well placed as 7.1. Rears on the back and side surrounds behind the desk.

You could try the front highs but you are still left with non-optimal side surround speaker placement for the couch. I don't think you will ever get GREAT sound back that compared to what is possible at your chair.

I general I think of dipoles being best when you sit close to them. From your chairs perspective the side surrounds are close and the rear surrounds are far away. At the couch everything is close. I my theater I have my side surround a a little forward on the 2nd row and the rear surounds a few feet behind said 2nd row. 2 "rows" or main seating locations require you to pick one and try and not screw the other one up too much.

Have Fun!
Member
Join Date: Apr 2008
Posts: 167
Mentioned: 0 Post(s)
Tagged: 0 Thread(s)
Quoted: 16 Post(s)
Liked: 10
Any other input?
Im waiting to setup my new receiver until i get this down right.

You think that my current setup would be ok? or would it be better to put the dipole speakers on the sides and the front firing speakers as the rear surrounds?
Member
Join Date: Apr 2008
Posts: 167
Mentioned: 0 Post(s)
Tagged: 0 Thread(s)
Quoted: 16 Post(s)
Liked: 10
Well as of now I ended up placing the bipole speakers in the middle of the room and the bookshelves as the rear surrounds. Pushed the couch up a bit.

Now I have a pair of Jamo C803s left and i dont know what to do with them. Should i used them as front high speakers?

I would appreciate any feedback about my whole setup.
Thanks
AVS Forum Special Member
Join Date: Sep 2007
Posts: 1,955
Mentioned: 0 Post(s)
Tagged: 0 Thread(s)
Quoted: 14 Post(s)
Liked: 134
Too many speakers in too small a space.
When listening to music is your primary usage for that room, 5.1 is too many in that space, in my opinion, and 7.1 or 9.1 or 9.2 or whatever is you are trying, is right out. Seriously.
2.1 in a space of that size can sound remarkably good, and with proper placement (it takes a bit of experimenting over time to find the optimum spots) you can get a lot of depth in your sound stage with just two mains. With proper equilateral triangle placement and toe-in of your mains, you can get some very nice separation and imaging as well.
I recommend you take the time and learn about the effects proper speaker placement can have on those elements of listening (Check out what David Chesky has to say about it -- don't have link handy at moment
EDIT:
here's the link
http://www.chesky.com/core/body_libr...cfm?newsid=141
-- actually it's David Chesky quoting Robert Harley). Sometimes less is more.
Posting Rules

You may not post new threads

You may not post replies

You may not post attachments

You may not edit your posts

---

HTML code is Off

---