Senior Member
Join Date: Apr 2002
Posts: 307
Mentioned: 0 Post(s)
Tagged: 0 Thread(s)
Quoted: 17 Post(s)
Liked: 10
I have purchased and have been busy familiarizing myself with Irule. I have a pretty simple question:

How are the majority of people designing their setup within the irule app. What I mean is: Are you creating a panel for each device or are you creating 1 panel with multiple pages?

I have looked at quite a few very nice designs but have been wondering if people are following kind of a standard way of creating the remote?

Thanks for any help provided.
Advanced Member
Join Date: Feb 2006
Location: Columbus, OH
Posts: 777
Mentioned: 0 Post(s)
Tagged: 0 Thread(s)
Quoted: 23 Post(s)
Liked: 35
I think most have a panel per device. I have a 4 rooms in my home controlled via iRule on an ipod touch. I have a home panel with a link to each room. From there each room has a home page panel with links to each device panel, DTV, Music, Dune, PS3, Wii, etc. Then each device has its own panel.

On my Kindle fire version I skip the room home panel, as along the left side of each device panel is a link to the other devices. So from the home panel, pressing living room button links to the DTV panel of my living room as that is the most common activity. From that panel I can link to the other devices available in the living room and go to their panels.

I've found this to be the most logical and easiest to navigate for both myself, my family and even guests.

I'm sure there are some other ways, but I try to limit the number of pages in a panel, when you start getting above 2 or 3 pages in a panel it can take longer to load I've found, especially with lots of graphic intensive backgrounds.

I have also found that if you have multiple panels to create that are the same, in my case 4 rooms with Directv boxes, that it is best to create 1 panel and assign no commands to the buttons, then copy that panel 3 times, then drag and drop the device specific commands in to each panel. Saves a lot of time as laying out the button graphics for me is the most time consuming part of the process. Trying to make 2 panels have the exact same layout, bouncing back and forth to each checking column, row, width and height for a button is annoying I hope the builder gets the ability to copy a panel without commands at some point but until then this is the best method I've found.

Hope that helps, good luck with your setup.
Senior Member
Join Date: Apr 2002
Posts: 307
Mentioned: 0 Post(s)
Tagged: 0 Thread(s)
Quoted: 17 Post(s)
Liked: 10
Thanks for the help. So for now I have my newly built HT. In that room I have 3 components. An Onkyo Receiver, Popcorn Hour and a Projector.

So taking your advice (I am making sure I understand this clearly) create 1 panel for each device. Then a panel for my HT and a home panel. Each panel will contain links to the other panels for that room.

Does that sound like I am understanding you correctly?
Advanced Member
Join Date: Feb 2006
Location: Columbus, OH
Posts: 777
Mentioned: 0 Post(s)
Tagged: 0 Thread(s)
Quoted: 23 Post(s)
Liked: 35
Well, that might be overkill for your situation. Since you have only 1 source, the popcorn hour, I would say you could have just one main panel. Maybe have a link within it to navigate to a different panel for some of the deeper, lesser used commands for your AVR, surround modes, speaker levels, etc. that you don't use often.
But a main popcorn hour panel with a power on macro to turn everything on and set inputs on the avr and projector and a power off macro to turn everything off. Then buttons for the popcorn hour functions and volume. Here are some examples:
My ipod theater home panel: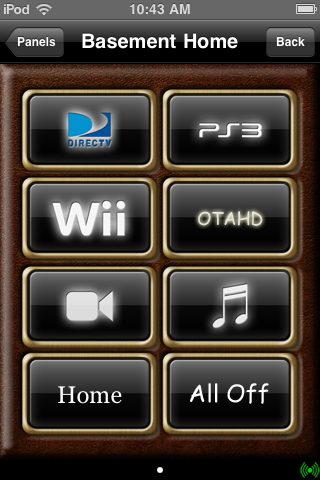 this is my 3 page ipod DTV control panel: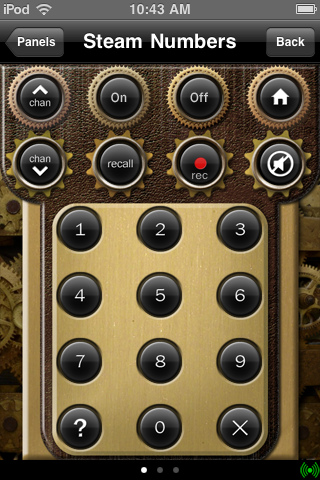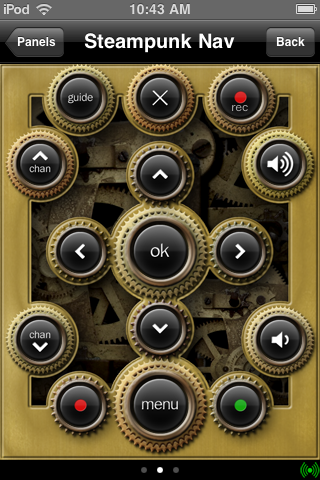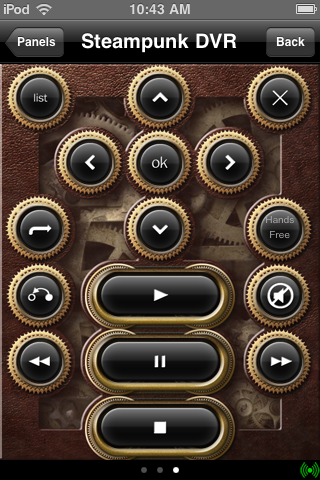 Here is my 1 page DTV control panel on my Kindle Fire:
Now, I don't have a popcorn hour, but if you use it for more than just one thing, say playing music, streaming internet music and watching movies, then maybe you would want a panel for each of these activities and figure out how you want to nest them within a greater whole
Posting Rules

You may not post new threads

You may not post replies

You may not post attachments

You may not edit your posts

---

HTML code is Off

---