This thread will contain photographs of images projected onto DIY Screens that were implemented by the members of this forum. What you see on your monitor is subject to the performance of several pieces of equipment and the environment in which that equipment was setup. In addition it will be dependent on how well the equipment is calibrated and also on the photography skills of the member presenting the photos. It is therefore imperative that you the reviewer take all this into account when looking at the resulting screenshot images and not pass judgment too harshly on the DIY Screen since it will be playing a fairly minor roll in the quality of the resulting screenshot images.
Introduction
This thread is intended to provide a common repository for screenshots taken of various DIY Screens that have been implemented by the members of the DIY Screen Community. As such it is meant to be a fun and entertaining thread with much less emphasis on technical merit and more emphasis on showing off the fruits of one's labors.
An attempt will be made to provide some basic instruction on how to take screenshots using a point-and-shoot digital camera, as well as how and where to have your photographs hosted. Finally it will be suggested that contributors make use of thumbnail images so that the pages will load reasonably quickly.
Library Of Source Images:
I have spent some time scouring the internet for high resolution images that represent a fairly broad cross section of image types. First I should point out that, to the best of my knowledge, these are all
Public Domain Images.
That means we are not violating any copyrights or need to pay any kind of royalties to utilize these images freely for our personal use.
While the emphasis of this thread is to be entertaining the use of these digital source images does have some technical advantages. The advantages will be outline more completely in a following post, but I would like to highlight one advantage up front. Since we have the actual digital source image, it is possible to post both the screenshot and the original image side-by-side.
[ Screenshot ] . . . . . . . [ Source Image ]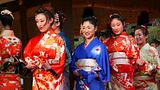 Click images to enlarge.
At first glance this may seem counter to the purpose of showing off one's results, but it does provide some meaningful insight. The screenshot is never going to be as good as the original, That's a fact, but to be able to see what it should look like in a perfect world, helps to put things into a more realistic perspective.
While I would encourage people to use these images, it is not a requirement. If you wish to capture images of some of your favorite movies scenes that is your prerogative. Feel free to post any screenshots you feel best represents the results you have achieved.
Index
Limitations

Suggested Content

Image Library

Screenshot Basics

Photography Instructions For Taking Screenshots

Free Photo Editors

Hosting Screenshots

Image Hosting Websites {PhotoBucket / WebShots / Flickr / Picasa }

Include Equipment & Setup Information

Tiddler's Example!

Eager Beavers

Let The Show Begin