My theater is mostly finished. I've added some equipment info as well as some pictures of the current state to the beginning of this thread.
Screen - DIY
SeymourAV CenterStage XD fabric
,
Bosch Rexroth
Hybrid Aluminum frame and wood frame wrapped in velvet.
Receiver -
Onkyo TXSR806
Blu Ray Player -
Sony Playstation 3
HD DVD Player -
Toshiba HD-A2
Speakers:
Fronts - Monitor Audio Silver 9i
Center - Monitor Audio Silver Centre 12i
Rear and Side Surrounds -
Emotiva ERD-1
Subwoofer - Infinity HPS-500
Projector:
Panasonic AE3000U
Mount: Chief RPA-U
IR Repeater: Buffalo IR repeater system
Lighting Controller:
Lutron GrafikEye 3506
Carpet:
Coursitan South Beach - Ebony
Paint:
Sherwin Williams Theater Red 7584
Riser Step Lights:
Affordable Quality Lighting
I have decided to start a thread to track the progress of my build in case some other people are interested. The progress will probably be slow and it isn't going to end up as nice as a lot of the theaters on here, but I'm going to try my best.
Here's the plans for the basement: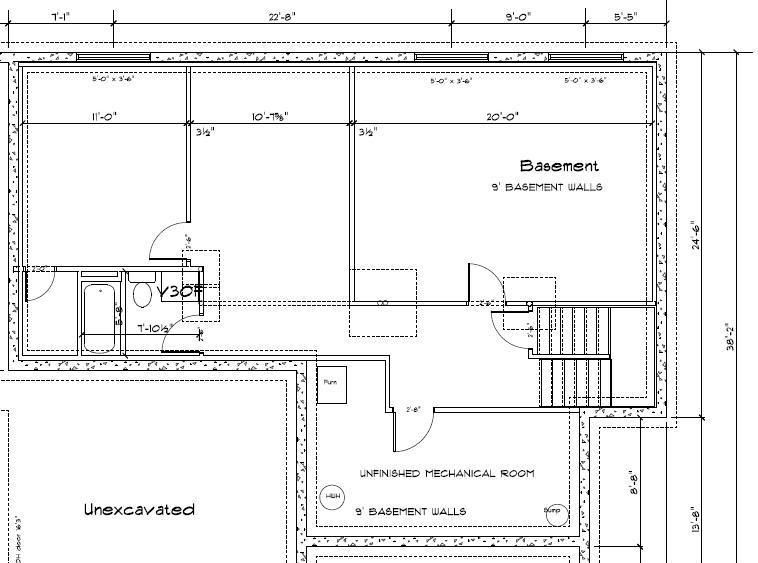 And here's a zoom in on the theater room: