Hello everyone. The planning has got to come to and end or I will never get this project rolling. My build is my first attempt but I will be adding all the common elements of most the builds here such as:
1) Double drywall, Green Glue and integrity gasket
2) HVAC 90 degree runs under MDF boxes
3) Grafik Eyes
4) 2 rows of seating (3 and 5) Berks and Movie seats
5) Riser
6) Sand filled Stage
7) Columns
8) Screen Wall with DIY 120' AT scope screen (Sheerweave)
9) Full sound treatments- traps etc.. (Bpape design)
10) Starfield ceiling (~11x5)
11) Dedicated equipment room with built in DVD storage
12) Whatever else I may dream up or you all suggest
*
12.1) Lighted Marquee and Poster frames- IndyGreg inspired
*12.2) Second Grafik Eye (to date 9 zones)
*12.3) Bigs nip and TUFT bar front

*12.4) Snack Area- just cause it is a one of a kind!
*12.5) Powered Masking System

*edited

The Room
We just built our new house and I did accommodate for the HT butbeing a bone head my dimensions are not the greatest ~18x16x 9 (nothing I can do about this at this point ). Here is the back side of the roomCould have easily made it a few feet deeper errrrrrrr
With the AT screen puts me very square as shown in the diagram. Note the light blue is and existing soffit and the peach are the planned new ones.
Here are some pics of the space
Equipment room- big mess right now but will be moved to the room's back false wall.
Existing Soffit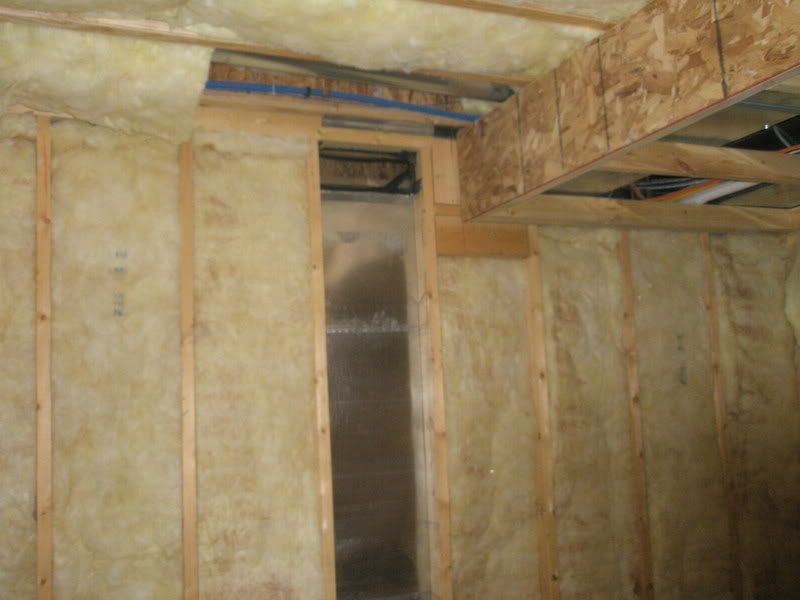 Ok fellas chime in if you see something I am setting myself up on and would really appreciate over all comments and suggestions.
And if you are lurking out there Logan you are MINE! But do owe ya some thanks as you did get me motivated !
Cheers Jeff