I was going to name this thread The "How much can I get away with before my wife puts a stop to this" Theater Build, but it's just too long of a name.
After nearly a year of thinking and planning (and negotiating) my home theater, I am finally getting started on it.
The link
here
is all of the questions I have had to date, just to give you a bit of background.
Pretty much every aspect of the theater has changed since my initial thoughts, and I'm sure most of it will change again, but here are the details as they stand:
After reading back through what I initially planned, I realized that virtually everything has changed. That is the one thing I was right about. So all of the red text in this opening post is what has been updated since I initially posted it.
The Goal:
I want a dedicated Home Theater Room as good as I can possibly get it. My wife also wants one (or is allowing me to have one), but in no way wants it to impair the re-sale of our house in the future, or for it to cost alot more than just finishing the room regularly and hanging a TV in it. So perhaps we can think of this as a Compromise Theater.
Compromise Theater would definitely have been a good name. The goal remains mainly the same, to get as good of a viewing room as possible without breaking the bank and with keeping resale value/appeal.
The Room:
18'x11' in an unfinished basement. 8' ceiling for most of it, with a 7'4 ceiling for the back 6 feet
Floor:
Going to install DriCore sub-flooring, with underlay and probably a burbor carpet on top.
Changed burbor carpet to a short shag carpet. It is more plush, more comfortable, better looking....
Walls:
Good ole fashioned 2x4 stud walls, all filled with R12 insulation. The exterior walls (to the cement walls) will just have regular drywall. The inside walls, especially to the stairs, the furnace room, and the bedroom, will have some sort of sound treatment. Still need to price up my options, whether they be DD, or DD+GG, or QuietRock Drywall. This is one of those Compromise issues.
EDIT: We have "compromised" that I will DD the furnace room, and pack all the walls with insulation. Thought being that we are the only 2 in the house and do not need to keep the sound in the room (theres no one else to disturb). The DD on the furnace room and insulation came from my argument that we still need to try to keep some of the sound out of the room, especially from HVAC.
EDIT2: Realized that in general it is all or none as far as sound isolation goes. Ditched the DD and GG ideas, but still stuffed all the walls around the theater and furnace room with insulation.
Ceiling:
Another Compromise issue. Original plan is to do a suspended ceiling throughout the basement, with joists packed with R12. I am going to have to try and work to get at least drywall on the ceiling, and maybe DD or QuietRock. We'll see on this one...
This has changed the most times out of anything... In the end, we are going with a drop ceiling throughout the main rooms (drywalled the storage rooms and bathrooms). The bedroom and laundry room will have typical white acoustic tiles, the theater will have Taupe colored tiles and grid, which will match the room colors nicely and get away from the dreaded white ceiling tiles.
Screen:
Going to be a DIY screen, painted grey. Still not sure if I am going to paint it right on the wall, or do up a fixed screen on MDF or some other board. Lots of time for that decision
Plan is to paint a 100" or so screen on a piece of Lite MDF and hang it on the wall.
Projector:
Right now I am leaning towards the Epson 1080UB. But the purchase is still a ways away, so we'll see what comes out and what prices look like then.
Got it down to Epson 6500 UB, Panny AE 3000 or Sony HW10. Not going to purchase until at least July, we'll see what prices do.
Equipment Rack:
Will be located above a mini-fridge, built into the elbow of the stairway. Will be accessible through a door in the stairs.
Same plan, but access will be from below the stairs. It should work better AND be easier this way. This is basically same plan as originally. As a finishing touch, I plan to build faceplates for each component out of some type of thin wood sheet, but we'll see how ambitious I get, and how well it actually works...
Other Equipment:
PS3, Wii, Starchoice HD Satellite, going to buy an AV receiver (perhaps the Pioneer Elite VSX-92THX), and going to buy a 7.1 speaker setup. Also down the road, not too worried yet.
Again, not until July. Still not worried
Timing:
As we are also building a Garage, Fence, Deck, and landscaping this summer, I expect to get the Framing, Wiring, and insulating done by fall. Then with a busy winter at work, I expect to pick it up again in the spring, and finish it off by end of summer 2009.
Pre-winter timing went well. But we now need to be done by May 1 (aside from actually getting the equipment in there) due to sister-in-law moving in to the basement for a while.
Here is a blueprint of what I plan to do (revised, many thanks to Tedd and DC):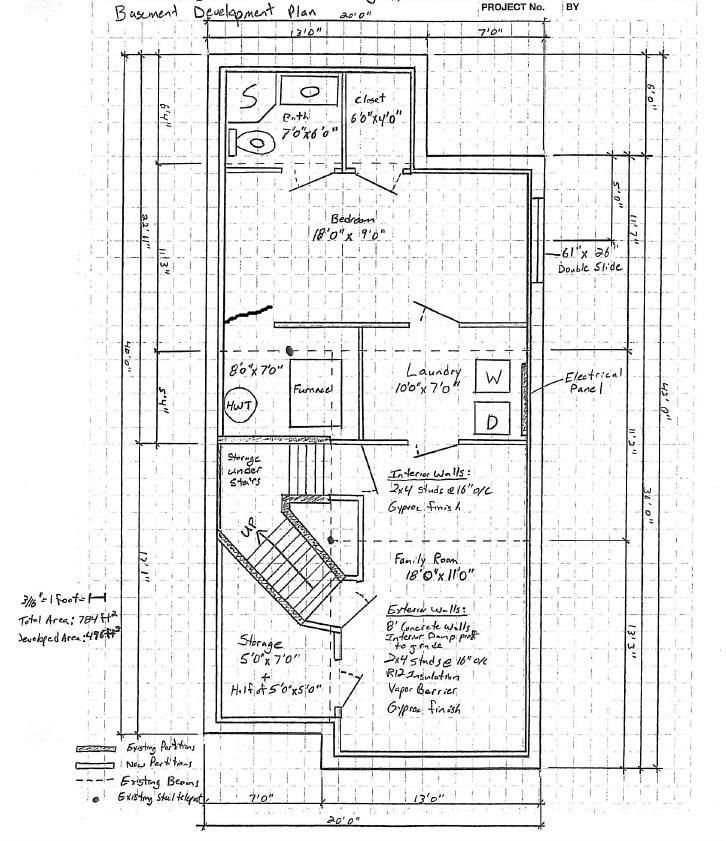 Old layout, for reference