I am posting this thread so that those googling will hopefully find it useful.
My own google searches turned up very little.
My Paradigm Studio reference 20 v.2's blew a tweeter several months ago.
they happen to be out of warranty, so I went back to my (former) dealer to order a new diaphragm. he told me the cost was around $35.00 + shipping, or around 100.00 + shipping for the full tweeter.
it's been almost two months now and I got tired of repeated calls to my (former) dealer, we had a few issues with the sale of a Studio 590 ADP, and I don't think they are ever going to actually order my replacement tweeter, so I started researching my own replacement and I believe I have found a better deal. I know I will eventually handle it with a different dealer, but I started the search for a replacement for my own enjoyment..
http://www.madisound.com/catalog/pro...oducts_id=1167
it is a replacement diaphragm for the vifa D25AG35. I had plans to make my own DIY mains anyways so I ordered two of the D25AG35, instead of just the diagram. They arrived today so I started testing.
http://www.madisound.com/catalog/pro...oducts_id=1076
I removed the front plastic bezel from the diaphragm and replaced it with the cast aluminum bezel from the Studio 20 tweeter.
it was a perfect fit, I understand that Paradigm custom makes their speakers, but I just don't see any difference in the two speakers, the magnet, the diaphragm, the color/shape screw holes, you name it.. it all looks identical.
all the way down to the same TORX head screw holding things together.
below is a photo of the original v.2 metal bezel with the Vifa tweeter guts behind it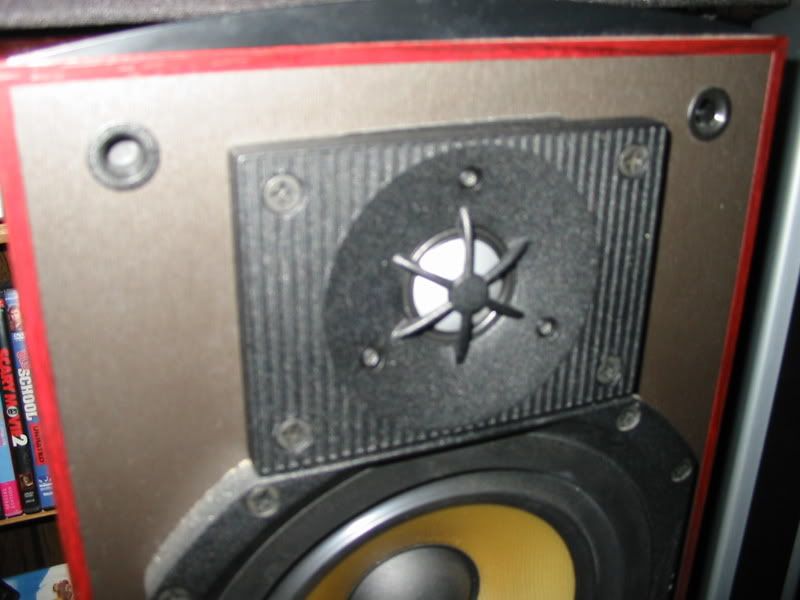 below is a shot of the the full Vifa on the left, and a combination of the Paradigm guts(blown diaphragm) and the vifa bezel.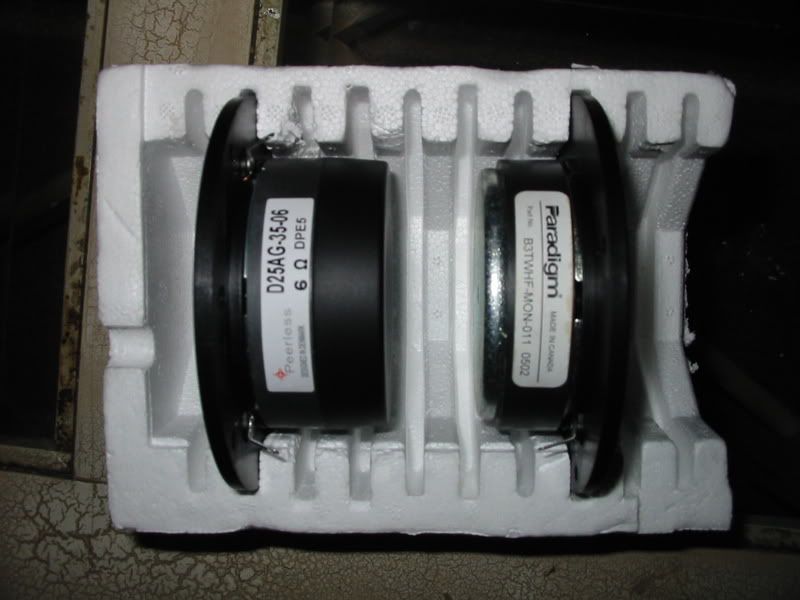 the only real difference I can see is the VIfa has a plastic cap over the end of the magnet. other than that, all looks identical.
and sounds identical. considering the cost? yeah it was worth it.
As of my first day of "playing" I am using the left fron Vifa mag+cone and the Paradigm bezel, my right front is standard paradigm OEM.
soon I will replace the right front with the vifa, and play some more. then eventually go to a different paradigm dealer and get an OEM replacement.
my overall plan is to create a clone set of studio 40's or 60's or 100's or something close based on this tweeter, then if I actually succeed move the 20's as read surrounds. wish me luck.
enjoy!