OK - enough lurking already...June 7, 2008 marks the start of my new build. There have been two before - HT1.0 was a complete demo and build of a basement in Michigan. HT2.0 was settling for a simple projector, screen, audio setup in another Michigan home and then Tennessee. Yes, I counted HT2.0 only once for those setups as they really are not worthy of a singular entry. My existing/prior gear has served many audiences well, but I cannot wait to upgrade everything, especially my very old, but still enjoyable, Sony 400Q LCD projector (not too many of those around now!!!)
Anyway, 3.0 broke ground today. The "bones" for this HT exist within what used to be the "bonus room", aka kids' playroom (sorry kids! - don't worry, we gave them another room to go crazy in). See the pics below. Note the exquisite "Pecan" paneling, textured ceiling, and old school square lights.
It felt REALLY good to tear all of that out today.
So, here's the post-demo result, down to the studs:
View from door into room (screen wall going in front of the windows)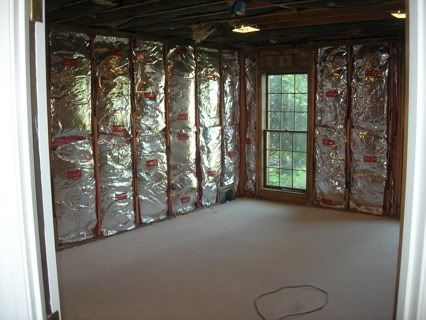 Opposite view towards door (back of theater)
The room itself is 19.5 feet long by just under 14 feet wide. Unlike the prior major build I will be going the double drywall route and incorporating a lot of ideas of managed to pick up from many of you on AVS forum (thanks!).
I'll start on all the wiring tomorrow. The first item of business is to swap all the boxes out with adjustable boxes to account for the increased drywall thickness, then the rest of the wiring with new recessed fixtures and AV. A few questions I would REALLY appreciate feedback on:
1) Regarding conduit, has anyone run it for any reason other than future proofing video signal feeds? i.e., should I bother running it alongside the rest of the speaker runs, etc?
2)For those of you who dealt with a remodel situation or are construction-smart, does it make any difference with respect to just pushing (compressing) the existing insulation back a bit versus removing it and replacing it for the conduit runs, wiring, etc?
3)I'd love to hear some of you chime in on whether your experience was that double drywall with green glue was sufficient for the ceiling or if additional measures in between the joists (aside from the existing insulation) are warranted/worth the effort. Here's what I'm dealing with (the silver portion is part of a return).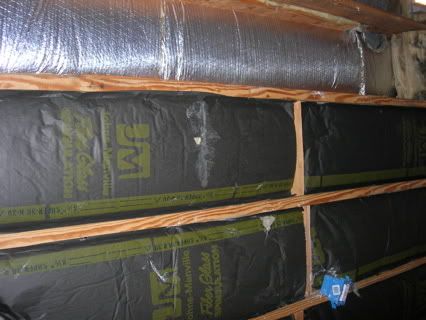 4)Regarding the HVAC return - mine goes up the wall, then across the ceiling and into the attic. Anyone have suggesting for sound proofing that portion of the wall outside of double drywall and green glue on the outer wall portion? Obviously, I can't put insulation there. It's not an outside wall, so it's of particular concern. Here's a pic of the wall to ceiling return portion of the wall.
More to come soon - thank to all of you who have taken the time to post your experience! I would be flailing about in the dark without all of this combined/shared knowledge.