Hey guys,
Since the Owner's Thread is getting swamped with problems regarding the AVR 254 and 354 , I decided to open a new thread dedicated specifically to the problems and the possible solutions. If anyone can find other issues, PM or post in here and I'll try keep the first post updated. This is my first time doing a thread like this, but I'll do my best to stay on top of things in here.
Have a more general question? Post it in here:
Official Harman/Kardon AVR 254 and 354 Owner's Thread
Before reporting a Playstation 3 issue in this thread, make sure your Playstation 3 is up to date. Sony regularly updates the console's firmware. You can find the most current version here:
Playstation 3 System Update
OR go to your PS3's XMB and selecting "Settings", then "System Update".
CURRENT AVR FIRMWARE: Version 95.1.1
KNOWN ISSUES
1)
PCM Lock Issue:
The AVR 254 and 354's lock on a PCM stream times out extremely quickly. That is, if there is no PCM signal coming through the HDMI cable, the AVR's processor unlocks and starts searching. The easiest example of this is when the PS3 is idling on the XMB, or a game is paused, the AVR 254/354 seems to lose its lock on the PCM audio information the PS3 is sending it. This results in the "clicks" of the XMB scrolling not being heard, and certain games (notably Metal Gear Solid 4 and GTA IV) losing audio at first when the pause menu is closed. Also, the Playstation 3 startup sound appears to get cut off.
Solution:
Fixed in 06-10-08 (That's October 6th, not June 10th) Firmware Update. PCM lock will still time out, but takes significantly longer to do so.
2)
Audio dropout on Blu-Ray movies:
A) "There Will Be Blood": Chapter 3 between the 35:00 and 36:23 minute mark.
B) "The Lookout": Chapter 9 between 51:12 and 52:28.
C) "Shine A Light": Multiple dropouts in first ten minutes.
Solution:
Appears to be fixed in 06-10-2008 firmware update. 3)
Audio dropout on PS3 Games:
A) Metal Gear Solid 4
1) Absent dialogue and very muted background noise during cut scene. Cycling through surround modes does seem to fix this issue temporarily.
2) When getting a call, center channel (dialogue) is inaudible. Surround effects/background noise remains audible, though.

B) Grand Theft Auto IV
1) Receiver appears to default to Logic 7 surround mode. Should read out as MPCM
2) While in a vehicle, all audio from cell phone conversations is inaudible. When outside the car, only the Niko (the main character) can be heard.
C) NCAA Football 09
1) Voice from Play by Play analysts is missing. Cycling through surround modes appears to fix issue.
D)Lego Indiana Jones, Madden 09, Top Spin 3
1) Various audio dropouts, when/if audio does return it can sound "hollow"...almost like in a cave.
Solutions:
All issues appear to be fixed in 06-10-2008 Firmware Update.
4) HDMI Syncing issues:
The AVR 254 and 354 have trouble syncing to a new HDMI device when switching between sources. E.g.- when switching between a PS3 and cable box, or Xbox 360. Screen tends to flash green and/or pink.
Solutions:
Significantly corrected in new firmware. Remaining problems appear to be combination of AVR and source fault.
5) "Processor: Off" functionality:
When selecting "Processor: Off", the AVR 254/354 does not actually stop processing the signal. It continues de-interlacing and working on the signal. Users are completely unable to bypass the processor. Also directly affects BTB/WTW (Blacker Than Black/Whiter Than White) pass through.
Solutions:
Fixed in 06-10-2008 Firmware Update.
6) 1080p/24:
The AVR 254 and 354 appears to blocking the transfer of 1080p/24 material in certain cases. The option remains grayed out and unselectable. The receiver indicates getting a 1080p/24 signal from the source (Blu Ray) but then passes the signal along as 1080p/60 to the display.
Solutions:
Fixed in 06-10-2008 Firmware Update
7) The Bridge II:
A) Navigation through iPod menus can be laggy and at times completely unresponsive.
B) Disabling Bridge charging does not actually disable charging...the iPod still charges in the dock.
C) There appears to be a glitch related to The Bridge II and the standby light color on the AVR.
Solutions:
Navigation speed has been improved, though still laggy with new firmware. iPod still charges even when charging is disabled. Standby light glitch still remains.
8) PCM LFE signal:
When receiving a PCM signal, the LFE track is much higher than a standard Dolby Digital or DTS signal, to the point of drowning out dialogue when left unadjusted. This results in users having to tweak settings back and forth between different sources.
Solutions:
None
9) HDMI to DVI Connections:
Some users have reported issues hooking up their AVR 254/354 to a display using HDMI to DVI connections. Harman/Kardon has acknowledged these problems and is working on another firmware update.
Solutions:
Possibly fixed in Firmware version 95.1.1
10) Motorola Cable Boxes:
Users with Motorola Cable Boxes (eg-Cox Cable users) are having severe issues with HDMI syncing when switching between HD and SD programming. Picture flashes green and/or pink, and immediately becomes scrambled.
Solutions:
None. Has been present since firmware 46.3.1, has gotten more severe since 93.1.1 update
If anybody knows of other issues (my brain is fried right now, so these are all I can think of) let me know and I'll update the first post.
****UPDATE****
With the new firmware (apparently) approaching quickly, I thought it would be a good idea to post the AVR-254/354 firmware check sequence.
Firmware Check Sequence
From HK's Support page:
"With the AVR turned on, push the "AVR" button at the bottom of the remote, press the 1, 2, 3 and 4 buttons on the remote in that order; then press the OK button.
After a short pause, the software version number will appear on the AVR's front-panel display."
If that doesn't work, try pushing "1, 2, 3, 0" then "OK".
Here's a picture of the AVR's screen when displaying firmware: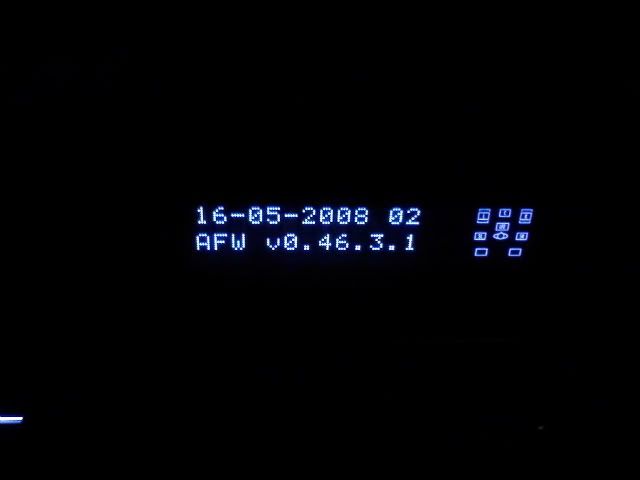 ***MAJOR UPDATE***
New firmware has been posted on Harman/Kardon's website. Link here:
Harman/Kardon AVR 254 & AVR 354 Firmware Update
This update addressed the issue with DVI to HDMI connections. Let's see what's fixed and what (hopefully isn't) now broken.