After a few months of tinkering, I thought I would share my simple do-it-yourself infrared controlled lens sled. The commercial lens sleds out there are ridiculously expensive and I thought I could build the same thing for much less.
This is completely controllable by a universal IR remote and doesn't require any fancy limit switches or a control system. I'm using the HTB Lens.
Total cost of all parts for me was $86:
Lens sled retracted: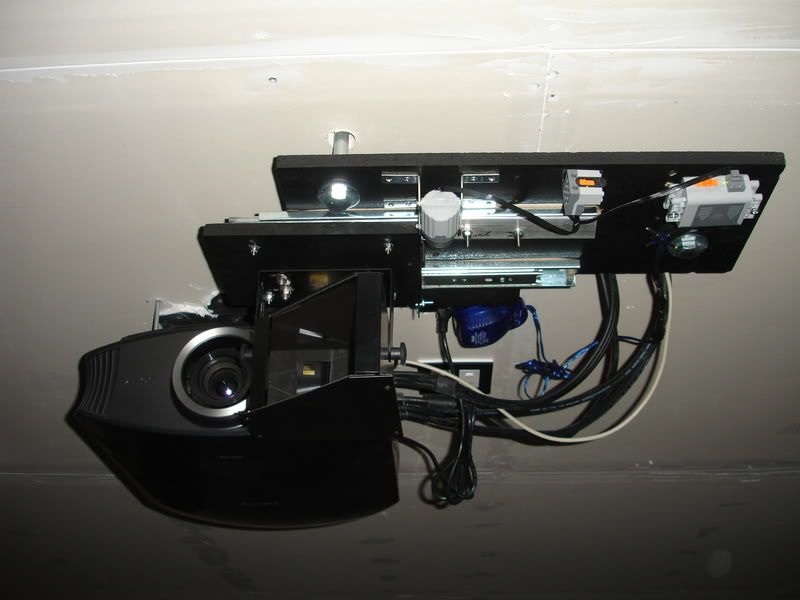 Lens sled extended: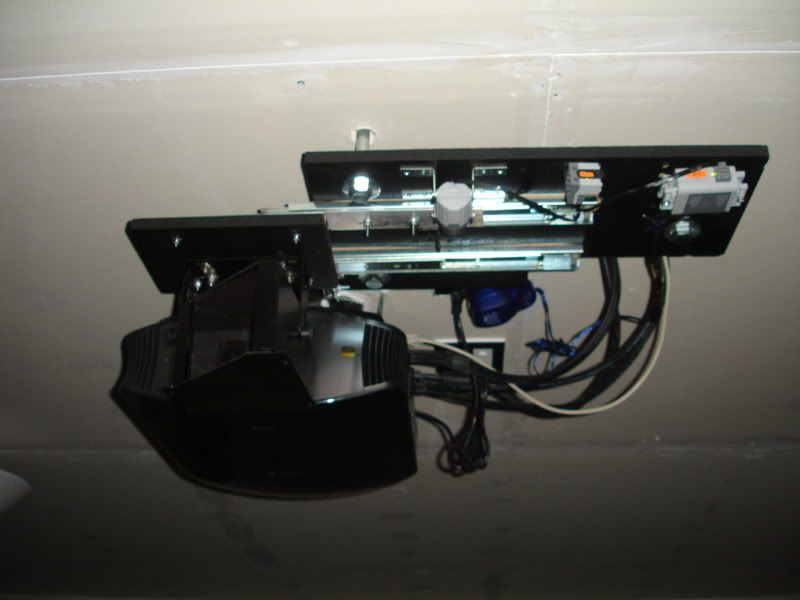 The key working parts of this system are some cheap Lego parts. Lego has a category of product called "Technic" which is their more advanced robotics brand. They have motors, IR receivers, transmissions, etc, and the key components can be bought as separate parts on Lego.com.
Here's the Lego parts you need:
Battery Box $6.49
XL Motor $9.49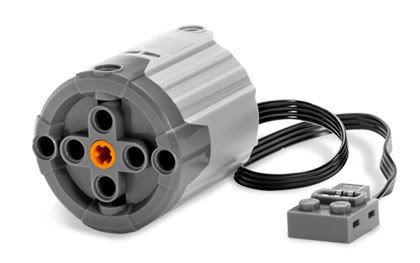 IR Receiver $13.99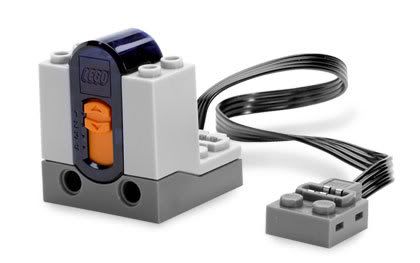 IR Remote Control $8.99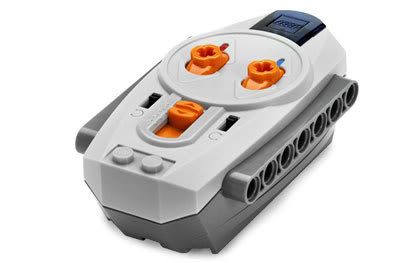 You'll also need a shaft, wheel, and tire. These are a little tougher to find, but you can find millions of lego parts on E-bay at many E-bay stores (The Brick Place, FindMyBrick, Finders Keepers Brick Shop, just to name a few). Or you could go to Wal-Mart and buy a small Technics lego kit that has the parts (or steal the parts from your kid)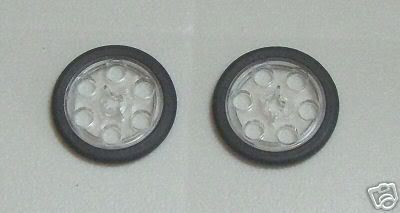 Picture of the lens sled with the parts labeled:
Attach the motor to four small 90 degree angle brackets using small spring pins (they are hollow and are cut down the length to allow them to be compressed into a smaller diameter for insertion). Would suggest taking the motor to the hardware store to make sure the pins fit. Then attach the motor and bracket assembly to a piece of MDF or wood with wood screws: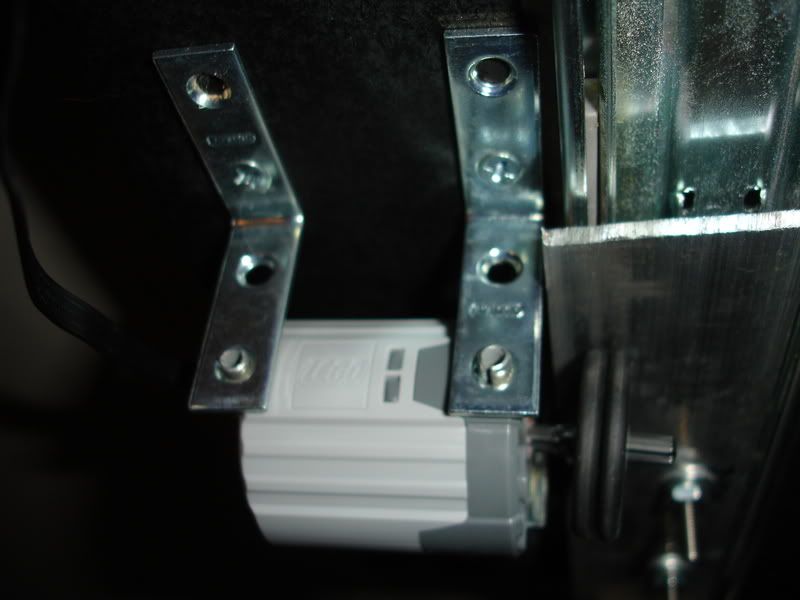 It's a simple concept, just install the Lego tires (I used two wheels stacked against each other) against the drawer slide and then command the lego tires forward and backward with the remote control. I had to attach a piece of aluminum to the drawer slide to get a consistent smooth surface and the right tire height, but you can probably find a better drawer slide than I used if you looked. Glue the shaft into the motor, and glue the wheels onto the shaft. Place some small 90 degree angle brackets where you want your travel stops (you can see in the picture above that I placed a screw in one of these brackets so I can fine-tune the extended stop position). What's cool about this is that you don't need any fancy limit switches, just power the motor against the stops and the rubber tire "skids-out" if the remote command is a little too long.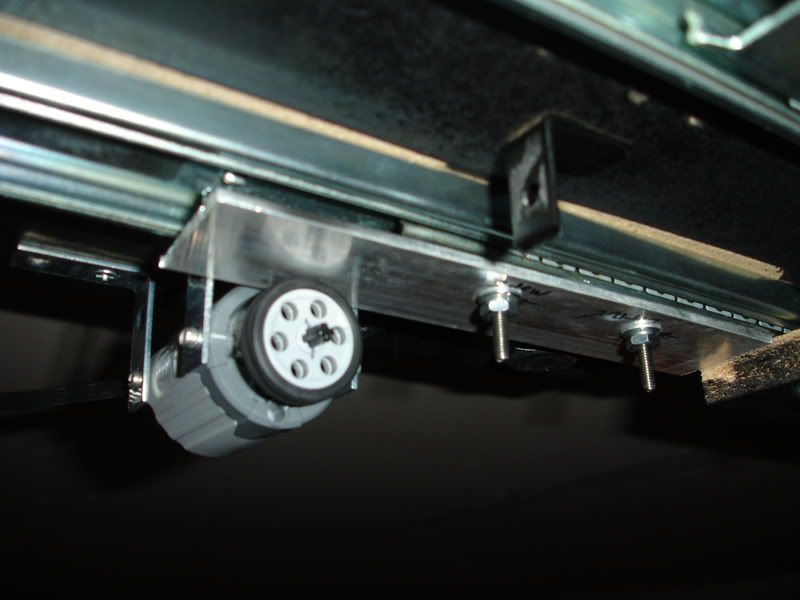 As for providing power, the battery pack requires 6 AA batteries, which ends up supplying 9V to the motor. You could use batteries if you want, but you'd have to turn it off every movie session, or you'll be replacing batteries every few days. What I did instead was use a 9V DC adapter from E-bay, and then hooked it into the circuit. This way I can leave it on 24/7. To complete the full connection circuit, I used copper wires to simulate the batteries, and glued them in with conductive adhesive and/or solder. (Be careful if you solder, there is a circuit board in the battery box, and I toasted the first box because I can't solder worth a crap). Here's one side of the battery box opened. The black and red wire go to the DC adapter: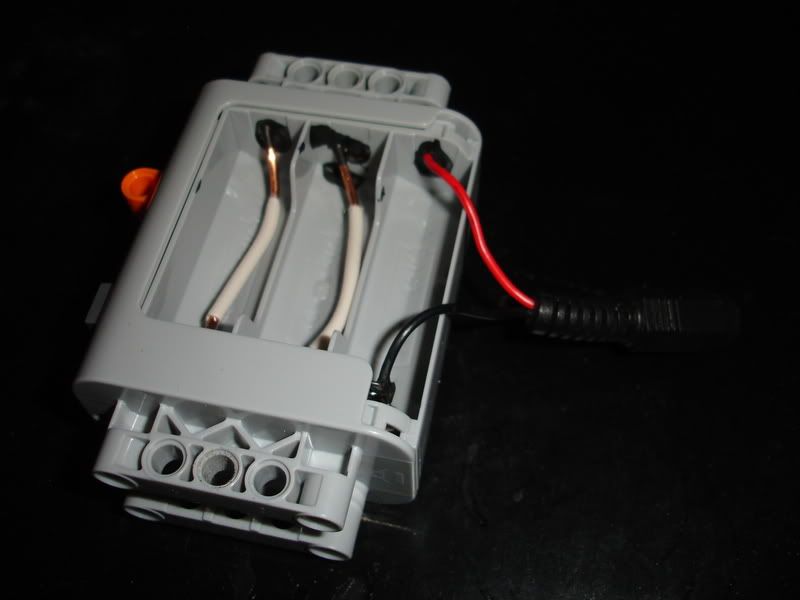 And here's the other side of the battery pack (the white wires are the battery "replacements"):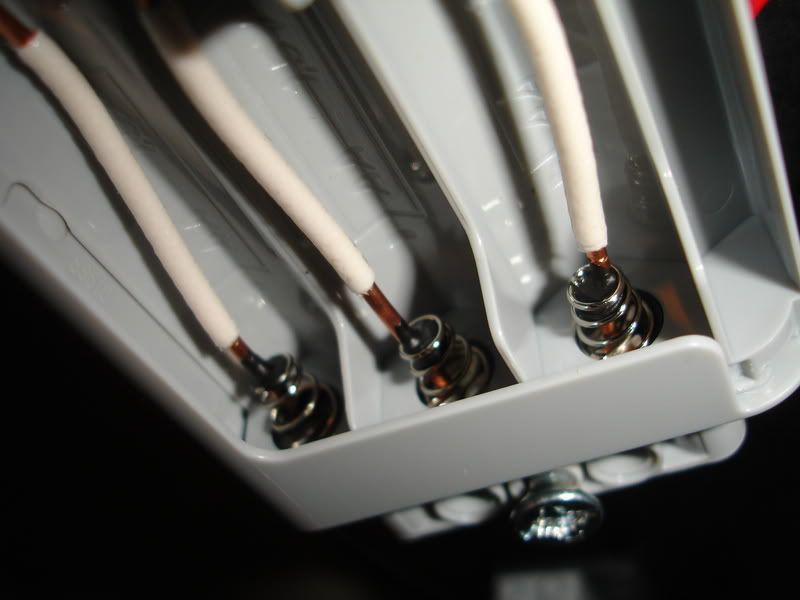 6 AA batteries put out a fair amount of current, so make sure you get at least a 1 amp DC power supply: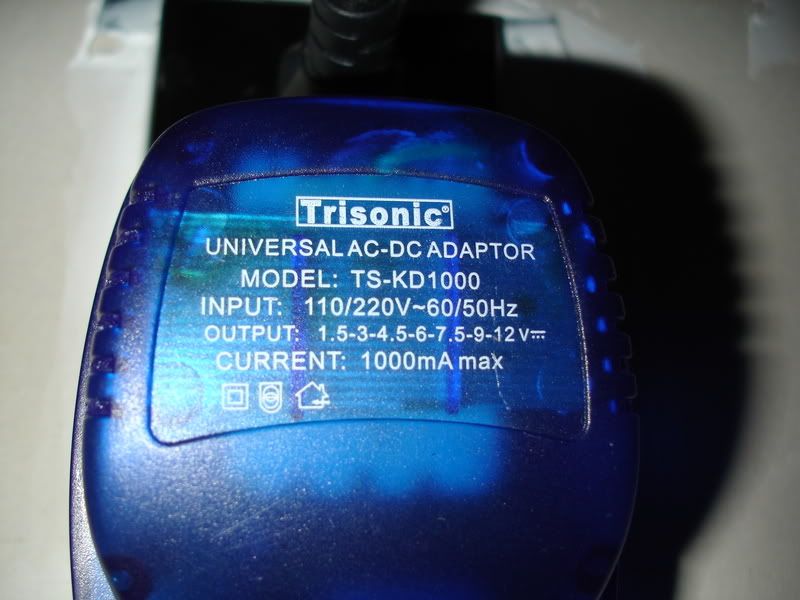 I programmed my Harmony 880 remote control to learn the commands from the Lego remote. I velcro'd the IR receiver to the MDF base plate so that it faces the big-screen. This way I can point the remote at the screen, and the IR signal reflects off the screen to command the lens sled.
So, final parts list and cost:
$6.49 -- Battery Box
$9.49 -- XL Motor
$13.99 -- IR Receiver
$8.99 -- IR Remote Control
$13.00 -- 1.0 Amp DC Power Supply
$6.00 -- Drawer Slides
$8.00 -- Misc. Lego Parts (shaft, wheel, rubber tire)
$20.00 -- Misc wood, brackets, screws
About $86 bucks. I've been using it solid for two months now, works great.
And finally – I made a video on YouTube showing it work:
http://www.youtube.com/watch?v=oLYWP6lRxoU
So let the Lego fun begin and let's see if you guys can improve on the design!