Index:
Subfloor
Gas Line Leak
Framing and MLV
Lowered Theater Ceiling and Arches
Electrical
Plumbing
HVAC and Low Voltage
Fire Blocking
Frankensub
1 Year Progress
Insulation
Theater Ceiling Isolation
Drywall
Green Glue
Surround Speakers
Sub Panel Hook-Up
Drywall Finishing
Spray Painting
Bathroom Tile
Berkaline Chairs
Rack find
Sub Build
Bathroom Vanity and Bar Floor
AV Closet Tile
Vanity Granite and Bar Cabinets
Bar Counter Tops
Riser Construction
Stage construction
Soffet construction
Column construction
Behind the Screen construction
Soffet finishing
Column Installation
Fabric Frame Construction
Carpet
Screen Construction
Final Theater pics
Yes, there are wrinkles in the screen, but when the movie is on, you don't notice them at all.
Most of these shots were using a wide angle lens.
Screen with masking in for 16x9
Screen without masking for 2.35:1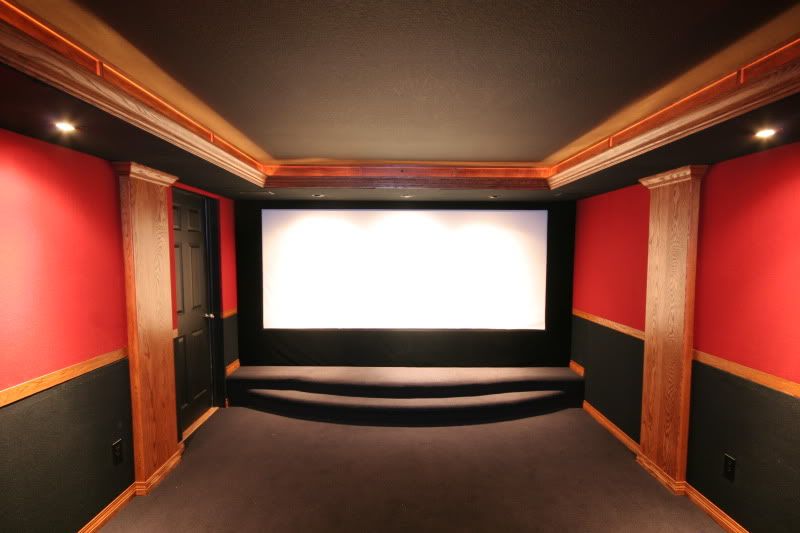 normal lens looking towards the seats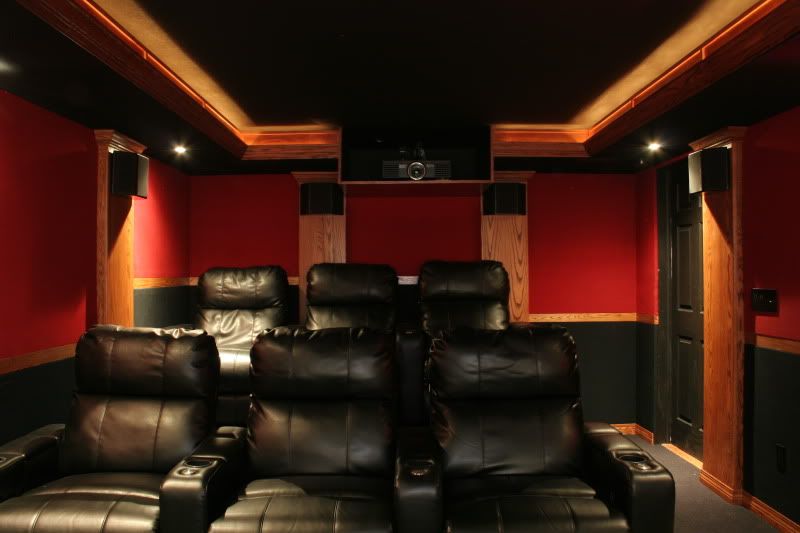 wide angle towards the seats (can see the sconces here)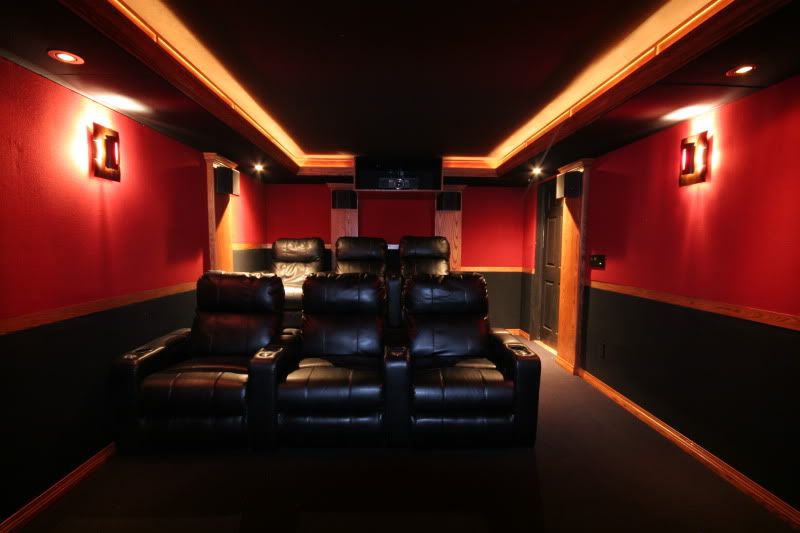 I tried to get a shot with something on the screen, but most did not come out well, here is the best I had.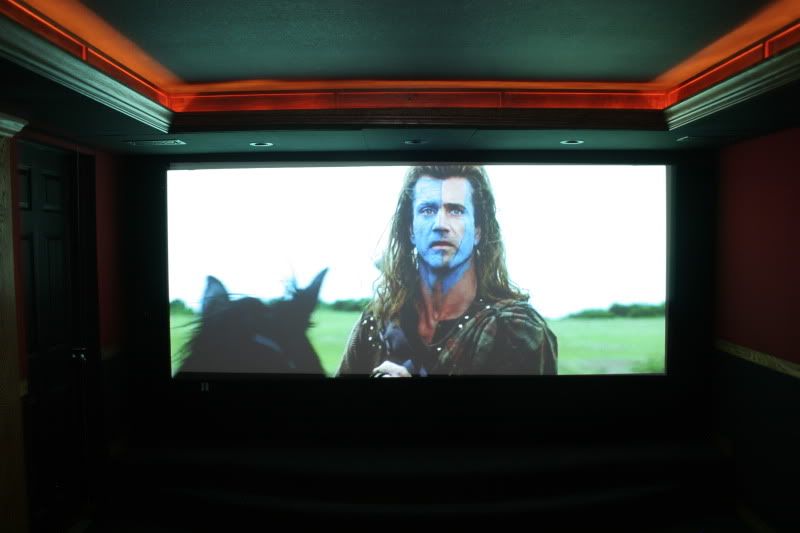 First, I would like to thank Chinadog, Sandman, Swithy, and a myriad of others for all the documentation they did on their threads which in turn has helped me plan and visualize my future theater. Hopefully my thread can be payback for all the information I have received from them, and in the future help other people learn what to do, or in many cases what not to do. Further brown nosing will be sure to come in the future.
This will be my man cave, my place of refuge, and probably my doghouse. This will be a slow build, because I will not go into debt on it, and I can only save about $100 a month for it. Tax time and bonuses will help the funds jump, but I am not counting on these. So I am probably worthy of being "Loganed".
We moved into this house in November of 2006. I have been letting the basement settle, and watching for leaks. We had all the cracks sealed and a Radon vent put in. I did the plastic bag taped to the concrete test to look for moisture, but didn't see any. Still I am putting Delta-FL down first and will build the walls on top of that. Doing it in that order will keep me from making many extra cuts on the Delta-FL and the OSB going on top of it, and I will not need that nasty PT lumber to go in as the base plate for the walls.
This will be a dedicated theater, rec room, bathroom and kitchen/bar area. For a total finished area of about 1050 Square Feet. The thread will cover the whole basement with focus on the theater.
At this time, I do not know most of my equipment. I will build the room first, and equipment can come later (besides, I am sure it will all have changed by the time the room is complete). Some items I do know:
SMX screen: I purchased the material before Sandman was no longer allowed to sell just the material, so I will have an AT screen. I think I have 5 yards (I will have to check) and I am not sure of the screen size yet. I am leaning towards 2.35:1, but will probably do it on zoom at first, and look into lenses later.
Left, Right and Center Channels: Homemade. I watched Swithy build his, and followed the thread he used to build his. I built my speakers this last winter. I did not make the curved sides as he did, and I used the center channel from the design thread, not another tower like he used. Here is the link to see the speaker design if anyone is interested. The thread is a short one, only about 2000 posts to wade through…
http://www.htguide.com/forum/showthr...3&page=1&pp=35
No idea currently on other equipment.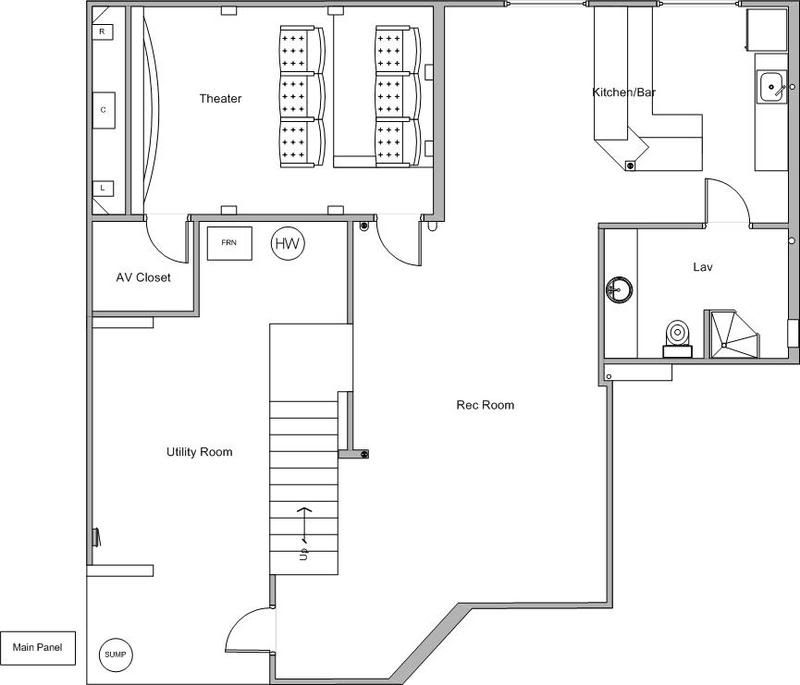 The current plan is for a room that is 20' 6" x 12' 6". I am restricted on the width by my furnace and a Lally column, and for the depth, 2 feet will be cut off for the screen, and the rear wall probably won't be pushed out more so it doesn't work too far into the kitchen/bar area.
The plan is for 2 rows of 3 seats with rear row on a riser, a stage for the screen, columns for the surrounds, star ceiling, double drywall with Green Glue. Clips and track for the ceiling, walls using RISC-DC04. I am in Colorado, and must have floating walls, so I will use MLV for the 3" gaps at the bottom of the walls. Frames on the walls, covered in GOM, probably a red and black theme. An AV closet is up by the screen. Completely light controlled, no windows in this area. I am planning a Grafik Eye for lighting control.
The bedrooms are 2 floors away, and the basement and main floor are on a separate heat/AC system than the upstairs, so sound shouldn't be too bad when the kids and wife are sleeping.
Equipment:
WRK-40-32 Mid Atlantic Server Rack
Left, Right and Center Channels: Homemade.
http://www.htguide.com/forum/showthr...3&page=1&pp=35
Side and Rear Surrounds - Emotiva ERD-1
Elemental Designs Dual 13Av.2 Sealed DIY Sub Kit
SMX DIY screen material
And of course 6 Berkaline 12003 with power reclines.
Panasonic Projector PT_AE4000U
Yamaha RX-V667 receiver
APC UPS BE750G
Wanted:
DISH 922 VIP?
Popcorn Hour A-200, A-110?
Server (UnRaid box?)