Well after waiting almost two years for my new home,
I'm FINALLY IN!!!!

I've been reading and posting here for almost two years to the day,
and after filling my tiny apartment with A/V components over the past two years,
the day has finally come to move my toys to a dedicated "Man-Cave"...in a REAL house.

...a little background
My humble beginnings here at AVS, Sept 2006, 1 Bedroom 500 sq.ft. apartment.
a 10 year old 27" Mitsubishi CRT TV,Yamaha 5.1 pro logic surround sound w/Yamaha 8" 85 watt sub lol
Mission bookshelf speakers and a Yamaha progressive scan SD DVD player.



My first HD  purchase Sept. 08/2006 Pioneer PDP-5070HD , Motorola HD STB (DCT-6200)
...then things started snow-balling (ohoh, hang on tight!)

Followed shortly by an XBOX 360 w/HD DVD drive, PS3, Yamaha RX-V661 for HDMI and 7.1 audio
Then in the Spring 07' I added some better Tower speakers (Mission) ebay score for half price and a real sub from Velodyne.
I ditched the XBOX HD-DVD add-on in favour of a Toshiba HD-A2 HD DVD player for Lossless Audio and better upconversion...



Picked up a second Pioneer plasma (PDP-5080HD) Kuro in the Spring of 08', so I could move the 5070 pio plasma to the Master Bedroom.
Another AVR upgrade (Yamaha RX-V1800), and found a second matching 12" Velodyne sub on sale, Half Price!
and added another Motorola HD PVR (DCT-3416) now that I had two TV's.




My ex-bachelor pad just a couple weeks before moving day to the new home
...still projector shopping will likely be a JVC or Epson




Current Component list:

Video
Epson PowerLite Home Cinema 1080UB (Ultra Black) Projector
120" Motorized Richvision 1.3 Gain Screen w/ wireless remote
Pioneer Kuro PDP-5080HD Plasma
Motorola HD PVR (DCT 3416)
Toshiba HD-A2 HD DVD
Sony BDP-S5100 Bluray
XBOX 360 Elite
PS3 80Gig


Audio
Yamaha RX-V3900 AVR 9.3 speaker configuration
(7.1 + 2 Front Presence channels, + 2 Extra Sub's)

Mission Speakers
M31i Front Presence
M34i L/R Towers
M32i Center
M31i Side Surround
M31i Back Surround

Velodyne Subs
Two 12" Velodyne DPS-12's  (Front L/R)
One 15" Velodyne DLS-5000R (Rear near field) ....number 2 is on the way,
found another old stock NIB and heavily discounted so I couldn't resist.
Power Conditioner/Surge Protection
Monster Power HDP 2500 Power Center
Monster Power HDP 1800 Power Center

Spares/BackUps
Yamaha RX-V1800 AVR
PS3 60Gig (original launch)
Pioneer PDP5070-HD (Master Bedroom plasma)
Samsung 26" LCD (Kitchen T.V.)
Motorola DCT 6200 HD STB (Master Bedroom)
Yamaha RX-V661 AVR
Yamaha 8" Powered Sub
4 Mission M30 speakers
1 Mission M3C1i center


My New Home
New Built in 05', Two Storey Victorian/Craftsman with "un-finished" Basement !

3 Bedroom, 2.5 Bath and about 700 sq.ft. per level put it about 4x the size of my apartment.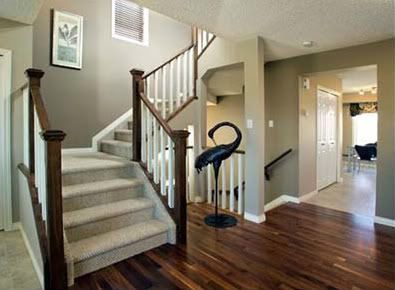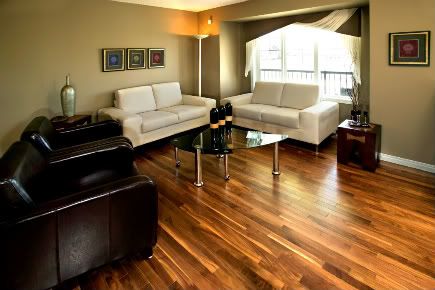 A Former Show Home I designed/drafted, came fully decorated and furnished, stainless steel appliances all included.



before/after exterior shots...amazing what a little landscaping can do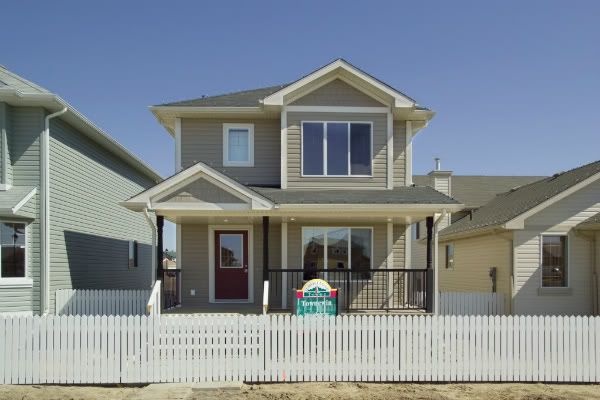 The plan for the basement man-cave is to start with my 50" plasma and eventually set up for a Projector/Screen (106"-120")


Now for the Fun stuff: using Google SketchUp




Back to reality...here's where I'm at now

Finished stairwell leading down to the future HT

.
.
.


Dedicated Theater area 14'-5"  x 16'-9"  x 7'-9"  = aprox 250 sq.ft./1900 cubic feet



I cant afford to Totally finish the space right away, so this is going to be a long drawn out work-in-progress,
and to make things even more difficult, I will need to work around all my gear after the room is full of furniture and AV equipment.
Not ideal I know, but its either that or leave everything in storage for another year or two...THAT just aint Happenin'


My First Home Theater
...My Kuro plasma just wasn't enough, so I made my home movie Experience Larger than Life with a Projector!
Edited by PioManiac - 4/17/13 at 10:20am