hi folks,
I am moving into a two bedroom 1 living room apartment and my movie room will be the living room. Because of this I am looking for something that is both comfortable for movie watching but is also guest friendly for get togethers and aesthetically pleasing. I am having a heck of a time finding something that satisfies these things. I def like the sectional look. Please let me know what you think of the possible pros/cons of these choices and feel free to suggest something else.
Cabo Modular Sectional Living Room Furniture Collection
http://www1.macys.com/catalog/produc...Path&zip=01609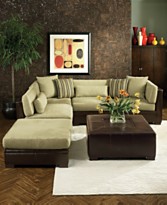 Pros: Stylish and the low back is nice for lounging. Made of caress microfiber (also knows as wonder suede) which is VERY cousy feeling.
Cons: a bit pricey due to being a 5 piece modular also the low back means it could potentially become uncomfortable during long sittings (watching a movie).
Sofa Trend 5 pc Sectional
http://www.jordans.com/room_facts.as...size=&index=29
Pros: super comfy caress microfiber. nice and deep cusions.
Cons: A little wider than I would like (125"). also a bit pricey due to modular design. a little bit of an old fashion arm style.
Montana
http://shop.mybobs.com/Montana_Sec.aspx
Pros: super inexpensive and exactly the style and size I am looking for.
cons: cheap construction. cheap polyester fabric cover (not leather). not very substantial spring support for cusions.
So those are my top picks so far. I will probably be going for one of those but I am also open to a different configuration involving a reclining single seater for my self and then a sofa or small sectional for guests and lounging (laying down). Open to ideas and opinions. thanks