Hello all
For YEARS I've used the same amp/sub combo and I think it's time for an upgrade. I'm currently using an old SVS CS 25-31 with the old ISD driver and it's being powered by the old Parts Express "250 watt" power amp that's actually rated at 180 watts @ 8ohm. It seems to drive the SVS fine so I've not really considered getting more power for this setup.
The reasons for my wanting to upgrade are as follows. I've been able to bottom out the SVS on rare occasion and would like tighten up the bass. The SVS seem slower and muddy compared to today's standards. At first I considered just getting the new SVS driver but my brother-in-law offered to build me a cabinet the other day so I think I'm going to take him up on that offer.
Edit I just bought the Behringer EP2500 to power this project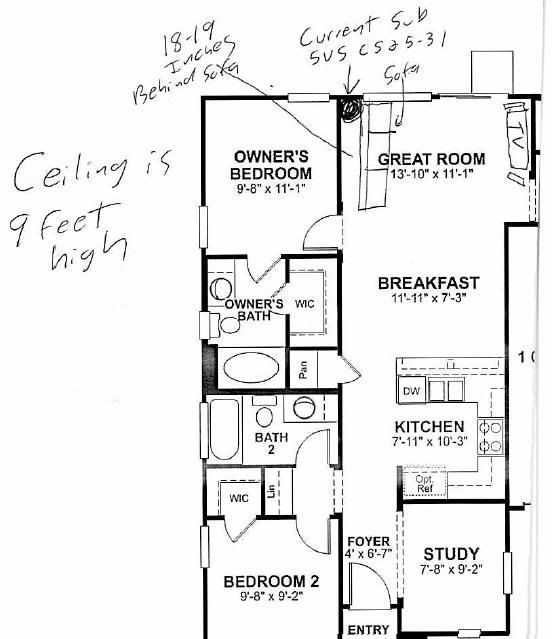 My "home theater" isn't in the best of locations. As you can see by the diagram my current sub, and future sub need to go behind the sofa. The sofa is 18-19 inches from the wall to allow this and to give some distance from the surrounds. The house is wired with speaker wire only. The amp is behind the TV so I need to keep it this way. I am not going to run coax now or any time soon.
The ceiling is 9 feet tall and the great room, breakfast, kitchen, foyer and study are all connected without any doors.
I'm thinking I could squeeze a 15in driver behind the sofa. If possible I'd like to to be no more than 19 inches wide and 31 inches tall but it doesn't matter how long it is (within reason) Vented or sealed… sealed would be easier to build but I'm open to both size as well as enclosure types.
Cost: Money is a factor and I'm all about "bang for the buck" but in this situation I REALLY want the sound quality to be there. If I had to put a max I'd say no more than 300.00 for a driver (if that's possible)
Thanks!
Jon