I figure I'll get things started with a post about a speaker maker that doesn't get a lot of play in the various AV enthusiast internet boards—"the other Wilson", Wilson-Benesch speakers out of Sheffield, England.
It wouldn't surprise me if this thread ends up being a circle of one for some time, but I hope that the other WB owners out there come here to share their experiences with their speakers. And it would be just as good to get a few posts, good or bad, from people that have heard them while speaker shopping.
Below are a few of pics of my system.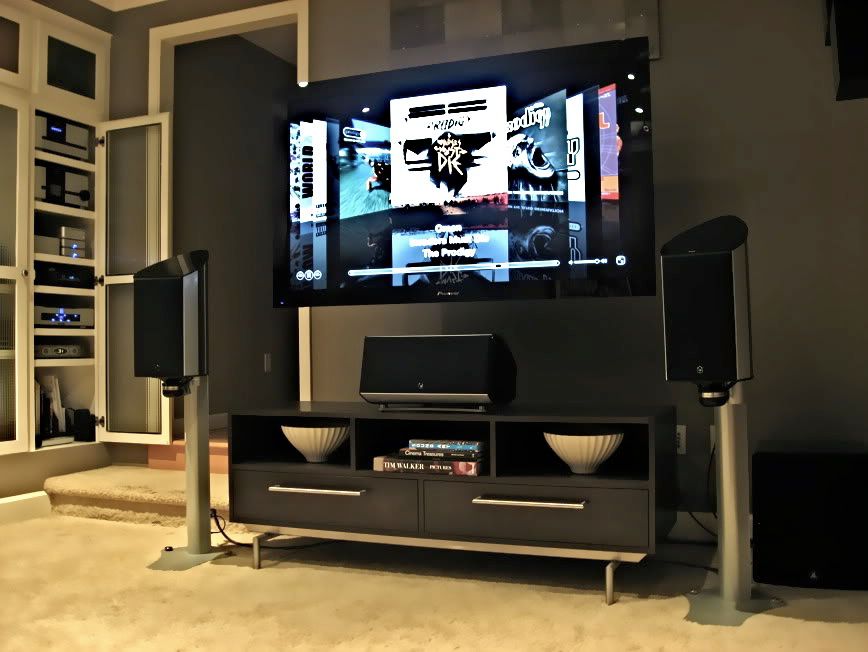 For those of you unfamiliar with WB, their claim to fame is their curved carbon fiber cabinets. Their thinking is that carbon fiber is a better solution for a speaker cabinet than the MDF typically used because of its inherent strength and non-resonant characteristics. WB also states that the velocity of sound through carbon fiber is 6 times higher than MDF, but frankly I don't know what that means, or how it affects sound quality, I just know that I like the sound of the speakers overall.
10/22 Edit: I dug up a little more info on carbon fiber and why it possibly one of the better materials to use for a speaker cabinet.

"The design goal at Wilson benesch has been to build speaker cabinets that would convince listeners that acoustically the cabinet would be invisible. To the engineers at Wilson benesch the solution was clear. Using Carbon Fiber to build cabinets delivered on that promise. With Carbon Fiber as the rear waves hit the inside of the cabinet they are almost instantly absorbed, bouncing around the billions and billions of carbon molecules and quickly transformed to heat. This happens because sound travels through carbon fiber at 18350 meters per second, much faster than wood were the speed is only 3300 meters per second. "

VELOCITY OF SOUND IN METRES PER SECOND:
RUBBER 40
CORK 400
LEAD 1158
WATER 1433
ACRYLIC 2680
CONCRETE 3200
GOLD 3240
WOOD 3300
BRASS 3475
COPPER 3900
HARDWOOD 3960
GLASS 3962
BRICK 4176
ALUMINIUM 4877
IRON 5130
PYREX 5640
STEEL 6100
DIAMOND 12000
CARBON FIBRE 18350
All of their speakers use custom in-house 7" mid-bass drivers, a modified Scan Speak Revelator silk dome tweeter, an unusually high cross-over point of 5KHz between them, with a shallow slope on the woof and a second order slope for the high-pass to the tweet.
Wilson-Benesch "Tactic" Driver
I'm not sure why, but WB has opted NOT to make the driver cone of the Tactic Driver from Carbon Fiber, instead using some special form of polypropylene that is woven in the core and heat bonded to two skins of thinner poly to strengthen it. The only comment I could find from the company on this decision is that the poly sandwich cone offers a better combination of stiffness and internal damping than carbon fiber would. I'm sure that could be debated, but I like the way the midrange sounds, so no argument from me.
10/31/08 update:
"The diaphragm material imparts its own character to the sound that is reproduced. A stiff material that is also self-damping is the ideal, but materials that exhibit this are very few. Carbon fibre is more like metal when produced in thin sections, as required for a small diaphragm. The audible character of such materials is evident in a more edgy presentation, that is often described as hard, and is always fatiguing. Kevlar and paper have definite benefits when compared to hard materials, but none of them compare to Isotactic Polypropylene."

(Performance measured on a scale of 1 to 10 where ten is good and 1 is poor.)

--------------------------------------------------Metal---Kevlar---Pulped Paper---Polypropylene---Isotactic Polypropylene
Specific Mass (Stiffness / Mass) -------------- 7 ------ 8 ---------- 6 --------------- 6 --------------------------- 8
Speed Of Sound Through Material ------------10 ----- 5 ---------- 6 ---------------- 6 --------------------------- 6
Level Of Self Damping -------------------------1 ------ 7 ---------- 8 ---------------- 7 ---------------------------10
Damping At The Molecular Level ------------- 0 ------ 0 ---------- 0 ---------------- 0 ----------------------------8
Woven Structure In Two Directions -----------x------Yes ---------x------------------x-----------------------------x
Woven Structure In Four Directions -----------x-------x------------x------------------x-------------------------- Yes
Total---------------------------------------------18----- 20 -------- 20 --------------- 19 --------------------------32
Well, enough tech talk, you are probably wondering what they sound like. But . . . before I go there, a quick description of how I came to even consider them is in order.
I've been a sub/stat guy for most of my audiophile career, but recently I got on this kick to get some largish floorstanding speakers, thinking that bigger speakers would give me a more effortless sound and a bigger sound all-around. It turns out, after listening to many of the top floorstanding speakers available, a big sound is not guaranteed and there are other factors involved as to how loud I like to listen (primarily the quality of the recording). I also found that many modern speakers simply sound too forward and "in your face" for me.
So I decided to go back to standmount speakers / subwoofer, while also seeking out speakers that were a little more forgiving but that didn't suck all of the life out of the music.
I've known about Wilson-Benesch for a while and always wanted to hear them. It just so happened that a pair of Discoverys were up for sale on Audiogon. I bought them with the idea that if I didn't like them, I would turn around and sell them at a slight loss. Well, like them I did, but unfortunately they were a bit more worn than the seller said they were, so I sent them back and ordered a new set from the local dealer. For the record, I was pretty much set on going with the Dynaudio C1's, but once I heard the WB Discovery's, I felt there was no longer the need to keep searching.
The Wilson-Benesch "Discovery" speaker is an unusual design that essentially takes the performance of a small floorstanding speaker and compacts it into a standmount design. WB affectionately refers to the Discovery as a "micro-floorstander". They actually managed to fit three 7" drivers into the space of a larger standmount speaker.
The first thing that really sucked me into the WB sound, was the massive soundstage they throw. In my room, it extends out beyond the left and right speaker by a couple of feet and while listening to some of my favorite tracks, I could literally "see" instruments playing two feet to the left of the left speaker. Good stuff.
10/26/08 update: Stumbled across a comment from Stereotimes that mirrors my experience with the Discovery's. "If you close your eyes you would think they are four times bigger than they look. The sound had body, bass extension and weight and the sound stage was as big as the Bishop's. Only the low frequencies had a little less resolution compared with the Bishop's, and this is perfectly understandable."
They also have a pleasingly relaxed yet detailed presentation. Singers are a little further back in the mix, but they strike just the right balance between giving depth to the presentation without sounding dark or dull. The Revelator tweeter has always been one of my favorite soft domes (that and the Dynaudio Esostar2) because of its "delicacy" and ability to convey the trailing edges and finer details of things like cymbals, chimes, and strings, without ever sounding etched, grainy or dry.
Lastly, the Discovery's have surprisingly good bass for their size, and I mean really good. The bass doesn't extend as low as a larger floorstanding speaker, but what is there is punchy, dynamic and powerful. Larger speakers will play lower, but the where the Discovery's leave off, should mate nicely with my JL sub.
I also had the opportunity to listen to the WB Centre speaker at the local dealer, and despite its small size (about 19 inches wide), it also throws out a sound much bigger than you would expect. I asked the dealer to play the Centre in mono so I could get a sense for its sound without the confusion of having the Discovery's playing as well. I honestly had to ask the dealer to make sure that the both Disovery's were disconnected and even when he said yes, I got up out of my seat to make sure. The sound was so big coming from this little center speaker, in mono, that I was sure that he had inadvertently left one of the other speakers connected.
That's mighty cliche of me to say, but it really is true.
You'll see in the link in my signature that I have gone through a lot of different speakers over the years, so it would be foolish of me to say that these will be the last speakers I own, but I'm sure hoping that they last at least a few years before I'm crazy enough to consider replacing them.
Reviews:
http://www.soundstage.com/revequip/w..._discovery.htm
http://www.dagogo.com/View-Article.asp?hArticle=235
http://www.stereophile.com/thefifthelement/493/
http://www.stereophile.com/thefifthelement/904fifth/
http://www.mediafire.com/?zuzwdg2qgz3
http://www.mediafire.com/?uxmlbmzjyja
10/31/08 update:
Hi-Fi News review of Discovery Loudspeaker
http://www.mediafire.com/?1yyzww5ijt3
Videos:
http://www.soundsrealaudio.com/video...ipping%201.mp4
http://uk.cinenow.com/videos/1942-wi...tuff-live-2008
The WB Line-up:

Wilson-Benesch Discovery




The Curve
The ACT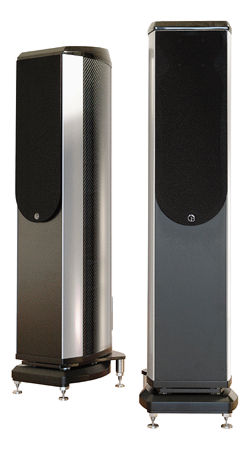 The ARC
The Trinity
Wide Bandwidth One Driver (used in Trinity and C60 only)
The Centre
The Chimera
The Torus
(a subwoofer in case you couldn't tell
)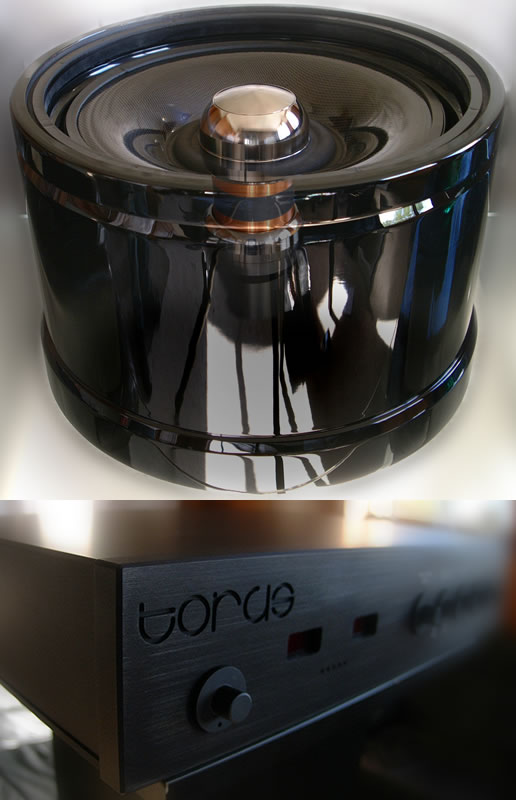 Search terms: Wilson Benesch, Wilson-Benesch, WB speakers