Well, the miracle has happened.
Even in this economy I somehow received an acceptable offer on my house, which means I need to get serious about the next house, which of course must include a theater - eventually.
I have been reading this forum for about a year now - tons of great info and a lot of ideas I plan to steal.
This house will be built in North Carolina (in case that matters for the advice I will be asking in this thread). I hope to start working on the theater within one year of the house construction completing. This is a "semi-custom" house - meaning there are 8 different house plans with 4 elevations each. Once we choose our house and elevation - they seem fairly open to modifications. We talked to a family that built in their and they let them push one outside wall out about 3 feet. So - as long as you are willing to pay, and it won't modify the structure to a large degree, it seems we have some freedom. These guys are a regional builder, not national, and we have been impressed with their workmanship and quality materials.
In my theater I would like 3 rows of seating. One row of theater chairs, a second row of theater chairs(maybe a sofa instead) on a riser and a final row of stools with a bar behind that second row. I don't know if I will have enough room - however.
Questions:
1) Any preparation work I should have done to the foundation? Not sure what that would be - some sort of wrap on it to keep moisture out?
2) People seem to mention waiting a year before they start on the theater is there a reason for that (besides financial) ? This builder offers a finished basement option so I wouldn't think there is a structural reason (settling?) - but I noticed that in a bunch of threads people mentioned waiting a 1 year period.
3) Looking at the floorplan, do people think I could fit in those three rows of seating? I haven't selected a final orientation for the room. What do people think the best orientation would be?
4) The builder told me he could stager stud that one wall - Since that is a structural wall would I want to do that? Or would I want to build my own interior wall anyway so that it isn't coupled to the ceiling/holding up the house?
5) Should I ask for them to put a space or a crack on the foundation pour for that room?
6) HVAC - I am not sure what to even ask for the builder on this. There are two zones for the first and second level - but I don't know what to ask for to insure that I have what I need for the basement for the future.
7) Any comments on the floorplan in general would be great - I might try to retain an architect to help me make sure I pre-plumb all the right areas.
8) What questions have I forgotten to ask? :-)
The walls shown on the diagram are structural - I am not sure if they can be moved. I would really like there to not be a wall between the Bar/TV room and the unlabled room - it is a bit off topic but are there suggestions I could give to the builder on how to accomplish that? I could walk in and ask him how to do this, but wouldn't mind having a few suggestions and/or knowing the different options upfront.
Hopefully, this thread will be able to help others getting ready to build with an eye towards a home theater.
Here is the full floorplan: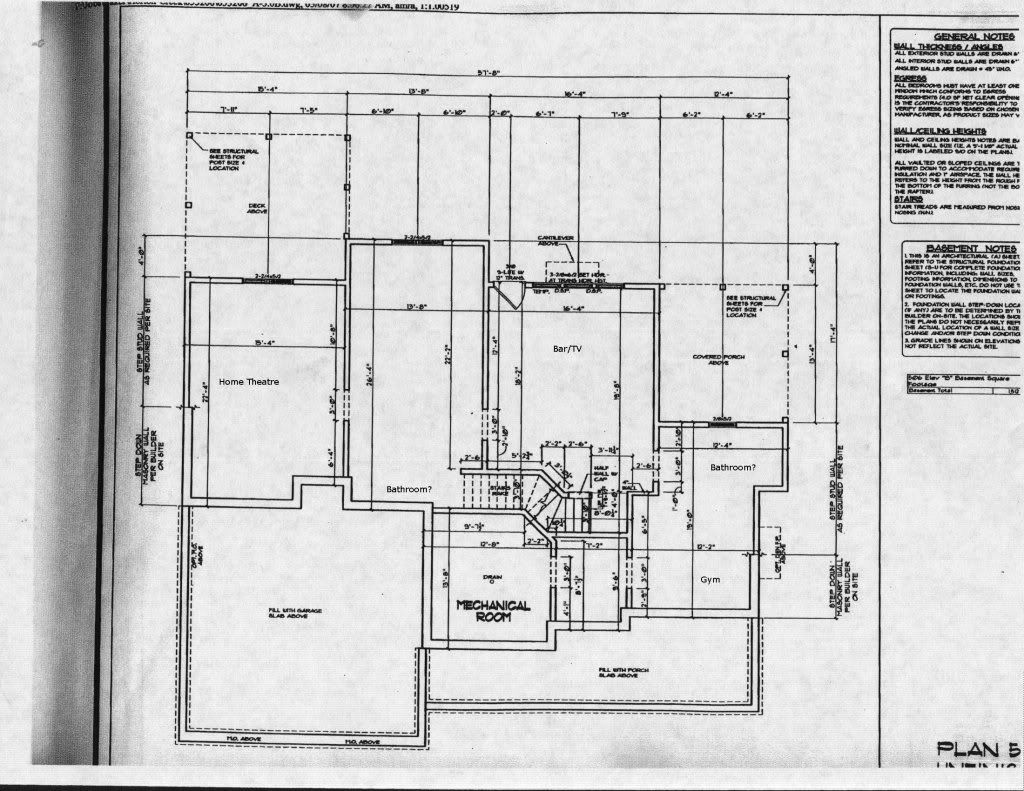 Here is a cropped floorplan making the interior numbers easier to read: