Quote:
Originally Posted by
John H
I have been using tactile transducers for over 10 years.
I started out with an array of 8 RBH FX-80's. (ultra high performance Aura units)
I used these for about a year and replaced the array with a pair of Clark Synthesis TST 329 Gold models and then stepped up to their TST 429 Platinums. I used these for about a year as well.
For a brief period I installed four Crowsen Tech TES-100's when they were released.
When I moved on to the Original ButtKickers I started driving each pair with Carvin DCM-1000 amps bridged mono. This was before the release of the BK amplifier.
I couldn't handle the fan noise so I picked up a pair of convection cooled Crown K2's and have been using them to drive my BK's ever since.
At one point I have driven a single Buttkicker with a bridged K2 (2500 W bridged mono into 4 ohms) and they always stayed cool to the touch. I have never had one bottom out. I have also used subharmonic synthesizers on their signal.
The original ButtKickers outperform all the models I have used in the past and I have never had a problem with any unit.
I used the BK's in conjunction with a pair of Velodyne HGS18's. I now use a pair of Epik Conquests in my theater with the BK's.
I don't have experience with the ButtKicker LFE yet. I have had one for over six months and haven't hooked it up. I have some Berkline theater recliners on the way and will be testing it inside one with the BK conversion kit.
John
Original BK sitting next to the BK LFE.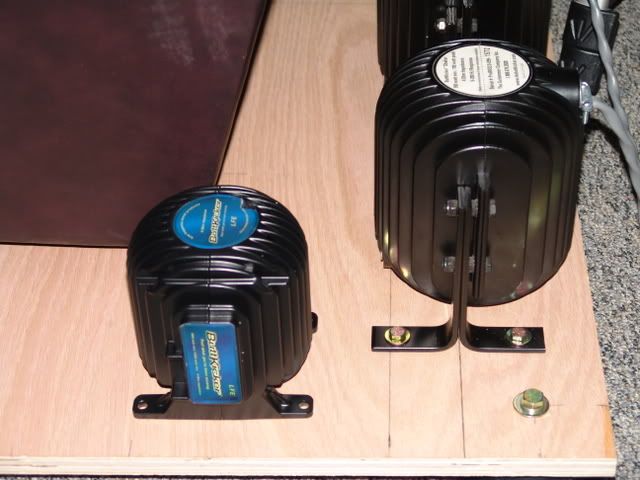 Hey John is that just a piece of plywood your couch is sitting on? Do you have rubber isolation feet under that? That seems like a quick and painless application to couple individual recliners. Also what kind of subharmonic synthesizer?