I posted this in the audyssey thread, but I think I might end up in the same boat as thegsrguy, as far as not getting an answer to my question. Basically when I have run audyssey it sets my trims at...
Left: -2
Center: -2
Right: -3
R Surround: 0
L Surround: +1
Sub: -14
Here's my post in the audyssey thread...
I have the Onkyo S5100 HTIB. I have run Audyssey 2EQ on it 4 times now. Every time I run it it keeps wanting to put the sub at either -13 or -14. The furthest it goes down is -15. I have gone from having the gain knob on the back at halfway to all the way down. I have moved the sub from beside my entertainment center to the corner and then angled it out from the corner (all with the front of the sub facing into the room).
The pic shows the three different sub placements I have tried along with everything else. The room is 14' deep and the width includes the family room, dining room, and kitchen (approx 30-35'). I have vaulted ceilings that go from 8' to approx 16'. This is really the only way I can have this room set up, but I can still move the sub around.
Any input on why this keeps happening? And what can I do different?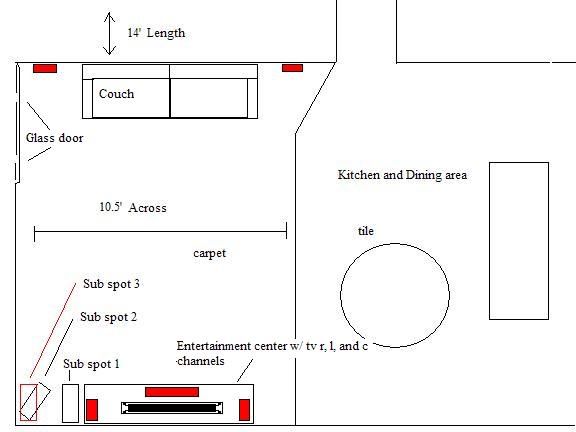 Why does it keep turning my sub way down? Could it be the location or what? I have no idea as I am a newb to most of this. Any help would be greatly appreciated!