Quote:
Originally Posted by
progprog
Hey, Scott, you've gotten some general answers, but I thought I'd give you a specific example of how these setups work.
As Robert Cook noted, your best solution is really a
wireless bridge,
rather than an adapter
just
for your Oppo player. A wireless bridge typically looks like a router, with a number of ethernet ports for connecting wired devices; you place this near your home HT equipment. The bridge provides the wireless connection to your network, where it appears as a single wireless device, even though you might have several wired devices connected to it using the network. The beauty of this solution is that you only configure one connection, that of the bridge itself.
In my case, I use two D-Link DAP-1555 units, as shown below. I have them mounted out-of-sight on the back of my AV rack, and they provide a flawless connection to my router on the other side (and on a different floor) of my house. Mine is a secure network, so the DAP units are set with the appropriate security settings. No such settings are needed in my components.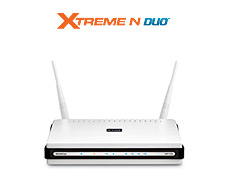 Each of these units provides five ethernet ports. I currently have a total of seven components (TiVo, BD, HD-DVD, processor, PS3, Sonos, TV) connected to my network through these wireless bridge units. In each case, I simply attach the ethernet cable (I use CAT6) and leave DHCP to "Auto," and they connect immediately. It's such a stable setup that I do all my firmware updates over this connection and stream music without issue.
If it had been easy to run CAT6 to that location in my house, I probably would have done that and just used a 10-port switch. But it's literally at the opposite corner of the house, so this solution works perfectly for me.
Great, thank you for the details. I am debating setting up a bridge or just moving my wireless network (modem and router) to my entertainment center. The only reason I have hesitated to moving my modem and router is I did not want to degrade my cable signal by splitting it for the Modem and Cable TV. However the benefit would be that I can wire the Oppo directly into my Router with the CAT6. I may try splitting the cable first, before I go with the bridge. As long as my picture does not degrade I will be fine. Thanks again for the information.