I thought I would share my screen build for those that may be interested in building something similar.
A couple of quick notes:
- Coming from a 106" Diag 16:9 Severtson HC Gray Screen (which mated with my Panny 900 very well)
- Goal was to go considerably bigger (within reason) and have the ability to place an in-wall center speaker directly behind the screen.
- I watch quite a bit of 16:9 material and wanted as big of a 16:9 picture as possible so I went with this set-up over a constant height set-up.
- Room is 18' wide by 24' long and 8' ceiling. Seating at 12' and 17'. Projector at 14'. Completely light controlled.
I basically used the screen build pdf file provided on the SeymourAV site to design the frame. I considered poplar, composite wood, etc for the frame, but I finally came to the conclusion that standard 2x4's would work well for my design. I needed the 1.5" thickness of the 2x4 because I wanted to bevel the inside frame edge and leave 1/2" straight edge that would match up with my masking. I wasn't sure if I would be able to find 2x4's in 10' lengths that were straight enough but luckily Lowes had some choice cuts that were darn near perfectly straight (less than a 1/4" crown to them). At a couple of bucks a piece I was pretty pleased.
I miter cut the corners at 45 degrees and added the bevel. I then used the black velveteen fabric I already had and a light duty stapler to wrap the frame pieces. I highly recommend using the velveteen. It's cheap, quite black, and you can get a very tight wrap due to its stretchy-ness. Fidelio is a bit blacker but the velveteen was just as black as the material on my Severtson screen.
My hardware store didn't carry 6" L brackets so I used 2 4" L brackets for each corner which worked well. Two of my corners had small gaps so I added a single 3" wood screw to each corner to tighten things up.
Frame corner:
Completed frame: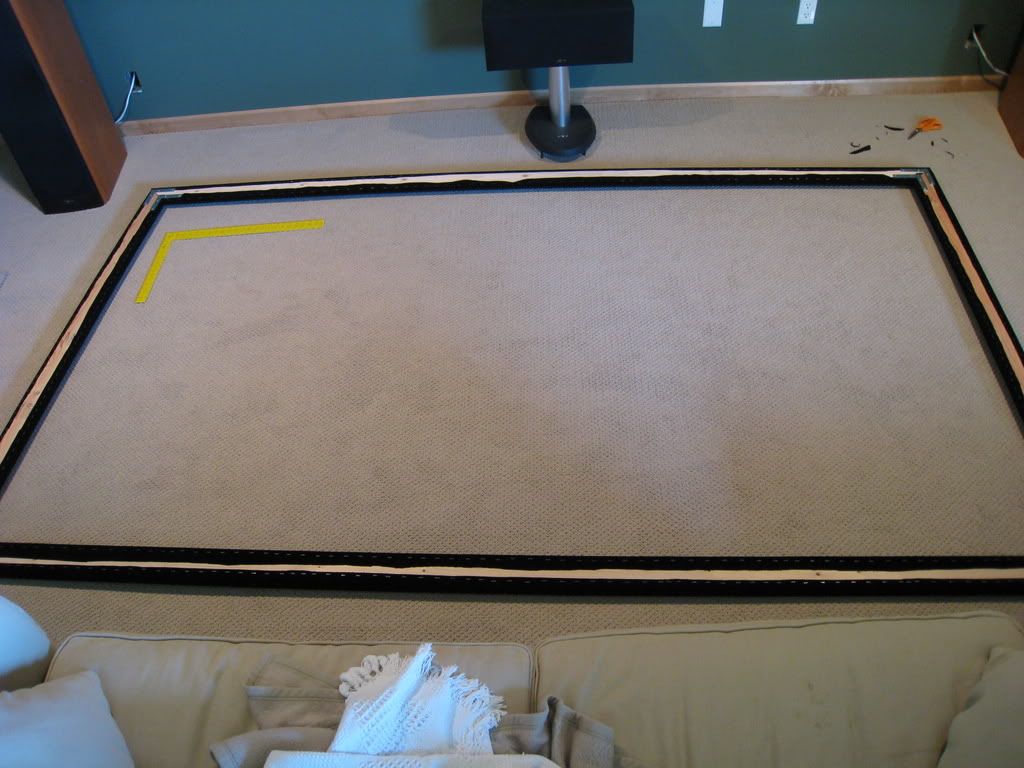 Next, I used a 4x8 sheet of cheap white foam board and the 1/2" thick foil-faced foam board (used later for my masking) to provide 1.5" of total thickness support to help staple the screen material to the frame.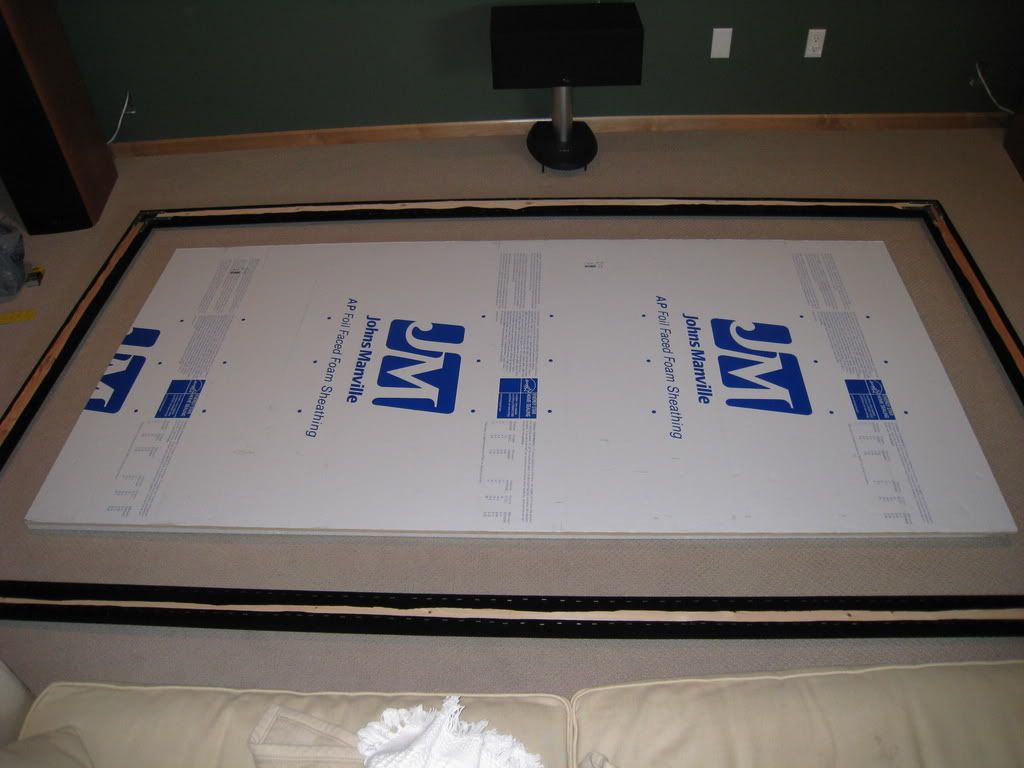 I rolled out the screen material and taped it to the frame to keep it in position.
I then worked my way around the frame using some clamps and my light duty stapler. It worked great. I only had to re-adjust in a couple of places.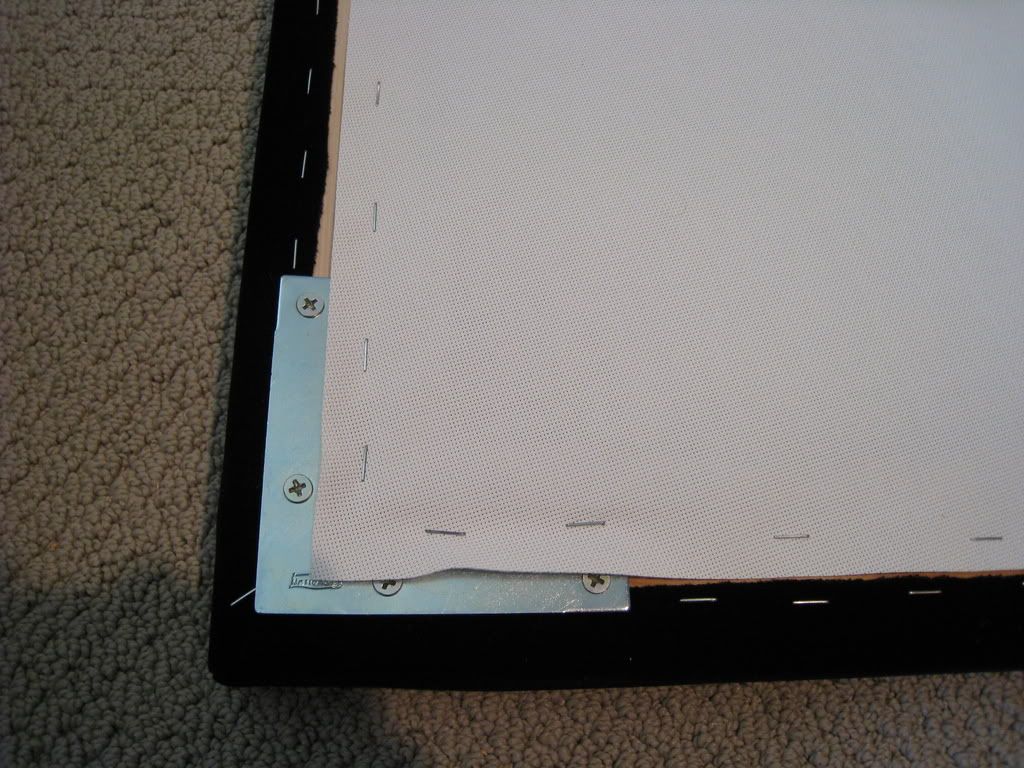 You'll notice that I stapled the material towards the middle of the frame width. I later realized that I needed to add another row of staples as close to the inside frame edge as possible to keep the frame taught and to make my masking work.
Next, I got to work on my masking. I came across the 4x8 sheets of John Mansville foil-backed foam board and it was exactly what I was looking for. It is very ridged, very light, and easy to cut. Just $6 or $7 a sheet if I remember correctly. Since my screen length was beyond 8' I decided to go with two pieces for the top and two for the bottom.
I cut the pieces to the proper length and width and wrapped them in the velveteen.
To keep the masking panels in place I decided to use magnets. I cut out shallow cylinders in the back of the panels so that the magnets would lay relatively flush and then I glued them in place with gorilla glue.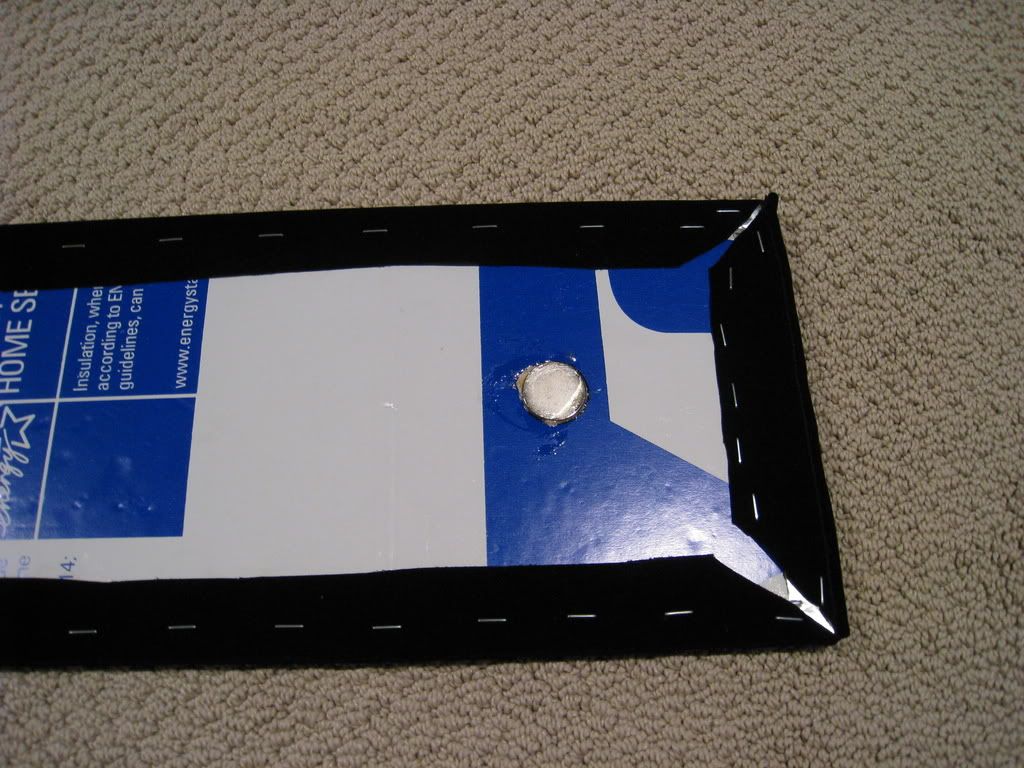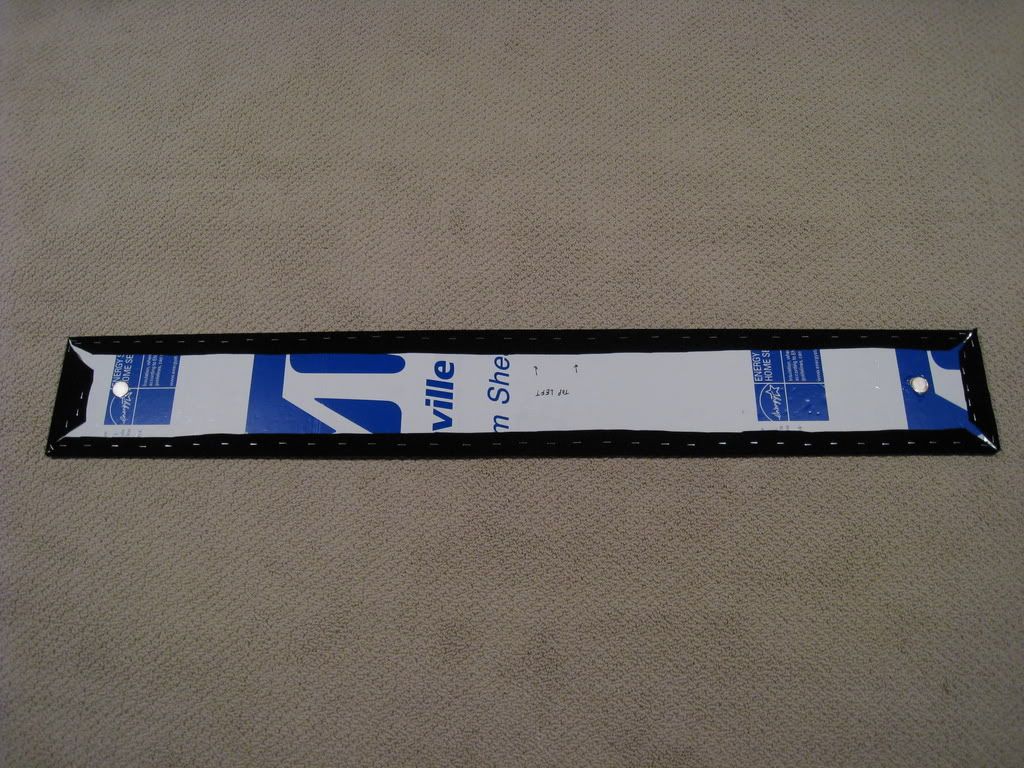 Figuring out how to attach the opposing magnets behind the screen took a bit of trial and error but I eventually figured out a solution. I cut some small pieces of the foam board, glued in the magnets flush as I had done for the panels, and then stapled a piece of velveteen over the magents so no light would be reflected through the material. I then simply taped the magnets in place behind the screen material. I first tried duct tape but it wasn't strong enough so I switched to blue painters tape and that worked well.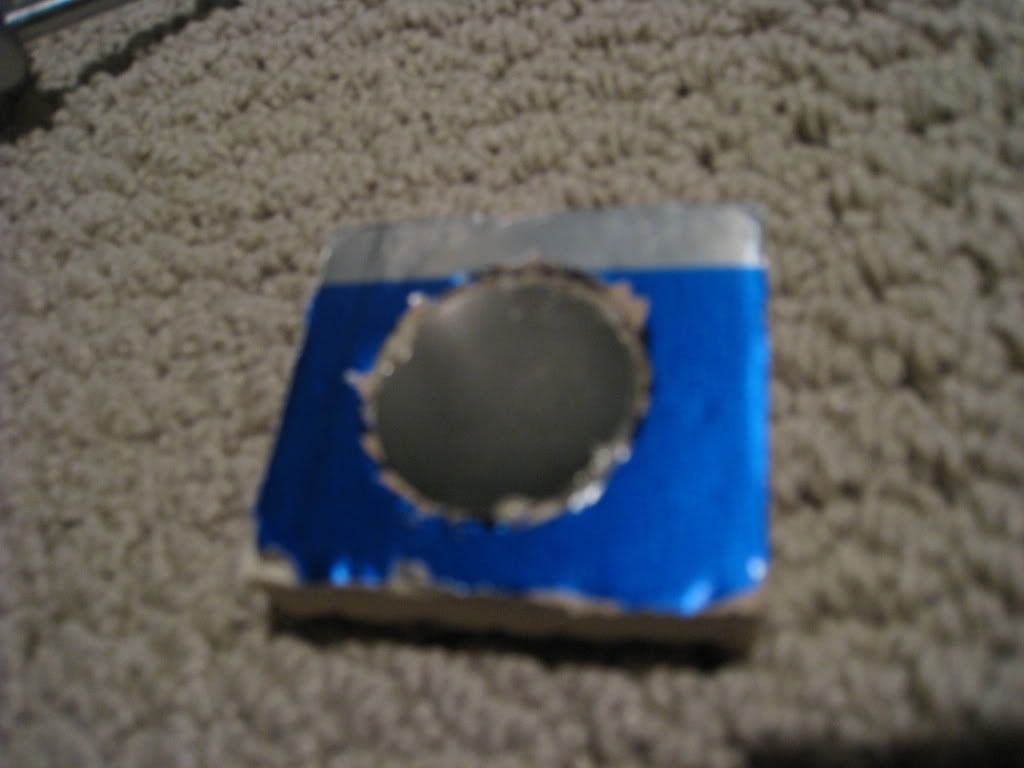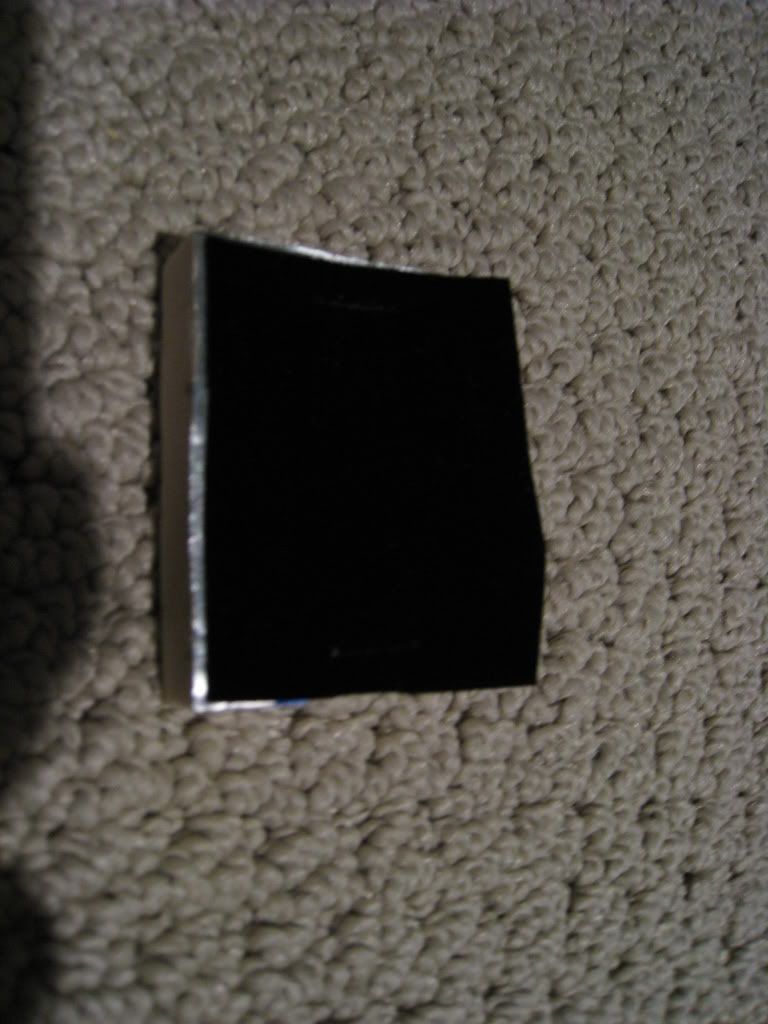 I then hung the screen with a french cleat system. Here's a shot without the masking panels (not sure why the photo is skewed)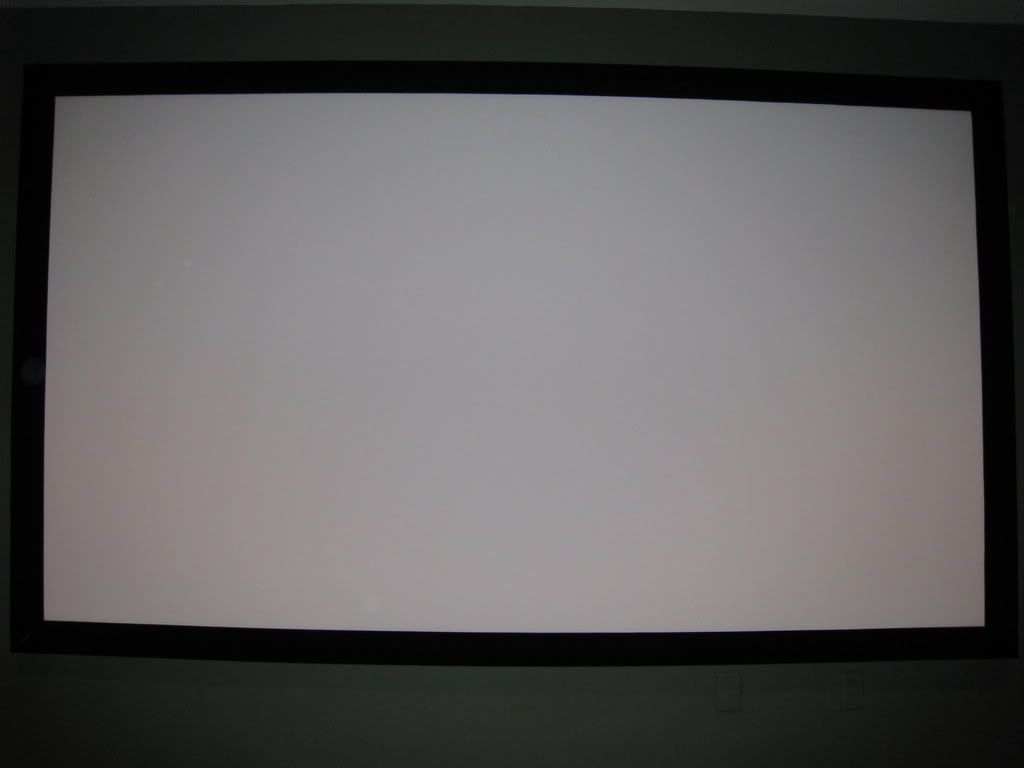 Screen with masking panels in place:
Close-up of corner: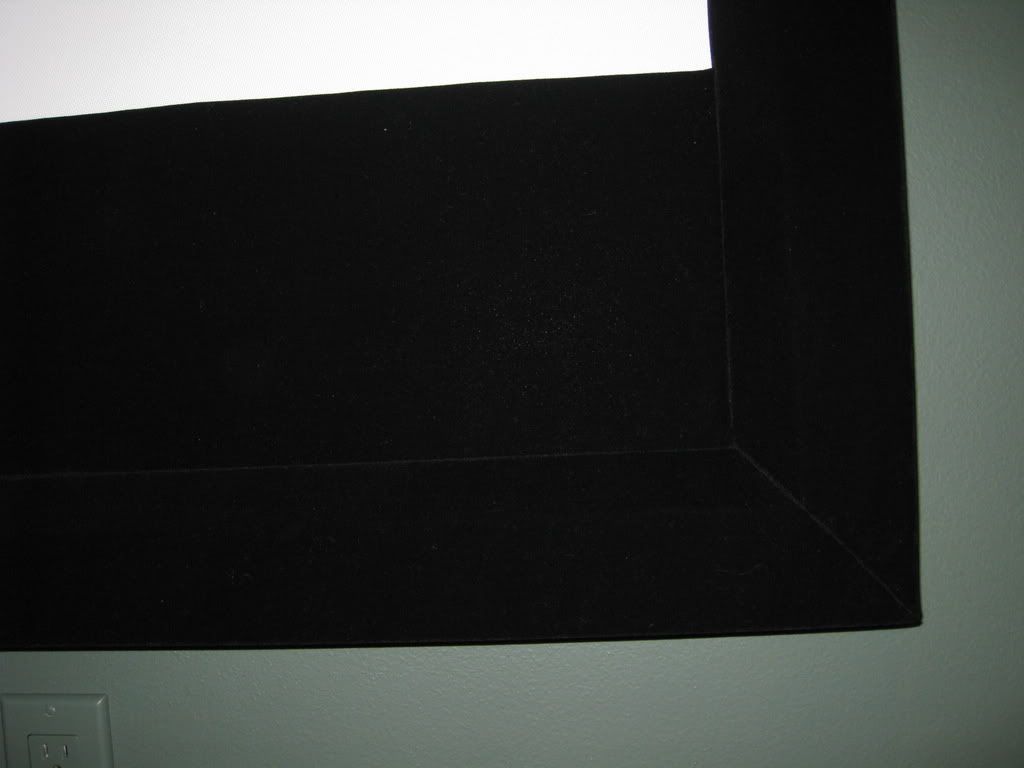 The panels easily snap on and off.
A few screen shots (note that I am not a pro at screen shots yet):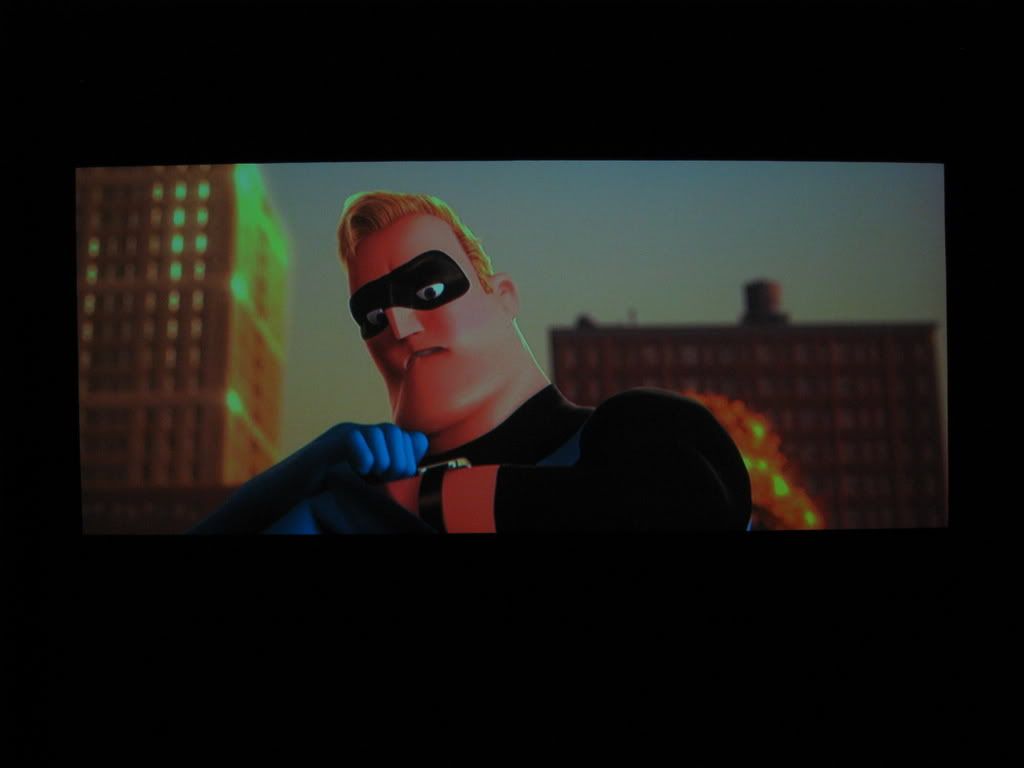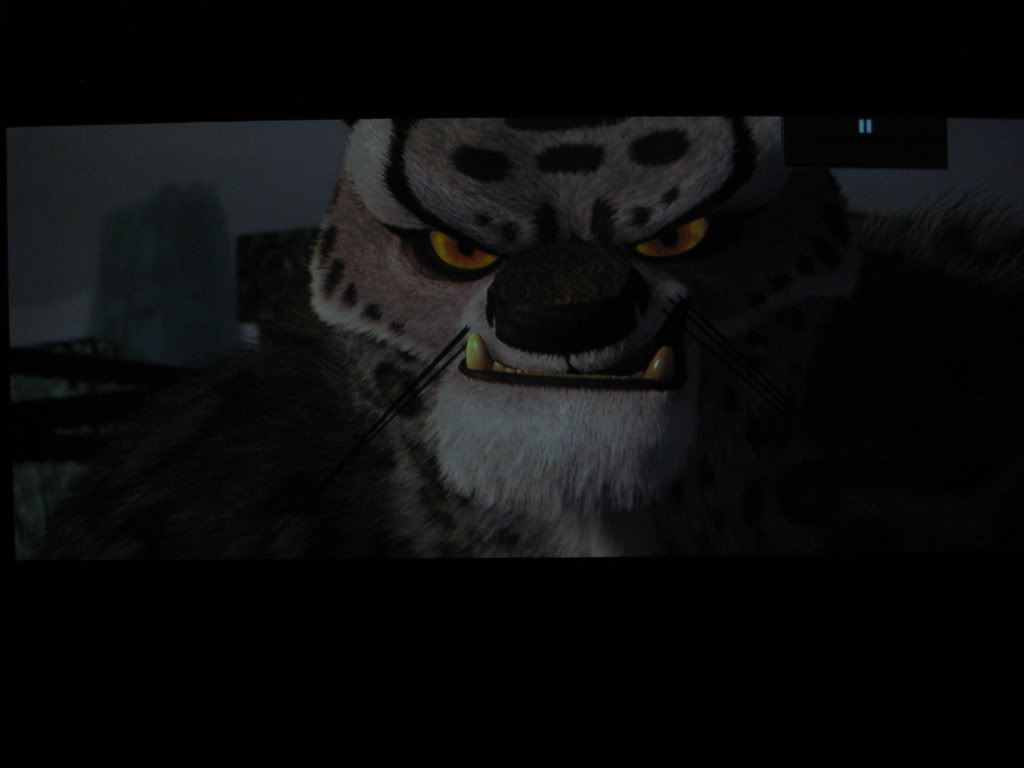 All in all I am quite pleased with the way the screen and masking turned out. Outside of the cost of the screen material total cost for wood/velveteen/brackets/foam board was less than $50.