Benq w6000
Availability - "mid 2009 for 2000 euros (= ~$2500 US // $3200 CAN)"
(I know - technically this should be in the under $3000 forum but since it replaces the w5000 and the price on this is not officially announced it would be appropriate to at least announce this here?)
Across the pond, at CEBIT 2009, seems Benq has announced the w5000's replacement . . . . Obviously limited info so far but the highlights (gleamed from translated German and Italian coverage) include -
1. Instead of white it now comes in black piano lacquer
2. The W6000= 43 x 14.5 x 31.8cm weight of 19lbs
(vs W5000= 49 x 18 x 42cm weight of 21lbs)
3. Listed at 2500 ANSI lumens (vs 1200 for the W5000)
2500 normal mode and 1100 cinema mode
4. Listed at 30 000:1 Contrast ratio (vs 10 000:1 for the w5000) **Note the cnet report I got this from lists 50 000:1 but the crop here looks like it says 30 000:1. Anyway, its a big number.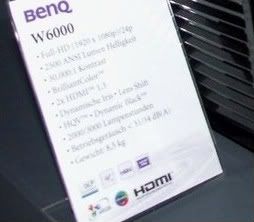 5. 280 watt lamp (vs 200 watt on w5000)
6. Lamp life is the same 2000 / 3000 if economy
7. States still has vertical and horizontal lens shift (I think the w5000 only had vertical), but one of the german forums mentions its manual, not motorized as on the w5000
8. LOUDER at 32 normal / 29 eco compared to the w5000 at 28db
9. 2 HDMI (1.3 presumably), component, a VGA connection, S-video and Composite.
10. HQV technology and 6 segment color wheel
So basically compared to the w5000 its cheaper (excluding refurbed w5000s), piano black, smaller, brighter and has better contrast, yet louder and without motorized lens shift. . . . .