I've read about many great theater builds on this site. While not nearly as ambitious as some I have seen I thought I'd add mine,
after it was finished
. Problem is, I'd never post if I waited for that! So here it is; my story up to now. (My DSLR broke, so I won't be adding any photos for a while. Good time to write.)
A few years after moving in my wife Susan and I refinanced and decided to do some home improvement projects with some equity. We were going to have an entertainment center built in the Family Room, add a deck, and since there was a rough-in in the basement, add a bathroom. There was a 17' x 22' finished room in the basement with one small window. Why not make a theater there? It's already mostly light controlled. I can do
some
handyman work, but I just didn't have the time to tackle projects of this scope, so we hired Dimitiri's Home Improvement of Baltimore, Maryland to do most of the work. He had already worked on half of the houses on our cul-de-sac and came highly recommended. We broke the projects into three phases; Deck, Basement Bathroom, and Home Theater/Family Room Entertainment Center. Since the Home Theater was directly below the Family Room I figured it would be easy to run all the cables at once.
Months earlier Susan found an Art Deco bar on eBay.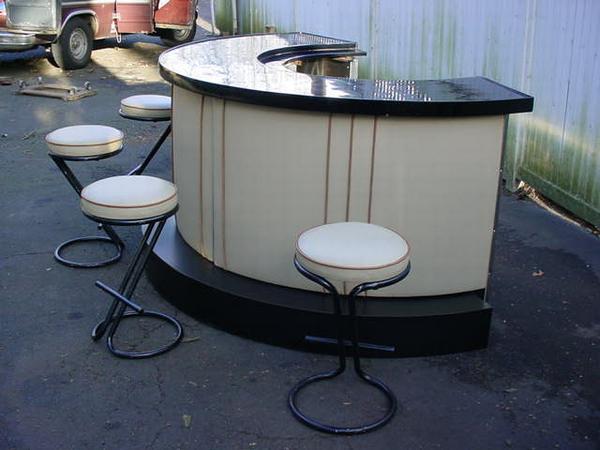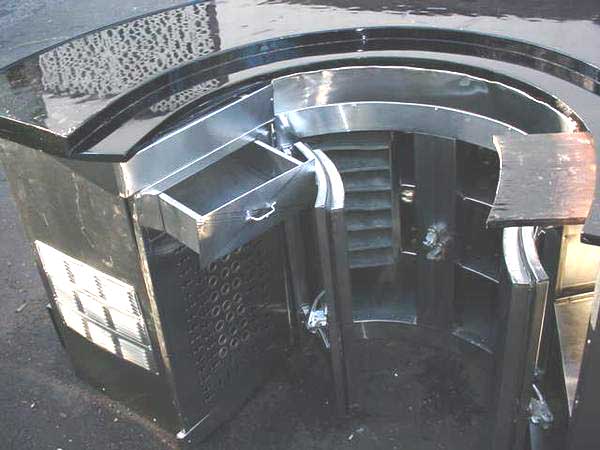 I was planning on putting a Pub table in the theater, but the bar was much cooler. I borrowed a friend and his truck and we drove up to Manhattan to get it. After a
very
long day we got the bar home and set it up in the room that was to be the home theater.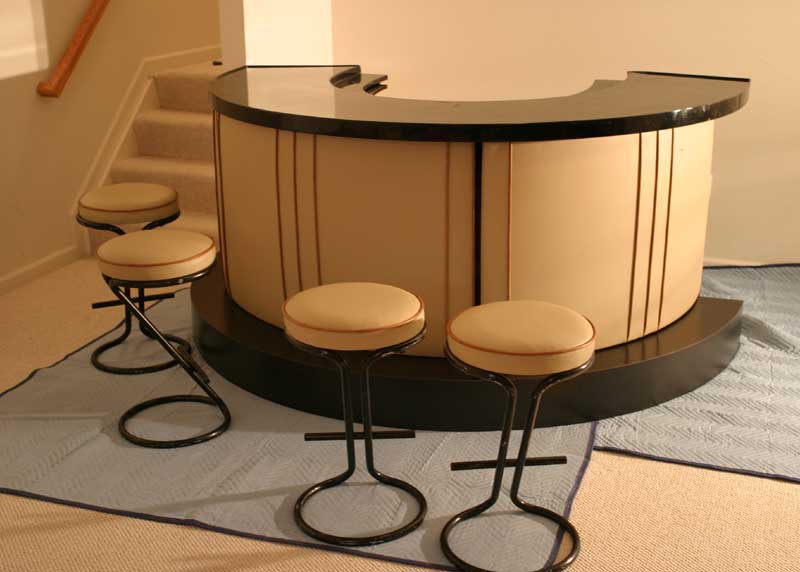 Trouble was the bar took up so much room that a traditional two rows of seats and a riser design wouldn't fit. The good news is the bar gave us a design inspiration.
As far as the interior design on the room was concerned, I sought professional help. Since we already had the bar I wanted the rest of the room to be designed around it. One of my coworkers used a professional interior designer, Lynn Forconi, for some work at her house and recommended her to me. I scheduled her to come over one afternoon. Susan happened to be home, so I asked her if she wanted to sit in. (My wife was slightly offended that I asked someone else for an opinion. That is, until, Lynn got to work.) In short, Lynn was amazing; full of personality and ideas. Since the walls were still in builders white, she drew right on them!
I'm so glad my kids, then 7 & 8 didn't see this. How many times have we told them not to write on the walls, and here's a grown-up doing it!
She took my ideas, embellished them and tied everything together. There were only minor changes from her original sketches; I changed the ceiling color to black from tan after seeing the reflections (on the unpainted drywall) from watching a movie.
Based on Dimitri's suggestion, we moved the sink. Based on my inability to find exactly what I was looking for, I changed the design of the sink as well. Once I had the projector located it was obvious that it wouldn't fit behind the planned bar valance, so we deleted it. Time and money were tight, anyway. The room is painted in three colors; tan, black, and red/brown, to match the bar as closely as possible. We used Behr Premium Plus pastel base from Home Depot. The finishes were eggshell for everything but the ceiling, which is flat.
Tan: Brown Teepee # 700D-4
Red: Toasted Chestnut # 240-F6
Black: Black Suede # S-H-790