***Updated pictures on page 2***
Hello. My wife and I have been into home entertainment systems off and on for about 10 years. As much as we'd love to pour more money into our little setup we just have too many other expensive hobbies that take a slice of the fun-funds.
Anyway, this system really started with the JBL speakers I purchased back in 1996 when my parents gave me my first real stereo equipment, (a Kenwood Dolby Pro-Logic receiver), for my 16th birthday. Components have mostly been updated as needed.
Current Equipment:
TV: Sony KDL52W4100
Receiver: Pioneer Elite SC-37
DVD Player: Sony DVP-CX985V
BluRay: Sony BDP-S1700ES
Gaming: Sony PS3 Slim 160gig
HD Cable Box: Comcast Motorola w/ DVR
Protection: Panamx M4300-PM x2
Front L/R Speakers: Definitive Technology BP7006
Center Speaker: Definitive Technology C/L/R/2002
Rear Speakers: Definitive Technology BP2X
Remote: Logitech Harmony 1100 w/ PS3 adapter
Light Control: Lutron Maestro MIR-603THW
A/V Furniture: Sanus Systems Natural Series
Room 2 setup for music listening:
Amp: Sony STR-DB940
Speakers: JBL L3
Subwoofer: Infinity BU-1
Pictures, (sorry for the poor quality. I didn't realize how dirty the camera lense was until I uploaded them):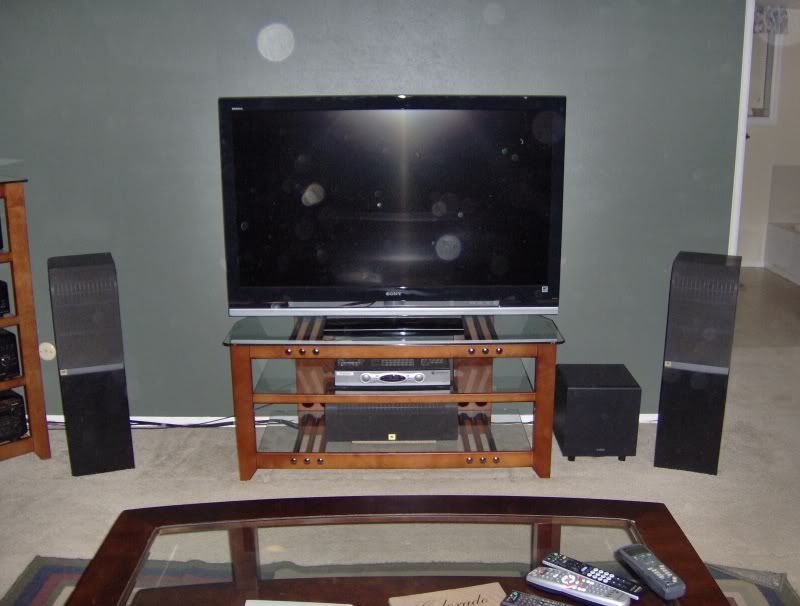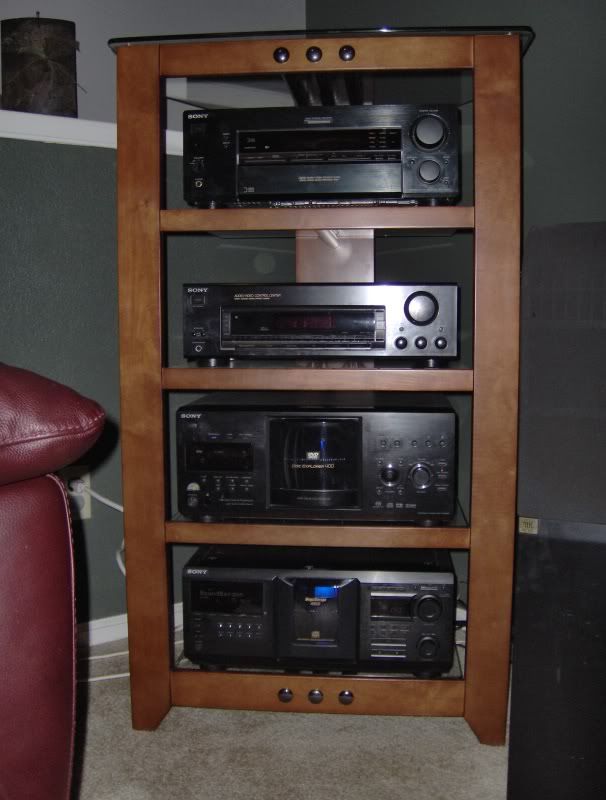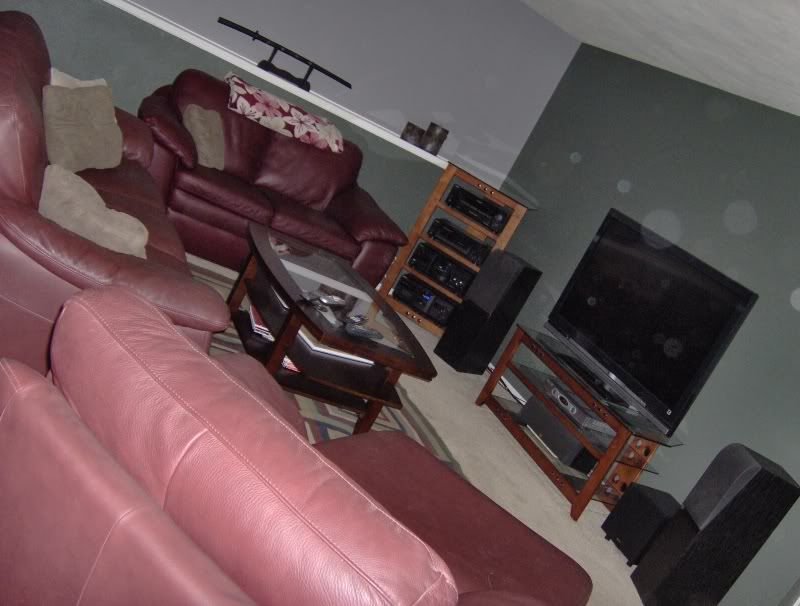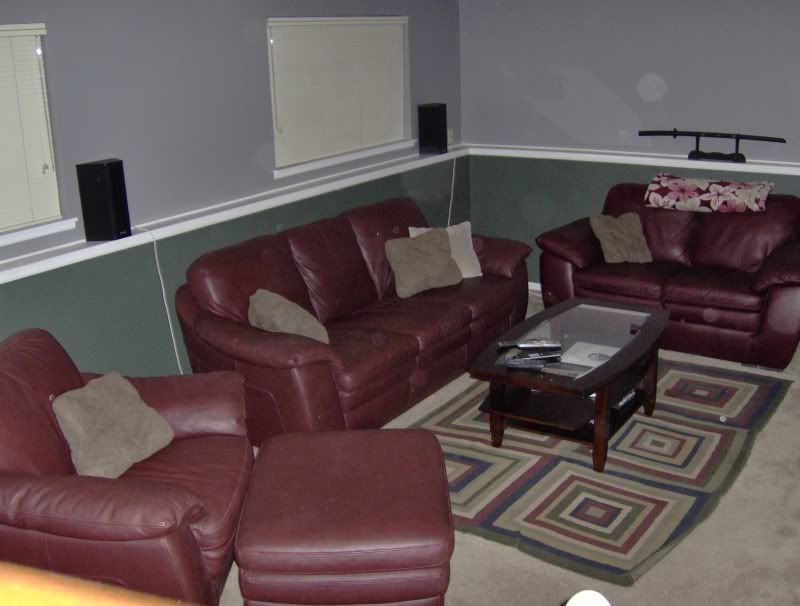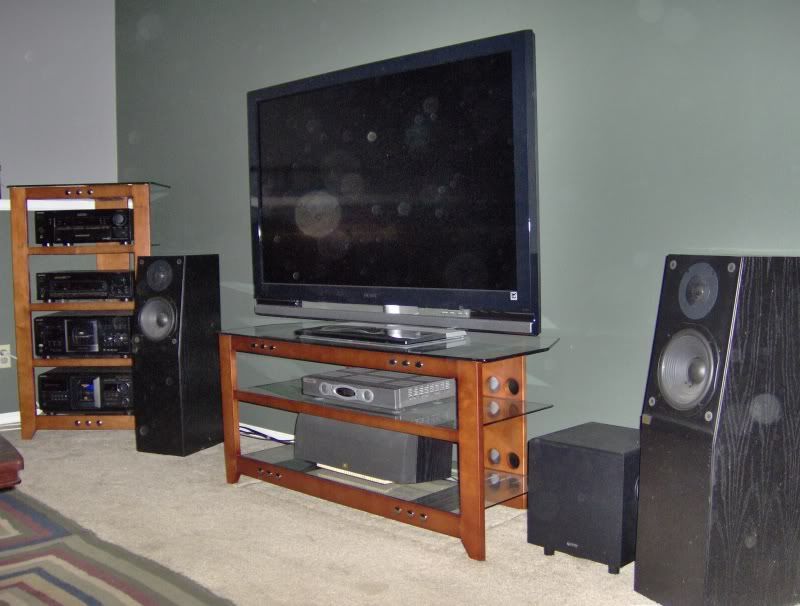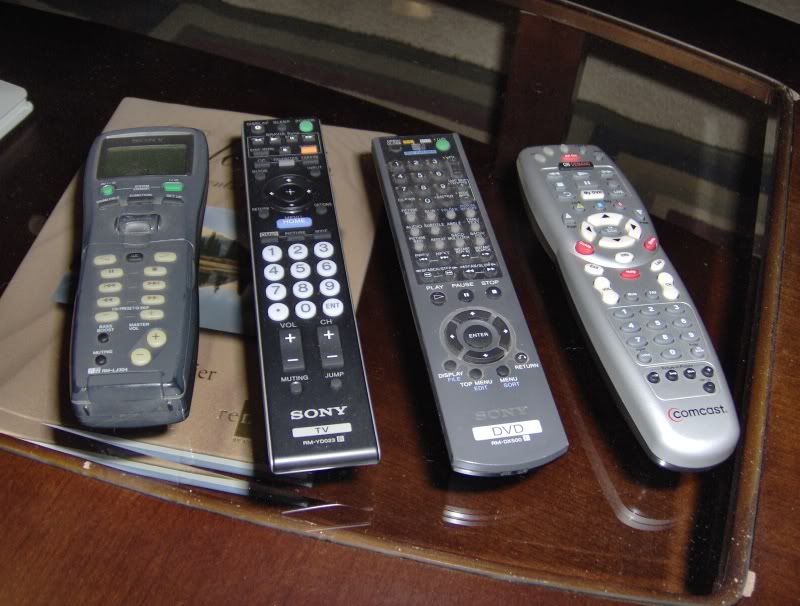 Our 27" Trinitron that was just replaced by the 52" LCD now resides in the bedroom: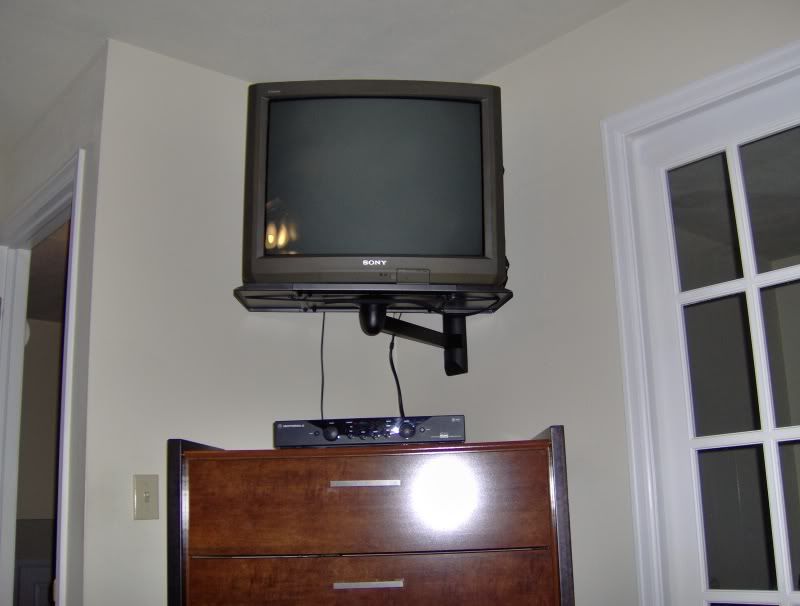 Unfortunately for our little system, the other hobby that chews up a large piece of our extra spending money is racing cars.
We're open to any and all advice, criticism, etc. BTW, been surfing this forum a bit and I'm amazed at the amount of information and many of the members' home theater systems.
Update 5/28/09: Added 80gig PS3
Update 2/1/10: Added Pioneer Elite SC-25
Update 1/16/11: Added DefTech fronts and Harmony 1100
Update 7/25/11: Added Pioneer Elite SC-37, Sony BDP-S1700ES, PS3 Slim 160Gig, Panamax M4300-PM x2