This is the twisted, convoluted tale of the
Un
-Theater Build, the humble little home theater/media room build with much to be humble about. Why call it the
Un
-Theater?
Simple. Because the entire bloody
*@%$#
basement renovation project, of which the home theater is but a part, was
UN
expected,
UN
anticipated and
UN
planned, as I will explain in detail below for those foolish enough to read on. And of course, it is - and will for some time to come - still decidedly
UN
finished! So calling it the
UN
-Theater seems only fitting!
Full disclosure: I'm totally clueless on this whole building & HT thing. It will take a tremendous amount of luck and help (hint, hint, grovel, grovel) - given my almost non-existent building skills - in order to one day defy all known laws of nature and somehow end up with something remotely resembling an actual home theater, forget about even approaching the same zip code as so many of the amazing home theaters I've seen here. Especially since of necessity the entire basement will be the first priority in this build, not the HT room. The HT is just sort of my consolation or bonus room, as it were.
So lower your expectations, all ye that enter here, and be gentle with me. And please - I encourage those with more experience in HT and construction (and that would include virtually everyone reading these words) to weigh in with helpful suggestions, tips, insults, barbs and/or general ribbing.
But I've gotten ahead of myself. Again. <<
sigh
>> Either that or I'm so far behind that I am lapping myself again, who knows? Life in the fast lane can be so confusing sometimes! But I digress.
For those poor demented souls actually interested in hearing the strange tale of how this unexpected un-theater un-build came to force itself onto me, against my will and better judgment, I'll share the sorted details in the post that follows. For now, recognizing that a picture is worth a thousand words, I'll give you a hint in the form of a photo, with the actual explanation waiting patiently for you in the post below.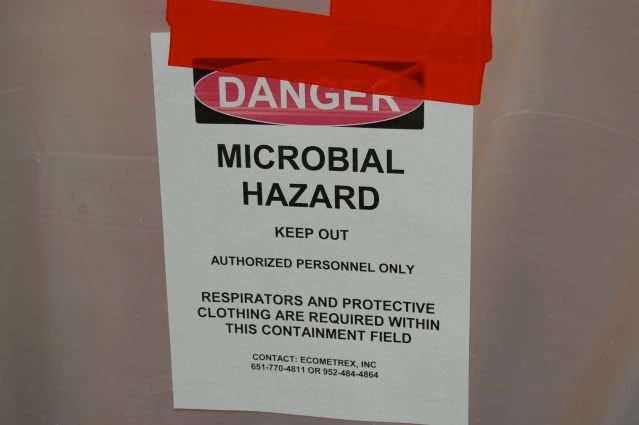 For those sane and busy types, though, I'll first dive right into the floor plan and other facts, with an intentional focus on the HT room.
The Facts, the whole facts, and nothing but the facts ...
This is another basement theater build, in a 65(ish) year old house (the relevance of which will soon become apparent) with cinder block walls and one section (roughly one third in size) paneled with knotty pine and used as a rec room, and the remaining 2/3rds being unfinished but used in various typical yet mysterious basementy ways (laundry, utilities & workroom area as well as the obligatory wayward teenager's bedroom/hang out area). Here's the basic floorplan (did I mention I'm also learning how to use the floorplan software?)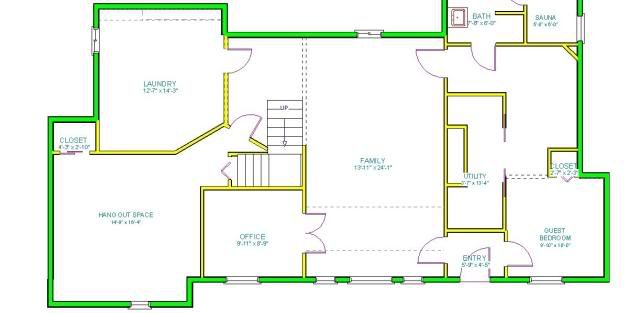 The basic family room / HT room / media room dimensions are roughly 14.5' x 25' with a ceiling height of just under 7.5', although this height is reduced in several places by #*%@* ductwork. The room is mostly enclosed but is open to the adjacent stairway leading upstairs. Although the HT room is located in the middle of the basement, I can't easily expand into the adjacent areas because of (1) a stairway to one side and (2) a concrete bearing wall (with a fireplace) to the other. The remaining walls are exterior walls in this walk out basement. One of these walls (the western wall, facing the front of the house) has only as small window, while the opposite wall has several full size windows. Besides the stairway there are or will be 3 other doors leading off the HT: one to the back door, one to the bathroom & back section, and one to a home office.
Here's a couple of Sketch Up type views (to use the proper technical term in my parallel universe), with a focus on the un-theater room.