Over the last few years I have had fun swapping components in and out of my system 1 by 1 while I find the perfect set of components for my needs on a budget. My journey has been going on 7 years (most occurring in last 3 years), and I have had the opportunity to basically turn over my entire system. In fact, not one component of my original set up remains (including my tv stand)…..
Original Equipment List (as of May 2002):
• 27" Samsung CRT – purchased in 1998 w/ brother in college (retired)
• Paradigm Mini Monitors V.3 (retired)
• Paradigm CC370 V.3 (retired)
• Paradigm ADP170 V.3 (retired)
• Paradigm PDR12 V.3 (retired)
• Harman Kardon AVR225 (retired)
• Monster Cables (retired)
• Bricks & Laminate Shelving - DIY AV/TV rack college style (retired)
• Xbox (retired)
• Panasonic XV-S500 DVD Player (retired)
• Target Power Strip (retired)
Original system (pic take in 2003 - just married and moved into apartment):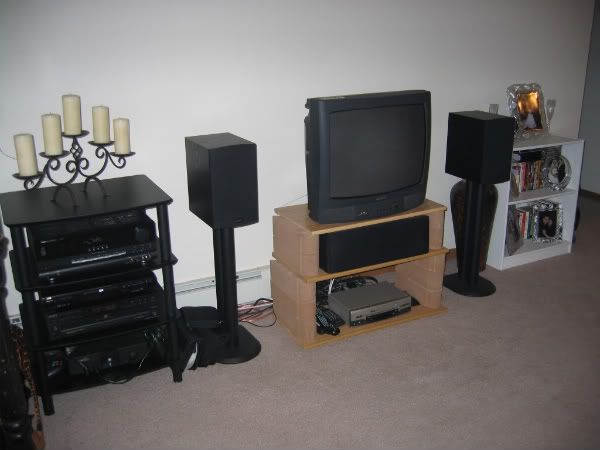 I got married in 2003, and we were strapped our first year, so it wasn't till late 2004 till the fun continued. Below are the upgrades I have gone through in chronological order. I'm sure I don't have the timing correct on all items, but I'm estimating here (Primary System)
Upgrades:
• 50" Sony Wega RP LCD (retired) Fall 2004
• Sanus TV Stand (retired) Fall 2004
• Monster Power HTS 5100 Spring 2005
• Harmony 550 Summer 2006
• Squeezebox 3 (secondary) Fall 2006
• CIAudio VDC-SB (secondary) Fall 2006
• CIAudio VDA-2/VAC-1 (retired) Winter 2006
• Paradigm 60's Summer 2006
• Paradigm ADP590 Fall 2007
• Blue Jeans Cables Fall 2007
• NAD C162/C272 (retired) Winter 2007
• Xbox 360 Winter 2008
• Outlaw 7500 Winter 2008
• Paradigm CC690 V.4 Spring 2008
• Salamander Synergy Triple 20 Summer 2008
• Outlaw RR2150 (secondary) Summer 2008
• SVS PC-13 Ultra Fall 2008
• Outlaw 970 Winter 2008
• REW Software/Hardware Spring 2009
• PDR AWM250 Mount Spring 2009
• Pioneer KRP-600M Plasma Spring 2009
Coming Soon
:
• Oppo BDP-83 (still sulking as I'm not in the EAP, but programmed on my remote…)
• Squeeze Box Duet
• Outlaw 997
Current secondary system
– many components above flowed through secondary system at some point:
• Outlaw RR2150
• Orb Audio Mod2 X 4 (soon to be retired)
• Orb Super 8 sub (soon to be retired)
• SB3/CIAudio VDC-SB
Coming Soon
:
• NHT IW3's
• NHT Classic's
• Emotiva UPA-2??
If you follow my chronology in the primary system, you will notice that I jumped out of 5.1 to 2 channel for most of 2008. This was a period of time where I auditioned many receivers and amps. Couldn't resist the NAD combo, which I loved, but home theater is first for me. I found the Outlaw 7500 and paired with a 970 – largest improvement so far. The Harmony Remote is the simplest but probably the most important piece I own. The SVS sub, well, that is has its own story as far as upgrades go: simply put – Amazing! The Pioneer is my most recent upgrade and it has enabled me to finally put my CC690 into commission, as it just didn't fit under my Sony. The center channel has sadly been in storage since I purchased almost a year ago – couldn't pass up the deal of a lifetime – you can imagine how excited I was to hook that up. The articulating mount for the TV helps me center the TV with the front stage by "floating" over the center.
My secondary system solely relies on the SB3, which is streaming lossless FLAC files from my computer over a wireless network. I plan to expand this to sync up another squeezebox in the primary system as well as the backyard this summer. (not pictured)
As of Fall 2004 (old house):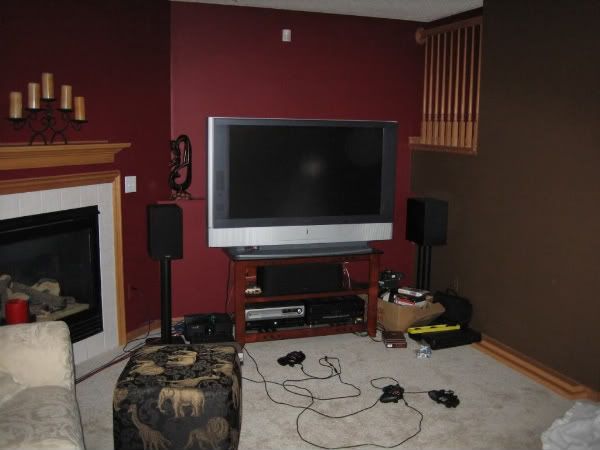 (please excuse the mess - I see the level and some tools out - I must have been still hanging pictures, etc.)
My theater today: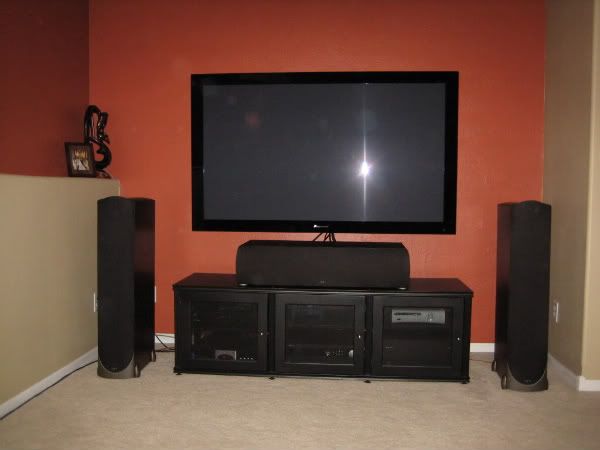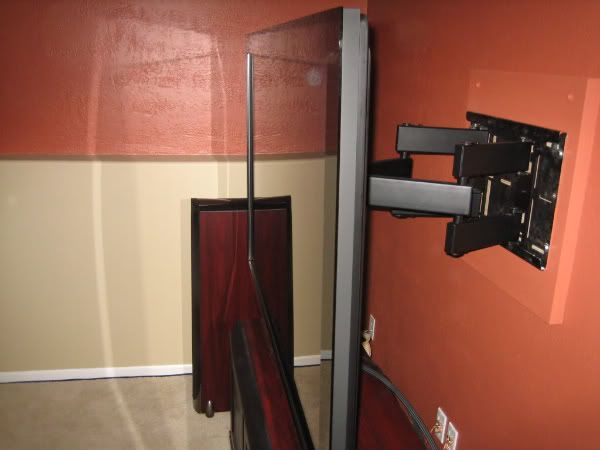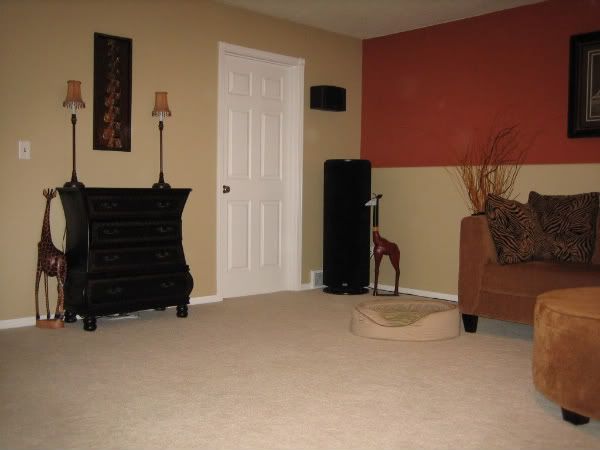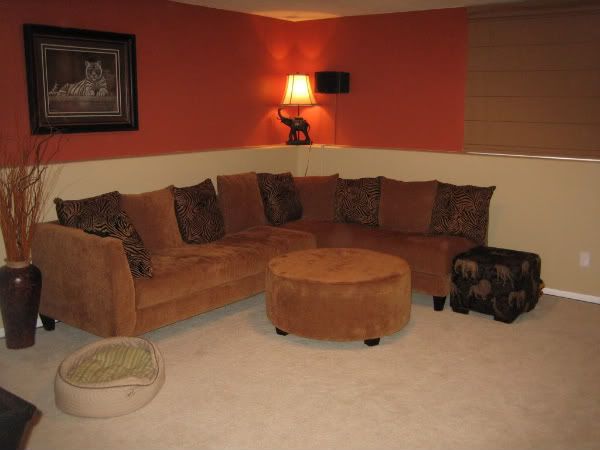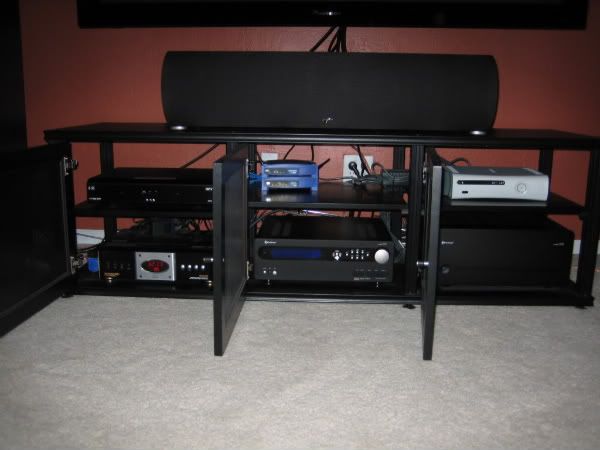 I know - I still need to run wires through the wall behind the TV. Should be done this weekend.
I say "almost complete", but who am I kidding? I love this hobby!
Thank you all here at AVS for all the help I have received over the last few years.