Hi all
I have been lurking on this site for the past decade or so.
I finally bought a house last fall, with an unfinished basement.
After a lot of thought, I have decided to have my builder do most of the work. I admire the hard work of those of you finishing an entire basement on your own, but I don't want to wait a year or more to finish.
Here is the plan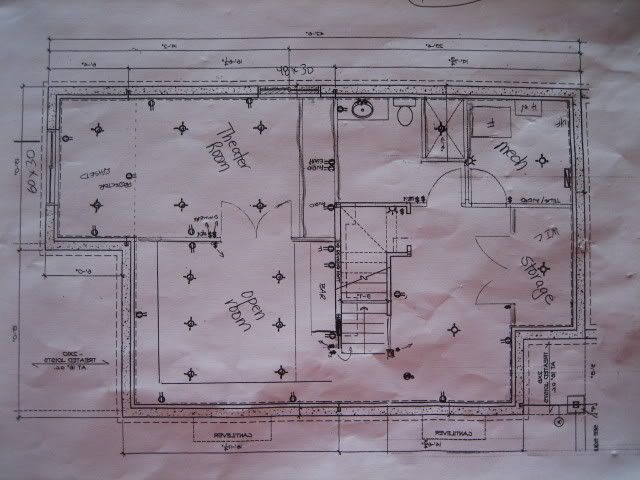 The theater will be 11' by 21', with the open room (pool table room) being 13.5' by 15.5'
Here are the pre-construction shots
Of course the largest room in the basement also ended up with all the windows. The builder is going to close in the right window and re-parge the outside wall. I'm going to keep the other window (so the basement has an escape), especially if someone wanted to turn the theater into a bedroom down the road.
I will be doing a 10 foot wide, curved, 2.35 to 1 screen, and have already ordered it from SMX.
I have decided not to do extensive soundproofing, for several reasons, despite some good arguments for it. The two main reasons for this is I am a bit limited in width. I want to have 4 chairs in the back row and they will be 10'9" in size. I am also putting a very large door on the theater so the pool table room doesn't feel too closed off. I will also probably be using the bathroom as an infinite baffle for the sub.
My builder does have experience with home theater builds and I will be working with the custom installer that got me addicted to this hobby in the first place.
My builder thinks the project should take a couple months and the framers start on Monday.
It's kind of funny, I have been waiting years to start a 'true' theater, now that it is so close I'm starting to feel rushed!
Advice may not always be heeded, but is always appreciated.
Greg