Jason,
Saw your post and am having the same problems as you did. I have my TV torn apart and am looking at almost the exact same capacitor issues, apart from 2 of the capacitors that you had bulging - are NOT bulging on mine, but the rest of the same ones you had bulging are on mine also.
I have no idea what to replace them with, and I don't want the same manufacturer because they are obviously inferior materials. Also, according to others here, getting a capacitor with a higher heat threshold would be better able to withstand the overheating problems that seem to be prevalent with Vizio plasma TVs.
I would really appreciate some help as I know zippo about this stuff... I think I'm the first female who has posted on here.. gee... I feel special.. LOL!
Any help would be greatly appreciated!! Oh yeah... almost forgot... I already have a soldering tool... umm.. I know about computers... not TVs.. *sigh*
Thanks in advance to any and all who respond to my plea for help!
Terrae
Quote:
Originally Posted by
jasnhrpr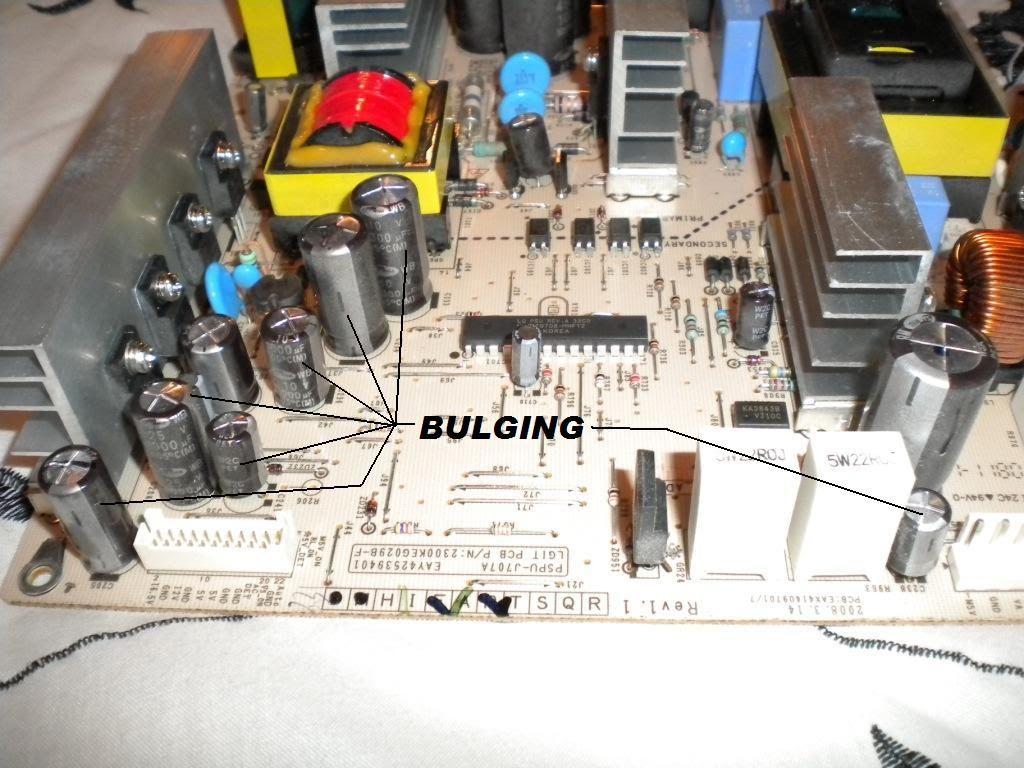 I have the same problem as everybody else here. Mine starting blinking on and off over and over when you turned it on until it eventually died. Looks like I have 7 caps that are bulging (See picture), one is actually leaking out black stuff. I assume I just need to read the numbers on the side and order replacements for them and get a soldering tool at Radio Shack. I'll watch some videos and see if I can handle soldering. Should I replace the ones that are not bulging? Let me know if I'm on the right track and if I need to do anything else. I appreciate it very much!
Thanks,
Jason