(
...previously posted on "Dedicated Home Theater Design & Construction"
)
First off, a resounding "Thank You" to Calbear and his Wife for offering up their Home to a rather large crowd of avid HT Enthusiasts. We all trooped into and through their lovely Home, and were met with a most courteous welcome.
After meeting up at the appointed location, the veritable "Road Train" of vehicles gave the Gateman at the Sub Division a start, or at least I did...bringing up the rear.
But the biggest surprise lay in store for all of us as we first entered into the magnificent Theater.............
After almost 2 years absence after having painted the 16' x9' er S-I-L-V-E-R HG Screen, I was not prepared to see this......;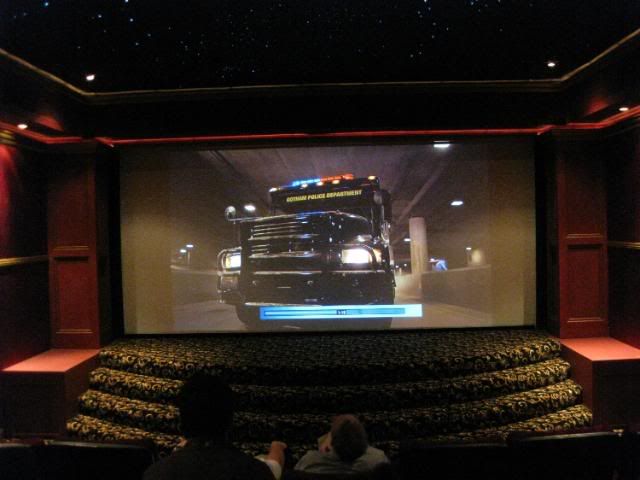 The Room was illuminated at the maximum level (...not too subtle but pleasingly comfortable...). Two downward firing "Spots" at each front corner of the Side Trays did splash directed light onto the bottom half corners of the screen, but all in all, I think I speak for most everyone in attendance when I say none of us...myself included...expected to see the Screen performing as well as it did above in such lighting.
I made a concerted effort to take Photos that accurately represent the room's lighting conditions, and the Screen's appearance as well all saw with our own Orbs. Only 2 Auto ISO Modes were used...200 & 800, dependent on the lighting levels and/or on-screen content. Black scenes were still a bit washed at the edges when the Spots that were positioned directly over the corners of the Screen were on...which was almost 90% of the time I was taking photos. But even so, when vivid content was up, the Screen presented an image not just watchable in ambient light, but actually stunningly so. It's been said before, but bears repeating;
A 16' x 9' Screen splashed w/a 700 Lumen* PJ shooting from a 27' throw onto a painted Drywall surface..................wow.
*
Can't say fur shur but I'm betting Calbear has put at least some wear on the Bulb too. I KNOW I would have!
It was ventured by one of the attendees that the Screen must have a gain of 3.0-4.0 to perform as it was....and by yet another licensed "A/V Pro" in attendance that it (the Screen) should have been decidedly limited in viewing cone...which it wasn't, and not nearly as uniform in reflecting light across the vast screen acreage...which it was anyway. He came expecting the worst...and left...well, not really knowing what to think! But he's coming back...with a Photometer, to take accurate Gain measurements, if for no other reason to be able to stop scratching his head in wonder and amazement.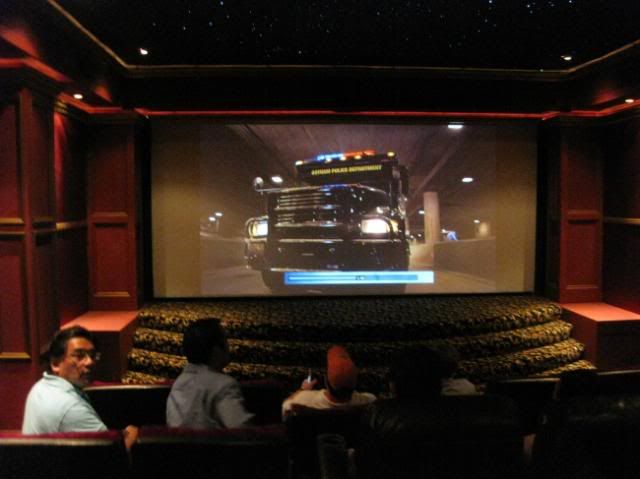 There were plenty of critical eyes there to attest to what was being viewed, and to all of them I bow to their opinions as to if the images I'm posting reflect a true and accurate approximation of what we all experienced.
Before anything else goes up, here are two Auto 800 & 200 ISO shots of the Theater in "Hand Stitched" Panoramic mode.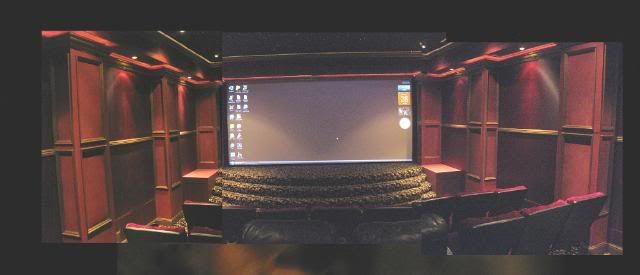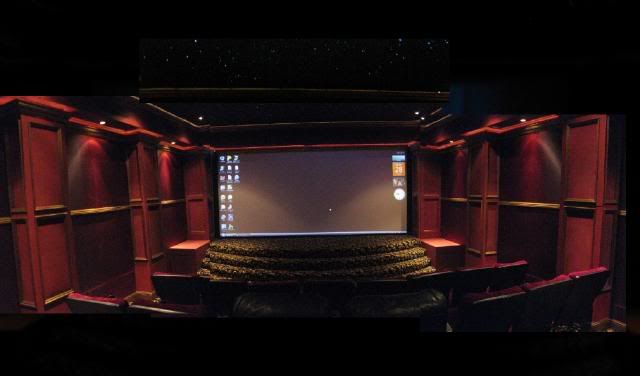 Everyone's memory should validate the wall / room's color, and how the "Panel Spots" between the Columns looked on the Red Velvet Cloth inserts, and such.
This shot shows how much the downward firing Spots affected the bottom corners of the Screen when they were "full on" and a dark image was on screen. (...coyly edited for prudish eyes
)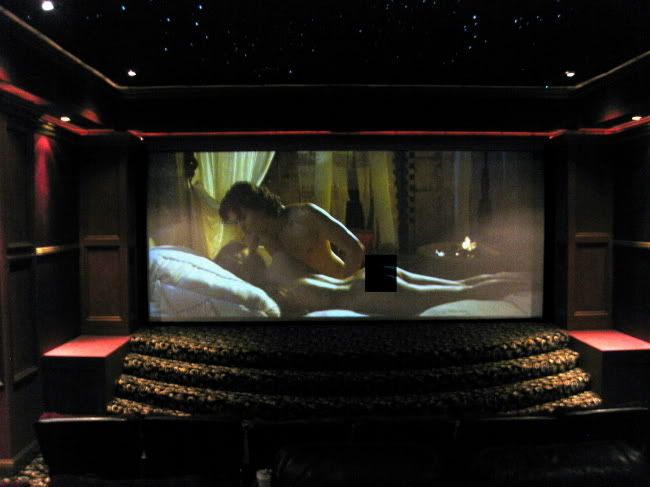 When the Spots were turned down to create a barely noticeable perception of illumination, the end result on the Screen were some excellent Black levels. The Silver Metallic can lay claim to that end result. Silver metallic works both ways...to enhance reflectivity and depth of Color, and deepen Black Levels without crushing Whites
Almost completely Dark...........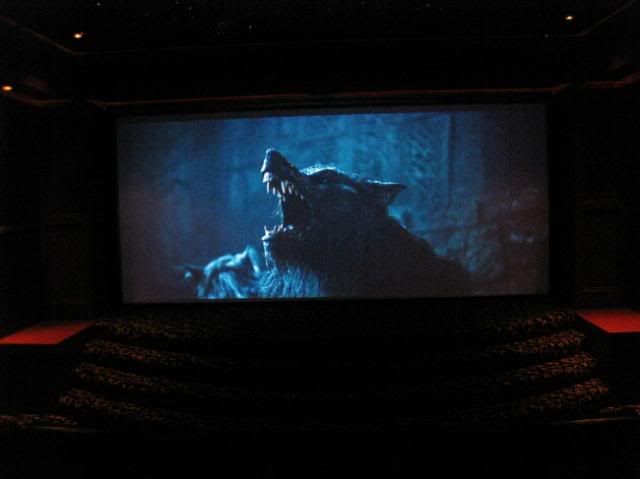 Estimated 20% illumination...Calbear obliged me on this one by reducing those obnoxious over-ther Corner Spots.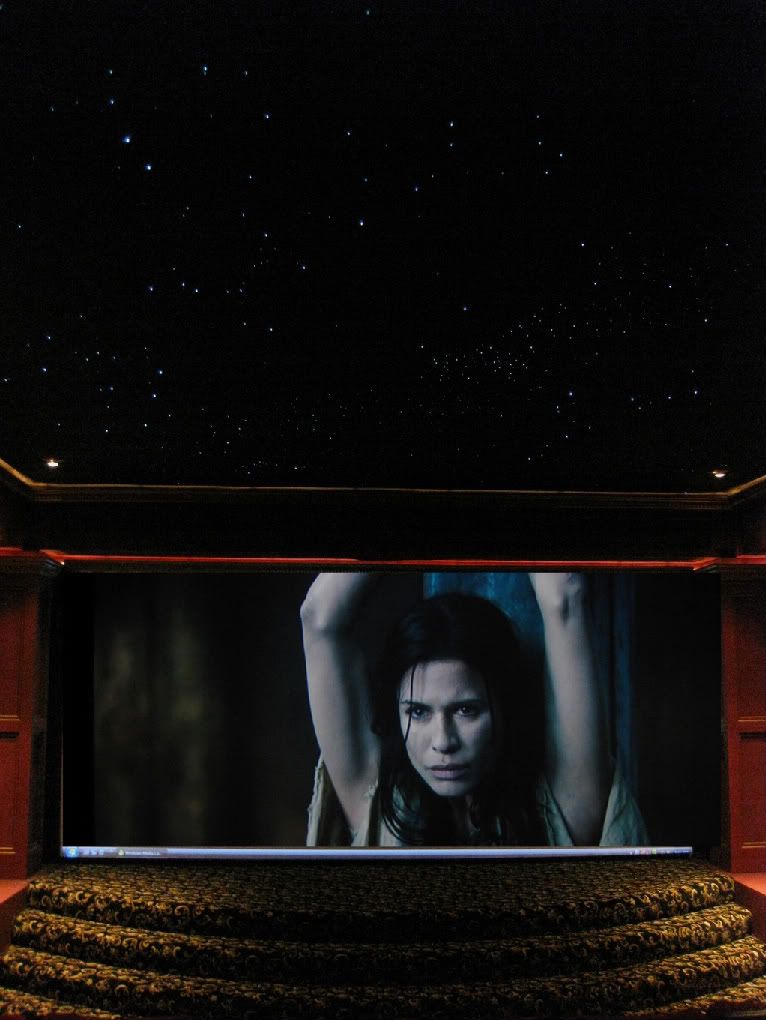 Excellent "Darkroom" results!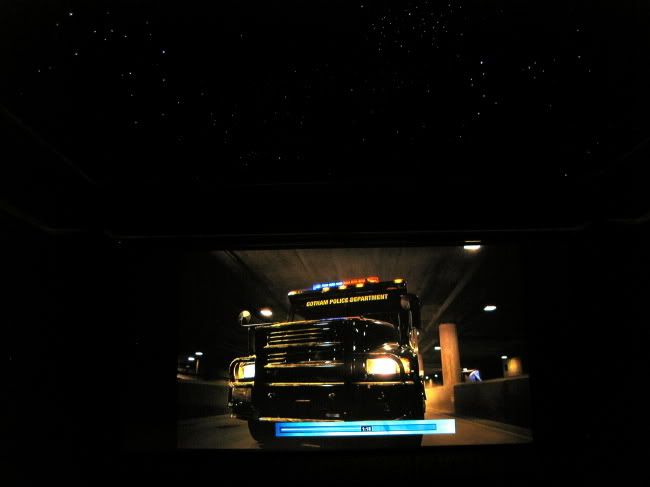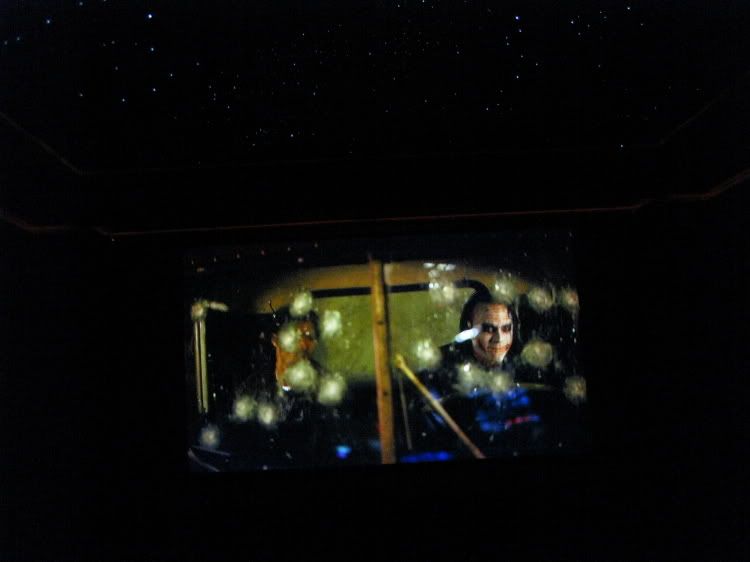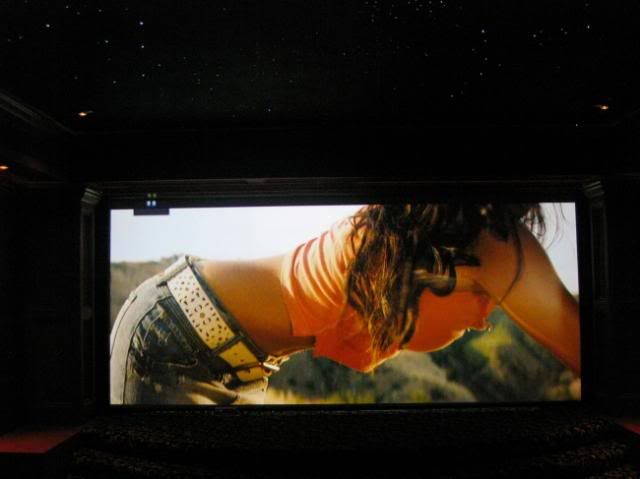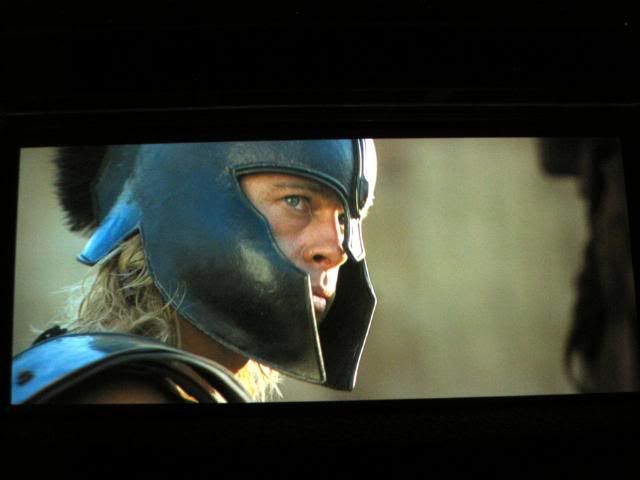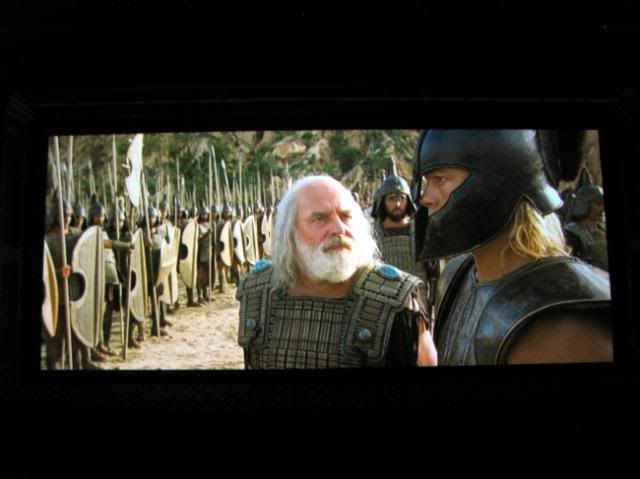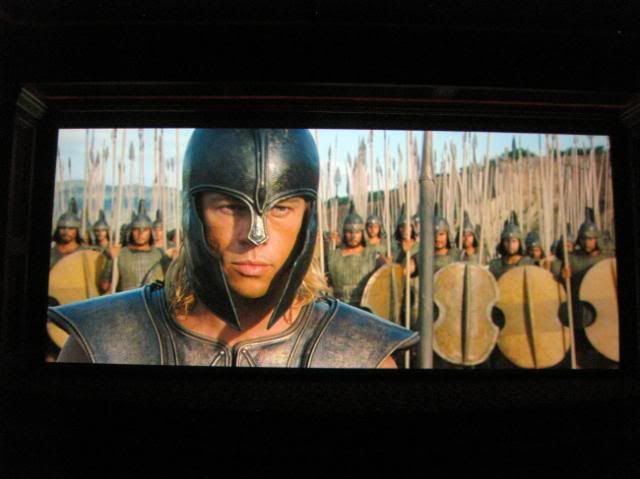 At a very low but present Can Light luminance, no perceptible ambient light issues here!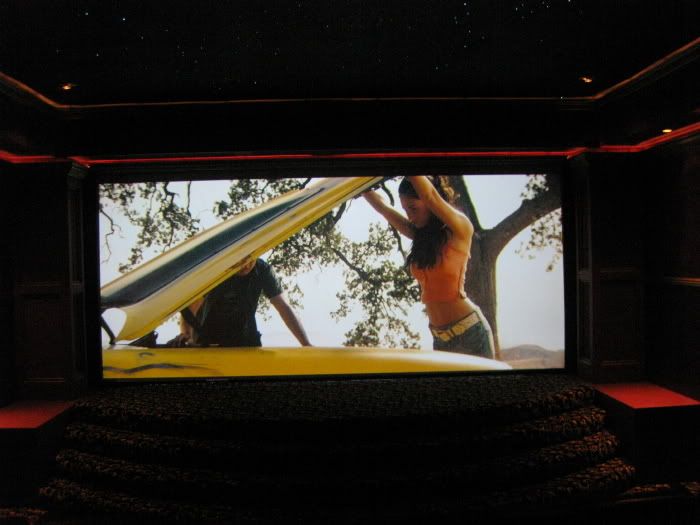 OK...so much for the Screen, eh?
The Sound was very intense, but the Acoustical Trappings did their job quite well. The GUI / PC Screen for the HTPC Unit was absolutely brilliant! So very Cool!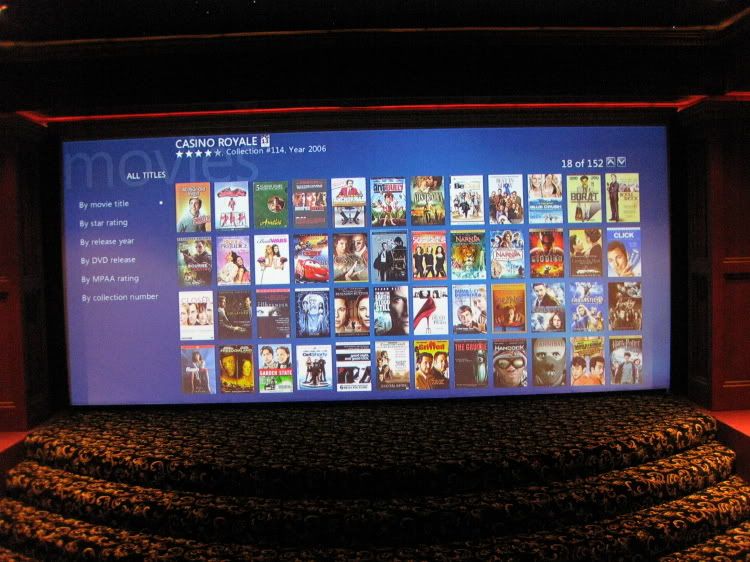 Here is a Group Shot, with faces "high lighted" as best as I could with the meager tools and skill at hand.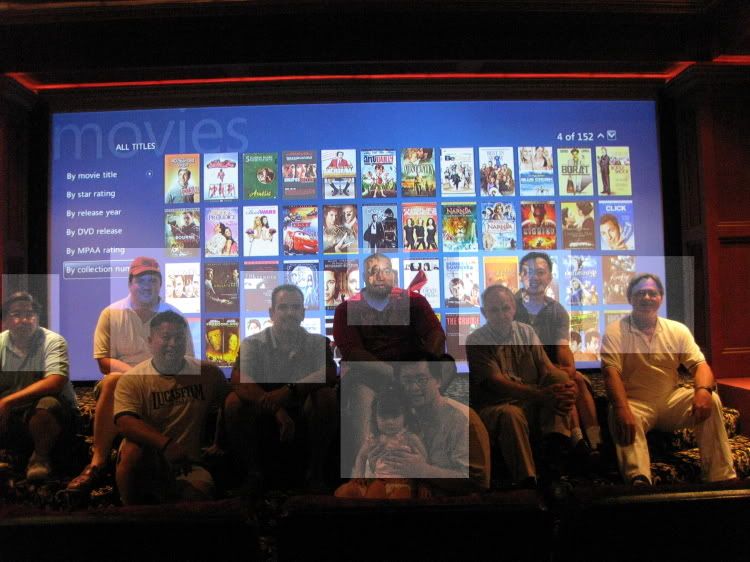 A worthy effort? Hmmmmmmm..........
It was worth waiting for Calbear to "get'er dun". (...and Him not even "Loganed' either!) Worth the Sunday AM Air-jaunt up from LA. Worth getting lost 2 times getting to the meeting place in Livermore, CA driving from SFO. Worth the drive back to SFO Airport at 1 AM and waiting for a 6 AM Flight back to LAX to catch my 11:30 am flight to Memphis. Definitely worth the opportunity to commune with some of my fellow AVS'ers.
.......just plain worth it......