My System!!
My Pioneer 151fd, Paradigm Signature S6 and C5, Sunfire TSEQ12 Sub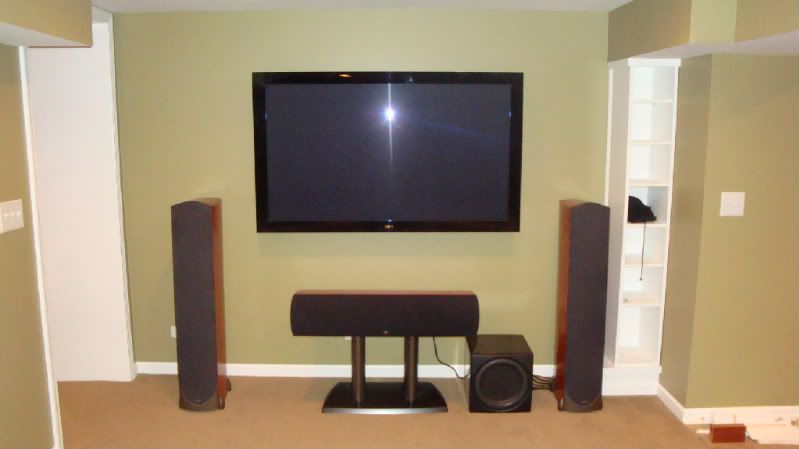 Grills Off!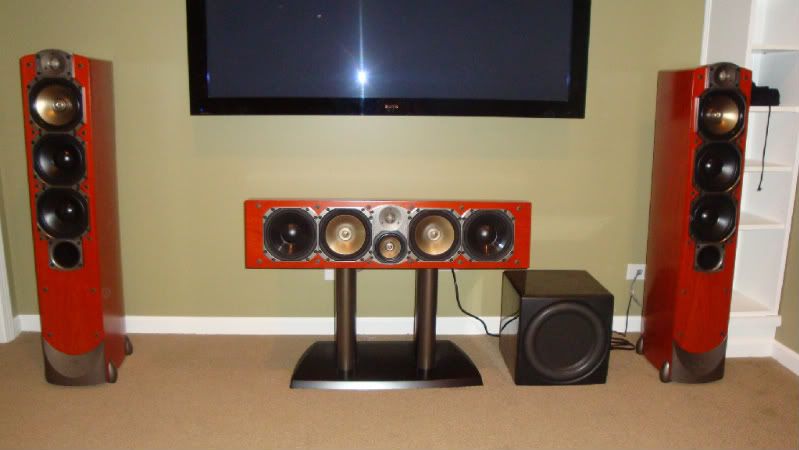 Raxxess Skeleton Audio Rack:
Apple TV, Directv HR23 Receiver, Anthem D2v, Denon 5910ci for CD/SACD/DVD's, Denon 3800bdci Blu-Ray Player, NAD M25 Amp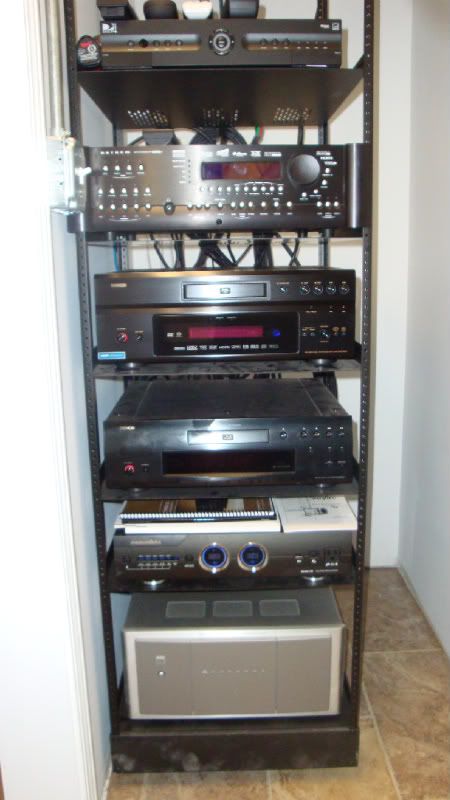 Palliser Hiland Theater Seats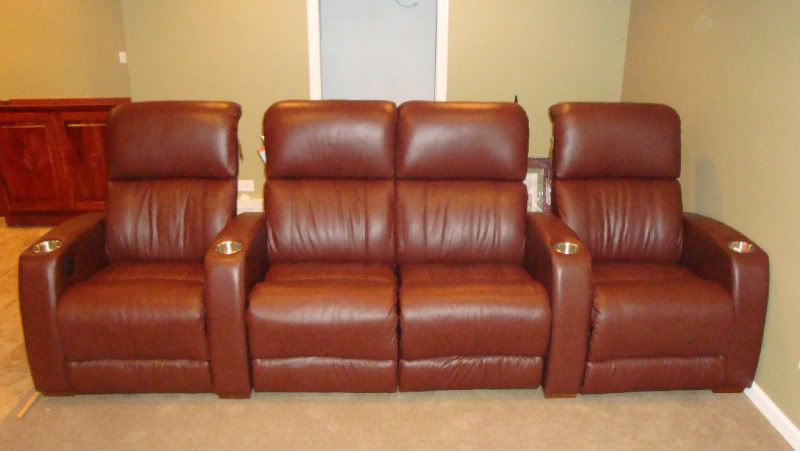 Adjacent Wine Cellar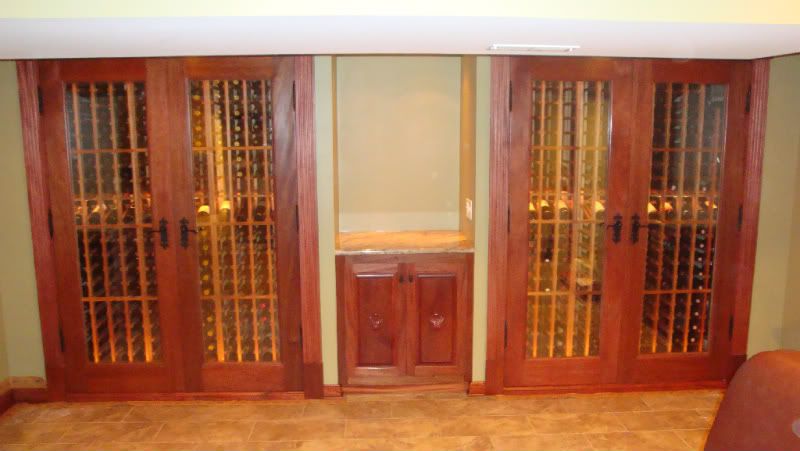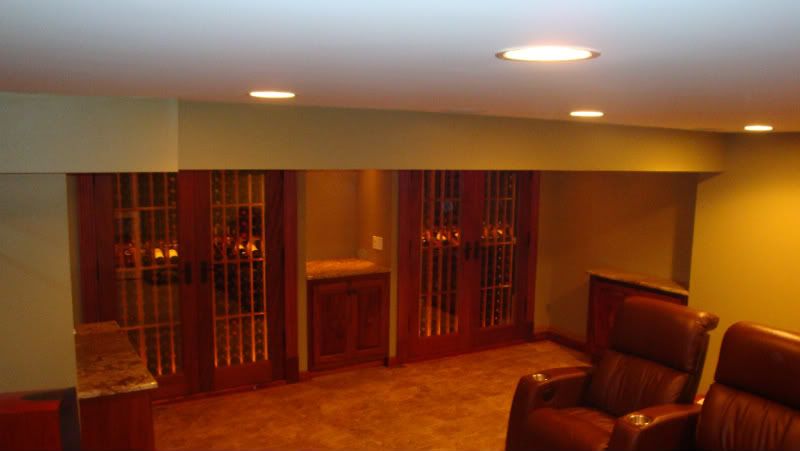 View From the Wine Cellar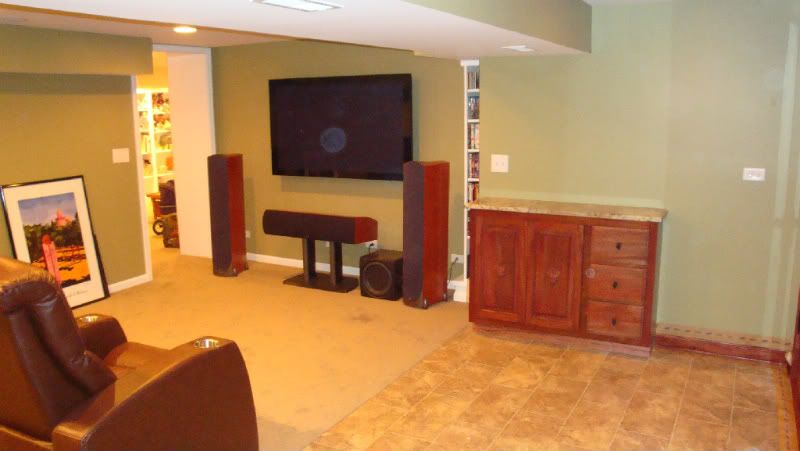 Hey Guys,
I am about to build a 7.1, home theater in my basement. I have purchased some equipment already, but am looking for help as the process goes along.
Room looks like 2 rectangles, no windows: the home theater will be 11 x 17 rectangle, opens on the right another 7 x 10 for a custom wine cellar.
11 x 17 room will be carpeted, ceiling height will only be about 7 feet, its a 1952 house. 75% Home Theater, 25% Music.
Currently I have :
Processor: Anthem D2v
Amp: NAD M25
Blu Ray Player: Denon 3800 bdci
Plasma : Pioneer Elite Pro 151FD
Sub: Sunfire TS EQ12
Sat. Video: Directv HR21
Cables: All Blue Jeans
HDMI from both video sources will go through Anthem, Directv will also go Component to Plasma if I listen to music while watching Television. Can Anthem output video HDMI from Directv receiver to plasma while playing audio from a different source, CD or IPOD?
Needs:
Front L/R Speaker: Paradigm Signature S6
Center: Paradigm Signature C5
Surrounds: Paradigm Signature 1.5R
Rears: Paradigm Signature 1.5R
Update August 1st:
I purchased Paradigm S6 for front R/L and C5 for Center. Also purchased 4 Paradigm Signature 1.5R for Side Surrounds and Rears.
Audio Rack: Ordered Raxxess Skeleton Rack, 6 Feet Tall b/c the shelves can support 250 lbs and are wide enough for the M25 amp
Ordered Palliser Hiland Seats configured for 2 recliners on the ends with a loveseat in the middle. Should arrive first week in October
Looking forward to the discussions, will post pics in next two days.