Alright, I'm planning to begin the build in December, so I'm doing what I learned in the Boy Scouts -- I'm getting prepared! I could use all the advice I can get.
When I'm ready, I'll switch this to a build thread and rename it accordingly!
Proposed Theater Name
:
Hogwarts Home Theater
The name is the compromise I made with the WAF to pull this whole project off. She and the little one are huuuuge Harry Potter fans, and I don't mind the books/movies either -- they look fantastic in 1080p! lol.
There is a ton of Potter home decor available on the net, including framed movie posters, lighting, and every other type of accent you can imagine. So what the hell, right?! The things we do to make them happy...
Side note:
One of the things I did to help sell this idea to the WAF was make a custom Sony movie intro in HD saying "Hogwarts Theater Presents." A huge thanks goes out to
Blazer003
and everyone else who helped me figure out how to use blender to make that happen in this thread here:
http://www.avsforum.com/avs-vb/showthread.php?t=715166
Planning:
OK, now to get to the point of this planning thread. I have been staring at my basement for months trying to figure out how to make the HT happen with the existing structures. I've come up with a few ideas as to how I could go about doing this, and I could really use your advice in making my final decision for layout.
Each of these ideas comes with its own pros and cons which I will list above each sketch. If you can think of some more of each, or an entirely new idea altogether, I'm all ears!! (eyes?)
Another reason that I've been able to convince the WAF that we need a HT is because our wonderful townhouse came with wood-paneling throughout the basement. On top of that, some genius decided to add a layer of vertical textured wallpaper sheets and press-on borders that really give it that "stab-me-in-the-eyes look" he/she was apparently going for! Did I mention that that the wallpaper is sky-blue?!
Needless to say, the WAF and I both agree (WOW! Mark that sh*t down!) that it's absolutely gross, so it was real easy to convince her to let me gut it completely and replace the paneling with drywall. Plus, now I can wire the entire basement...WOOHOO... SCORE!!!
Anyway, enough with the lame humor (ya right!)... let's get started!
CURRENT LAYOUT
My current layout does what we needed it to do when we moved into the house -- it's functional.
1.
We have an older 43" 720P Pioneer Plasma that kicks butt with the component inputs, but the single HDMI input burned out on me somewhere along the way. (Of course it was a few months AFTER the warranty ran out... imagine that). The TV will stay in the mix until I can replace it with a newer 1080p model -- probably Something like the 54" Panny G10.
2.
Audio will be handled by an Onkyo TX-NR807 7.2 AVR which comes with some awesome new features, including Audyssey DSX!
3.
I'm still shopping for speakers, but their purchase will depend on what I decide to do with my layout.
4.
I have yet to settled on a PJ or electric retractable screen, but those decisions can also wait until it comes time to break out the credit card.
5.
I have a FIOS HD DVR, Xbox 360, Wii, and a pretty stout HTPC to round out the Rack-o-Fun(tm).
The below sketch (originally done in Home Designer Suite 8.0), but I no longer have access to that software -- I'm currently in Iraq -- so MS Paint will have to do for now -- the good news is that Windows 7 comes with a much improved version of MS Paint! But, at the end of the day, it's still just MS Paint... so please bear with me!
Fig. 1 -- Current Layout
OPTION 1: Dolby 7.2 Layout
Pros:
Limited Renovations Required -- only have to widen door between rooms to make it symmetrical. Everything else stays where it is.
Speaker placement is very natural (easy) for the room at ear-level
Playroom remains separated by doors -- a.k.a. "noise-B-gone" -- possibly "French Doors," or something similar. If I get real crafty, maybe I could put in two pocket doors.
Cons:
Sliding glass door results in horrible glare during daytime viewing, since the WAF doesn't like to shut the curtains. Apparently, a little bit of sunlight is good for you... who knew?!
Fig. 2 -- Proposed Dolby 7.2 Layout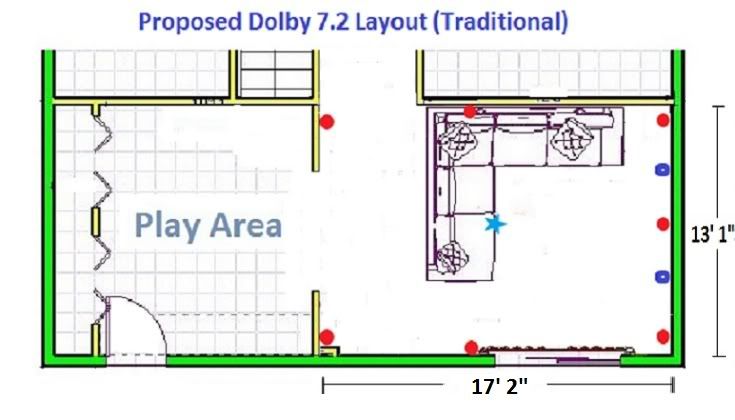 OPTION 2: Audyssey DSX 7.2A ("Wide") Layout
Information on DSX here:
http://www.audyssey.com/technology/dsx.html
I discovered this lovely new concept while researching speakers and receivers. It turns out that the Onkyo receiver I am almost 99% ready to buy has this wonder new technology built right in... yep, that's right, the magic is apparently in the little black box.. somewhere in there... hiding... just waiting to be unleashed... and stuff. (+10 Bonus for anyone who connected "magic" to the Harry Potter theme
)
Bottom line: it's intriguing new tech, and I'm a sucker for new feats of engineering wonder. (Have you ever seen the toilet seats that close real slowly instead of slamming down, even if you
try
to slam them down? THEY'RE F'N AMAZING!!)
Anyway... sorry about that.
Pros:
One huge open room, and open space is neato. (See also: Cons)
Cutting edge tech with potentially amazing soundstage
No Glare from single door on the new HT side of the room
I get to annoy my crazy neighbor in the townhouse next to me with big booms!
Wide open play area behind HT makes it easy to watch our kid(s) break stuff
Adding wiring for future might lead to some cool 9.1 options when the tech and media for 9.1 eventually show up mainstream.
Cons:
(Big problem) The Left-Wide (LW) speaker sticks out from the wall in path between door and rest of room -- right next to the door! -- so my speaker selection for the wides is extremely limited to those with no depth!
More extensive renovations required -- moving closets, removing center wall, relocating breaker box
A future switch to traditional Dolby 7.2 (if DSX doesn't cut it) would require hanging rear surrounds from ceiling -- not optimal.
One huge open room, and open space means there's no way to hide from my kid(s) -- especially their noise! AHHHH! (See also: Pros)
Fig. 3 -- Proposed Audyssey DSX 7.2A Layout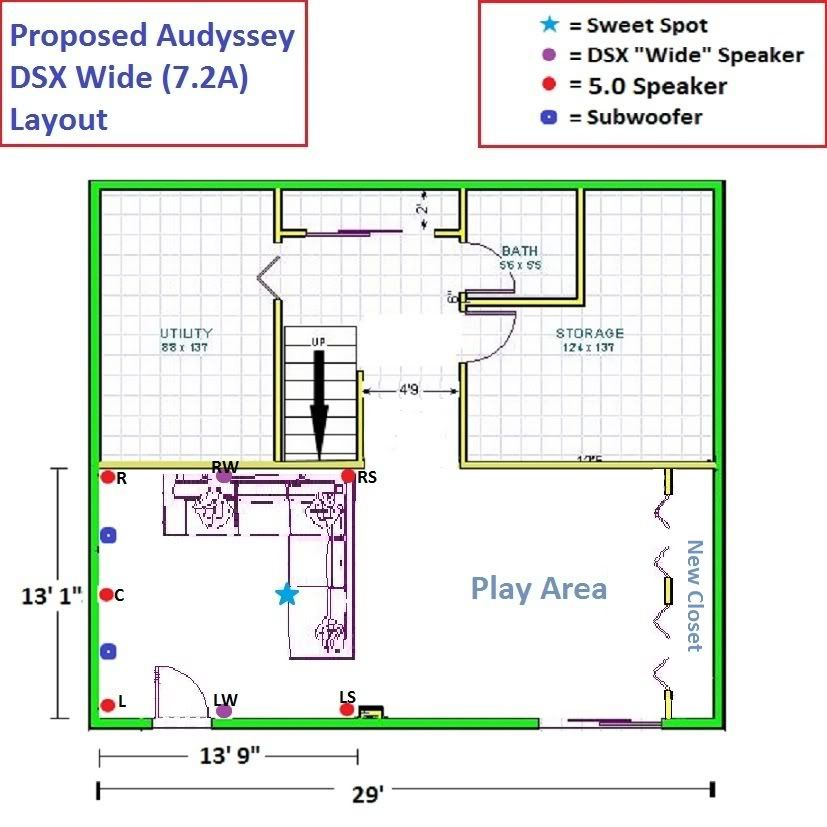 CLOSING:
First, I'm sorry for the lame jokes... not really. Second, I really look forward to any/all advice you can give me. This will be my very first HT, so I'm pretty stoked to have options and being able to wire it properly is rad. (Yes, I said "rad"... Why? Because I really miss that word).
Whatever happens, the adventure has already been a blast. Being in Iraq has given me the opportunity to get very -VERY- bored late at night when I'm not working, so I've had a ton of time to dive into the research for this project. Wonderful tech like
Skype
has allowed me to bounce my ideas off the WAF in real-time and watch my kid while I'm doing it -- too cool!
My goal with this entire project is to leave my guests and kids
spellbound
by their time spent in these rooms, and ultimately to create an amazing place to spend 90% of my time at home with the fam. (See what I did there with the witty word choice? "spellbound"... HA!)
(+20 for those who read the entire thing and aren't thinking about punching me right now)
Let the heckling begin!!
-
TSF
-