And the the bug is that
Audyssey MultEQ may be completely broken
! So the feature that should help your sound the most could be ruining it.
You could be affected by this and not even realize it
, as I was, until I looked into it further.
Cause/Solution Found! (Sep. 30, 2009 Update):
After sending my [second] AVR-1909 to Chris from Audyssey for testing,
he confirmed the primary problem
of lossy DD/DTS bitstreams being wrongly decoded when MultEQ is enabled. After sending his findings to Denon engineering in Japan,
they found it to be a firmware bug in early units
! It was then inadvertently fixed along with an update for an iPod Video problem, but units manufactured as late as Nov. '08 could be affected.
Models affected:
1609/589, 1709/689, 1909/789, and 2309/889. The 2809/989
is not affected
since it uses MultEQ
XT
.
For the
2309 only
(
not 889!
): Serial numbers
xxxxx15241
and lower were
manufactured with
the buggy firmware. If you haven't already installed a newer firmware that resolves the issue (e.g. iPod Video fix), please see jdsmoothie's
firmware updates post
and contact him to install the update yourself.
Again, this
does not include the 889
! Only the 2309 has the RS-232 jack required to install firmware updates.
For all other models, you will have to contact
Denon Customer Service
and either take your AVR to a
Service Center
or create an
SRA Request
to send your AVR to Denon to have the firmware updated.
Check the firmware
to quickly determine if yours has the bug (versions verified on the 1909 and 2309 so far). To view firmware information:
1) With the AVR in Standby (red ring), power off completely with the small ON/OFF button
2) Press and hold the
DYN VOL
and
VIDEO SELECT
buttons on the front panel
3) Power it back on with the small ON/OFF button; it goes into Standby (red ring)
4) Release the DYN VOL and VIDEO SELECT buttons, then turn it on with the large On/Standby button (green ring)
5) Once it's powered up, press
STATUS
to cycle through to the firmware versions
***NOTE***
STATUS
will continue to function this way until you cycle the power OFF and ON with the small button (Standby doesn't cancel this mode)
Fixed firmware versions
are as follows (
lower/older have the bug
):
For 1909 and 2309 (probably 789 and 889 also): [Main: 00.90, DSP1: 45.43]
For 1609/589 and 1709/689:
To be determined/verified
, please report!
To summarize: The main problem is incorrect decoding of lossy DD/DTS bitstreams when MultEQ is enabled, resulting in overblown bass. Some other issues I suspect are related, because they didn't exist on the AVR-590 I tested, and I'm hoping they're resolved with the new firmware: 1) Incorrectly calibrated speaker trims and/or master volume setting, affecting the operation of Dynamic EQ/Volume; and 2) The overall level of bitstreamed Dolby TrueHD is about 2-3dB lower than player-decoded PCM. (I was not able to compare DTS-HD MA.)
Revised original post and information:
For those who haven't seen my posts in the Audyssey thread or the 1909 thread, I finally discovered last month that my problem of inconsistent and
wrong
audio was solved when I happened to turn MultEQ Off. I sent my unit to Denon to be fixed and they sent back a refurb that has the exact same bug, so I'm now confident that others out there are affected as well, since I've had two units that are (and I may have to fight Denon to do something about it
Update: Denon has said they can replace it, with a new unit this time).
On Sep. 4th I picked up a new model AVR-590 from Best Buy (temporarily
) to check it and absolutely rule out anything specific to me (which I already had; I know what I'm doing). And yes, although I wasn't exactly sure what I'd find, MultEQ works perfectly as it should, unlike the two 1909s.
The primary problem
is with MultEQ enabled (Audyssey curve, Flat, or Bypass L/R), bitstreamed Dolby Digital and DTS signals decoded by the AVR sound
much different
than the same soundtrack decoded externally by a player and sent to the AVR as PCM, primarily in the bass from the subwoofer (not sure about other speakers): nowhere near accurate, boomy, overblown, bombastic, etc. It's not a subtle difference at all, especially with Dynamic EQ On (
anyone
could notice the difference then!).
How to check for the bug:
Lossy listening tests.
The simplest is to just use a few movie scenes that you're familiar with and have a good amount of bass (preferably action, explosions), or anything else you think has enough bass to hear.
- Make sure MultEQ is enabled, of course, by the indicator.
- It is strongly preferred to
turn Dynamic EQ On
(Red light, not Green) to magnify any differences, making it
very easy
to tell if your AVR has the bug.
If using HDMI audio and a player that can output multi-channel PCM, remember:
- Cannot be used with
1609/589
or
1709/689
(no HDMI audio support).
- You
must use
a
lossy
Dolby Digital or DTS
soundtrack;
not
PCM (
on the disc
), Dolby TrueHD, or DTS-HD.
- Your player must be able to internally decode that soundtrack to PCM; some
will only bitstream
DVD/lossy audio.
If using non-HDMI audio (only option with
1609/589
and
1709/689
) and/or a source that can output 2-channel PCM, remember:
- You
cannot use a multi-channel soundtrack
(e.g. 5.1), because changing to PCM results in a 2-channel downmix, which will sound "weaker" -- not because of this bug, but because channels are no longer discrete, [some] automatic DRC, loss of LFE channel, etc.
- You
must use a Dolby Digital 2.0 track
to compare bitstream and 2-channel PCM. (DD 2.0 audio could also come from a HD DVR/STB, for example, instead of a disc, as long as the box can be changed to output PCM instead of the Dolby Digital bitstream.)
It doesn't matter, but I'd recommend first having your player decode the soundtrack and send PCM. Listen to some of your reference material (do it a couple times to get a feel for the sound). Then, switch the player to output bitstream, and
don't touch anything else
, including the volume. Repeat for each of the few things you're checking -- since bass will be at different frequencies, the bug may be more or less obvious depending on the frequency.
Did it sound
exactly the same
both ways? Then you're fine, since the bug should have been obvious.
If things sounded different, it
doesn't mean
you have the bug, since differences between player and AVR decoding could result in a different sound. So first thing to do is
set MultEQ to Off and listen again
. Any difference wouldn't be as obvious now with Dynamic EQ subsequently Off, so listen a little more carefully. If bitstream and PCM
now
sound
exactly the same
with MultEQ Off,
you have the bug!
(If both ways still sound different, check and turn off things like Dynamic Range Compression, Night Mode, etc. in the player and AVR, and check speaker levels for each signal format on the AVR, until you get each to sound the same with MultEQ Off. Then start over with MultEQ and Dynamic EQ On.
)
If you are not able to do a comparison with PCM
, you can try some subjective tests (with lossy DD/DTS formats):
- With Dynamic EQ On, it should be fairly easy to tell if bass just "seems" overblown.
- You
could try
comparing MultEQ enabled vs Off and listen for relatively "more bass" overall with MultEQ (but not Dynamic EQ!). Keep in mind this may not be very reliable, since MultEQ is
supposed to
change the frequency response, which could be all you're hearing...
If you could please check your AVR and report the results (with model and firmware versions), I'd appreciate it!
Like I said, you should be able to check with "real material" and determine just by ear if you have the bug, but for something more scientific, download and burn the

DIY Audio Test DVD

. There you'll find subwoofer noise similar to the AVR's internal test tone (5.1 DD Tests > Calibration > Levels Check > LFE), which is a steady sound and easily revealed the bug for me. Compare bitstream and PCM using the same "rules" as above (but Dynamic EQ isn't "needed" for these). Or you could use some of the Manual Tones for LFE at different frequencies, to compare by ear or with an SPL meter.

With non-HDMI audio

(only option with

1609/589

and

1709/689

): You cannot use the "subwoofer noise" since it's in the LFE channel. You

can use the Manual Tones

for the Left, Center, or Right channels. Check a spread of a few frequencies, and to measure the subwoofer, make sure those frequencies are "far enough"

below the crossover

for the speaker corresponding to the tone you're using. The

correct result

is for PCM to measure

3dB lower

than bitstream as a result of 5.1 to 2-channel downmixing.

I used that LFE Calibration tone with the AVR's subwoofer pre-out connected to the computer and used Room EQ Wizard's Spectrum analyzer (1/12 octave RTA, 16 Averages) to show a visual representation of the output:

MultEQ Off:

PCM

vs

Bitstream

- Both 1909s and the new AVR-590 sample look like this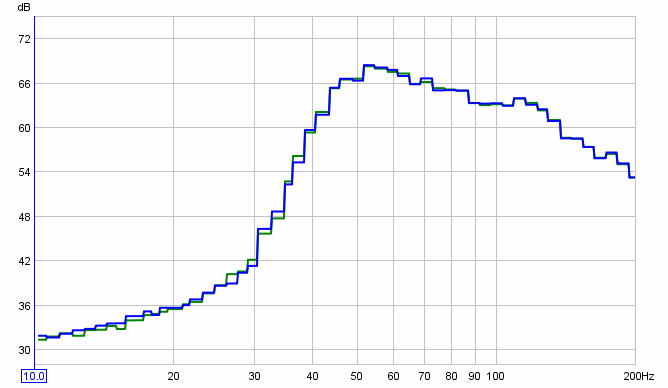 MultEQ On:

PCM

vs

Bitstream

(Plus the 2 MEQ Off measurements averaged and smoothed)

- Both 1909s look like this, with bitstream completely screwed up
MultEQ On:

PCM

vs

Bitstream

- New AVR-590 sample looks like this, perfect; bitstream and PCM are identical as it should be