I spent the entire summer over on billfitzmaurice.com's forums documenting my Tuba HT build. As I spend ALOT of time over here on AVS I though I'd share my experience with others.This is my first impression review for my Bill Fitzmaurice Tuba HT. (The day It was finished Oct 18nd, 2009). Measurements and further articulation to follow.
For those who are interested in seeing my construction journey my build thread is verbosely documented step by step over in BillFitzmaurice.com's forums
here
. I really took my time, after all this is just a hobby. Alot of people are building these in less than a week. For reference I built a 24.5" wide THT using the Dayton 15" DVC driver.
"After finally finishing my THT This afternoon I gave the the THT a run. No measurement equipment just my old ears.. I decided to play stuff that my ears were accustom to hearing with my EBS/LLT. For music I used Elton John and The Pussy Cat dolls, both live concerts. For movies, Transformers 1 & 2, Die Hard 4, Star Wars EP 1 PodRace scene DTS, and Bolt.
The first thing I noticed about the THT was it's efficiency. Everyone has told me it gets loud but me being a bass fanatic who already has a 14 cu foot LLT with an 18" assumed it would be relatively loud but not CRAZY loud. Well.. The BFM guys were right. This thing is crazy loud. It took me awhile to get acquainted with just how loud it gets. I am so used to the limits of my EBS/LLT there were some times I was running for the remote thinking the DVC in the THT was about to bottom out. But it never did. Only after did I started measuring the voltage did I get more confidence in cranking it up more.
Even without an SPL meter in hand I can easily say the THT dominates the EBS/LLT all day long. One of the main reasons I wanted to build the THT was because of its claim for great midbass (40 - 100hz) while still getting down low into the single digits. This was one of the goals for this project, to get back the midbass my EBS/LLT lacked. It was such a pleasure to feel a very tactile kick in the chest while playing both live concerts from Elton John and the Pussy Cat Dolls. It hit like I've never heard a home theater sub hit before. As for the ultra low bass below 40hz, I feel (no pun intended) the THT again dominates my EBS/LLT in this area too. As mentioned I am still getting used to crazy output of the THT horn. Lets just say in Transformers 2 when Optimus dies and falls to the ground my vision blurred like I have never felt before (1:02 into movie). If I had to gauge, again with my ears I'd say the THT is at least 5x louder than the EBS/LLT. With only a fraction of it's rated power (10.8 volts or 29 watts) the back of my sofa began moving with a 22hz sign-wave measuring 121dbs. This with only a 1/4 of the rated voltage into it! To contrast, my LLT never was able to move my sofa with even 1000 watts.
As most who already have horns know, the major benefit to horns is that high output can come with low distortion without alot of power. I can't reiterate this enough. The bass is so smooth and articulate and in all of my demos this afternoon I never seemed to run out of headroom. I'd turn it up, think that was as good as it gets, than turn it up more and it continued to impress me without producing audible distortion. Lets just say I am easily able to find the limits of my EBS/LLT but have not found the limits of the THT yet. It's a bass nuts dream
.
To say I am extremely impressed is an understatement. I'll be doing some more tweaking this week with hopefully some measurements by next weekend. I haven't finalized my placement yet. For now it sits right next to my EBS/LLT. I am expecting an even greater improvement if that is even possible once this is corner loaded.
My biggest worry now is what I am going todo with my EBS/LLT as it really is no longer needed.
I'm sad to say there won't be any MAX SPL measurements posted. At least in the short term future. After I came home from work I started playing with the THT, demoing some music and some movies. I had it up a bit higher than I normally do. Not 15 mins after I turned everything off did I get a knock on the door.. Guess who. The Police. He was really cool about it. I explained how I had been working on it all summer and I was just "Testing it out". He just told me to keep it down and left. I'm kinda bummed about it because this visit sets a precedence. It means I have to watch the volume each and every time I watch a movie now.
In any case here are a few videos and finished pics. As mentioned you can see more of the build process
here
.
Die Hard 4 YouTube Video:
http://www.youtube.com/watch?v=8kBHxasi8ko
Pussy Cat Dolls YouTube Video
http://www.youtube.com/watch?v=jgRL9218th8
121db @ 22hz with only 10.8 volts or 29 watts! and Couch Moving!
http://www.youtube.com/watch?v=--7My1qU1Eg
Good image illustrating scale. LLT on left is 14 cu feet, THT in the middle, 94" screen.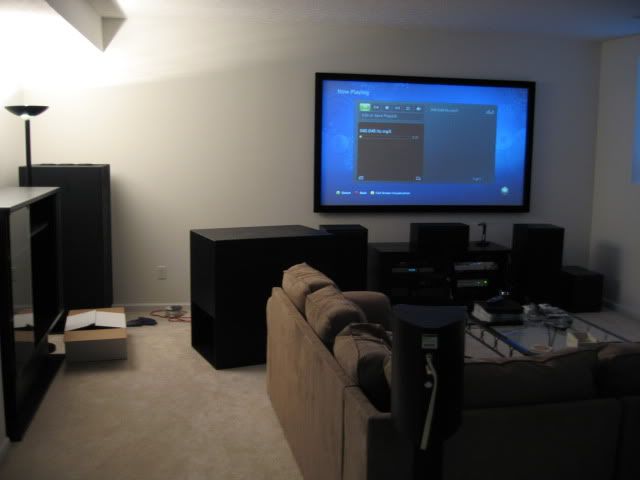 Duratex drying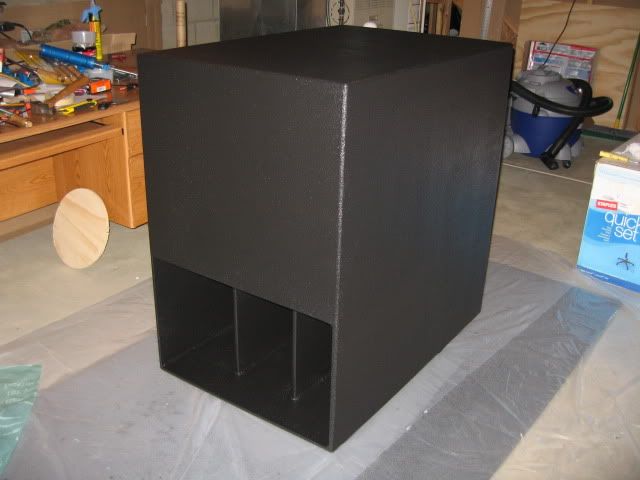 [ADDED Quick Measurements 11/6/2009]
I just went down to the media room and took a quick measurement from one of the listening positions with EQ disabled. I know indoor measurements are just about useless given the number of factors that can affect the sound but it's a start.
As mentioned previously it's currently sitting in an unideal location for a horn, next to my LLT and isn't corner loaded yet. Once I move it into it's final resting spot (Corner) I'll take some more detailed measurements along with waterfalls and distortion measurements.
I did find it interesting that at different base SPL levels of measurement the response curve changed a bit for each. Perhaps a unique characteristic of horns?
Even this quick measurement confirms what my ears heard and what my body felt. The THT goes alot deeper that my LLT.