Let me first describe my setup as of two months ago:
TV: Hitachi 57 Rear Projection
AVR: Denon 1803
Surround Speakers: Klipsch Quintent II
Subwoofer: Klipsch KSW-12
Various game systems, DVR, DVD, etc.
My room dimensions, well basically my basement is in a figure T' with the top of the T' about 35' by 12' and the leg of the T' 15' by 24'. And my system is located at the cross-section.
Actually, it would probably be easier to just show you a sketch.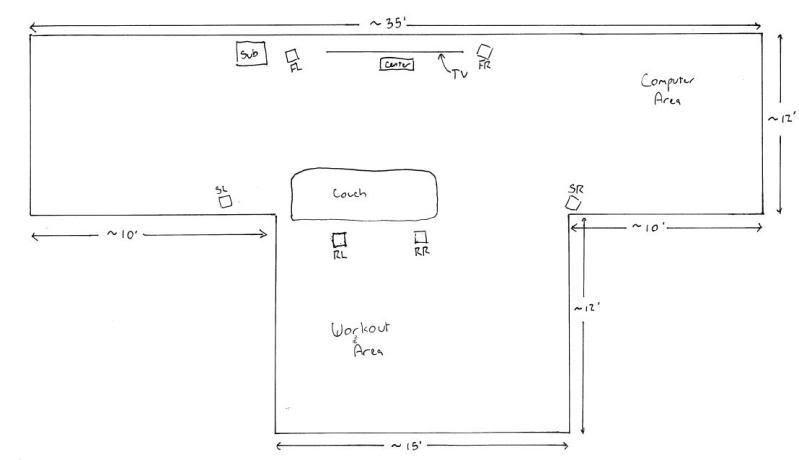 Well, I'm upgrading slowly bit by bit and I've replaced my Hitachi with a Panasonic 54 (TC-54S1) and I'm getting ready to replace my sub which has been out of commission for a couple of years (blown amp circuit). I'm debating getting the SVS PB12-NSD or the HSU VTF-3 MK3. I'm reading that these are two great subs but unfortunately don't have the chance to hear them in person. Currently leaning toward the HSU. So by the end of the year I'll have:
TV: Panasonic TC-54S1
AVR: Denon 1803
Surround Speakers: Klipsch Quintent II
Subwoofer: HSU VTF-3 MK3, probably
But my next question is where do I go from here? I have a large area, yet I am only using a section of that area for HT. I'm looking at next updating my front speakers to towers and also the center channel but as it is now I'm not getting as much power from the Denon as I'd like. So I'm wondering if my next AVR will be sufficient enough to drive my new speakers or if I should look into also getting an external amplifier? I'm really lacking in knowledge when it comes to external amps, pre-outs, etc. I was hoping to use my current AVR with an external amp but after a little research and looking at this
thread
it looks like I don't have that option.
Sorry for the long post, but I'm generally just looking for advice about if an ext. amp is needed/preferred/overkill and if what I'm proposing makes sense. If I have to break out usage percentages, I'd say 40% HT, 45% gaming, 15% music. Thanks for taking the time to read and for all of your help.