So, I'm in the process of planning my TV mounting project and I thought "who better to run this idea by than the brilliant minds on AVS?" FWIW, be forewarned, I ramble. My two specific questions will be at the end of my post.
I have a Pioneer 5080 plasma displaying directv, bluray, xbox 360 and a wii through a surge protector. I'm planing on mouting the TV as well as having the HDMI and component video harnesses run through the wall, and of course, TV power.
The wall studs are in a interesting spot. About 2" off the center of my wall and spaced the standard 16" on both sides. That means that if I need to use 2 studs, the mount is going to be on the extreme edge of either the left or right of the TV. A 33" wide mount would be ideal....any suggestions?
Now for running the cables and TV power. This house is my home, but thinking as a real estate investor, it is also a investment. All the work needs to be as clean as possible, as well as be installed following local building code. Running low voltage wires is a snap, but because I am doing all the work, I'm more concerned about getting electricity four feet up a wall from where it currently lives.
My first thought was the "PowerBridge" setup. It saves me from having to install another outlet and it fits everything that I need (a decent sized pass-through.) But being the thrifty/cheap*** that I am, I figured there HAD to be a cheaper way to have a PB installed.
My first thought is this: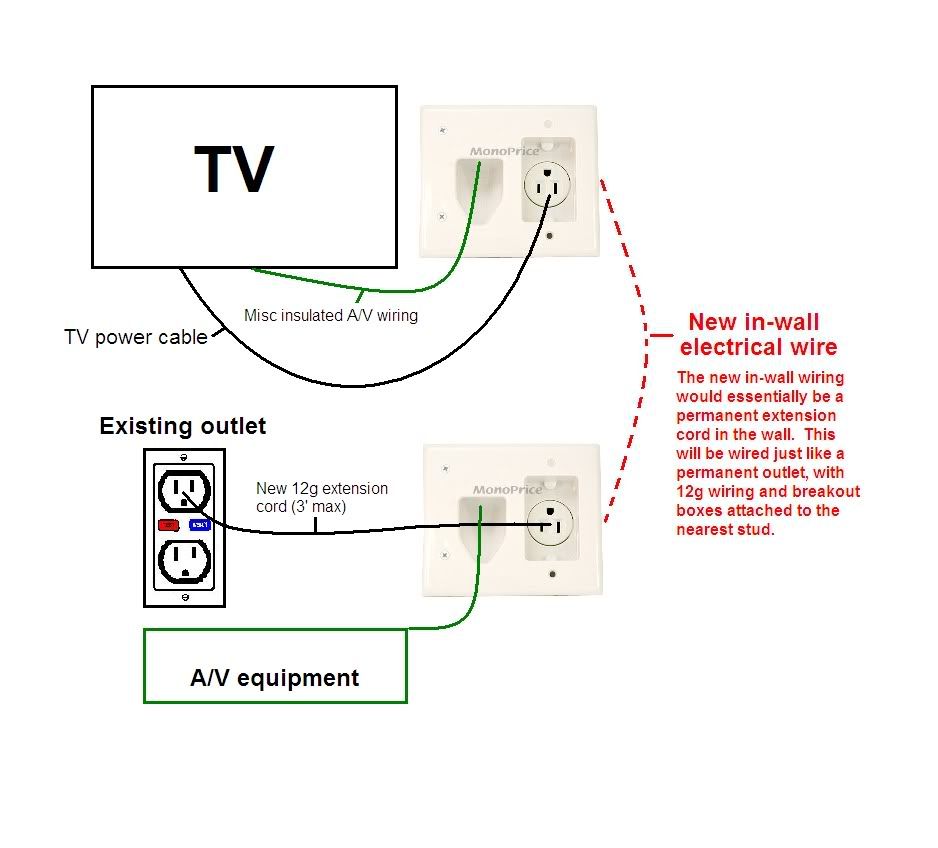 But then I noticed there were two problems with this; One is that the upper pass through is now upside down. Dammit, oh well. The second, and more logistically confusing one is that the actual PB setup has one female connector and one male, and this one would have two female. Is there any difference between one and another in this situation? And why did the designers select the prior for the "PowerBridge" design? Am I missing something here?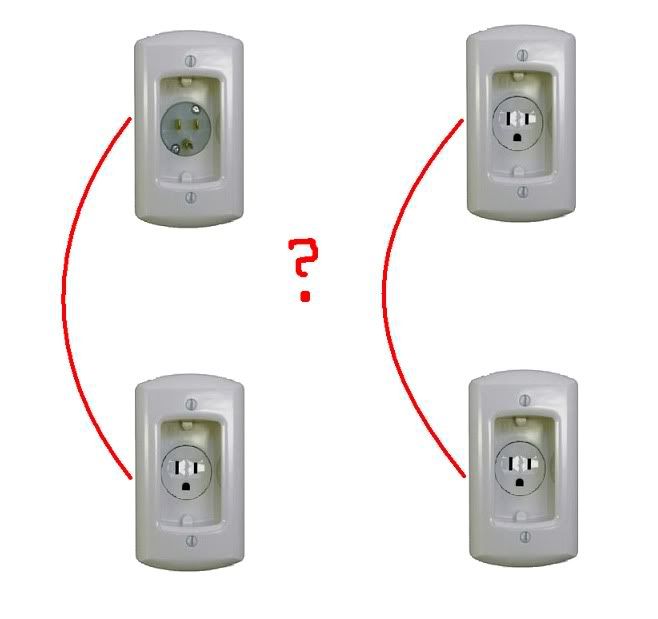 In summary, here are my two questions:
Does anyone know of a TV mount that has a 32-33" mounting footprint?
Has anyone figured out a cheaper alternative to the PowerBridge setup? This honestly seems like a great product, and I'm strongly considering it, but because of my own personality faults, I want to do it for less....monoprice FTW!!!
Thanks in advance. AVS is amazing......