Well, after years of having the home theater in the living room, we built a new home with a basement and moved in approximately a year ago. During the construction, my wife was diagnosed with thyroid cancer. Over course of the past year, she had surgery and treatment and now her cancer is gone. It's been a wild ride but now we are ready to get started on finishing the basement. The first room we are working on is the theater room (of course). We will finish the rest of the basement down the road, it is plumbed for a bathroom and "wet bar." The theater room is approximately 20X30X9. Three of the walls are already up. They act as supports for the floor upstairs. My father and I are going to get working here in a couple of weeks with framing out the last wall which should get the ball rolling. I plan on hiring out the electric and drywall and then come back in and finish up.
Right now I am planning on doing two rows of seating (second row on a riser) with bar seating behind the second row.
I am still unsure about screen shape and size. I just purchased an Epson 8500UB and have been tinkering around it. Having a room that is 20 feet wide, the projector throws a nice large image. I am planning on utilizing a false wall to hide the speakers and subwoofers behind.
As far as keeping the sound in and out. I am just going to do 5/8 inch drywall and insulation. We usually watch shows and movies as a family so I will just have to keep it turned down when they are asleep. It's not a problem cranking it up when everyone is awake.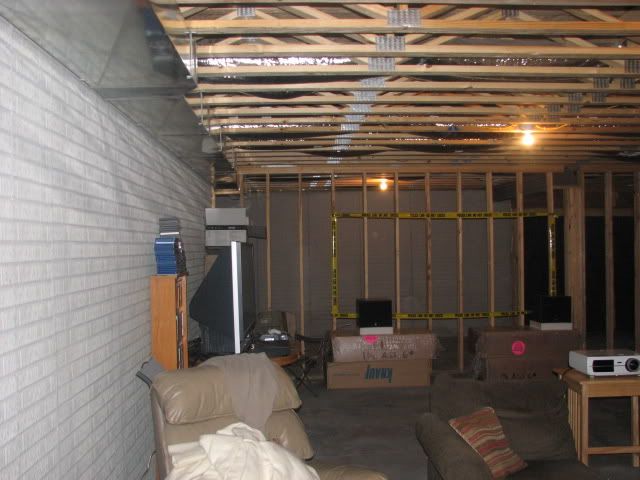 This shot is looking forward where the screen will be. The room is currently flipped and I am shooting the projector on to a white wall (the only one that is drywalled.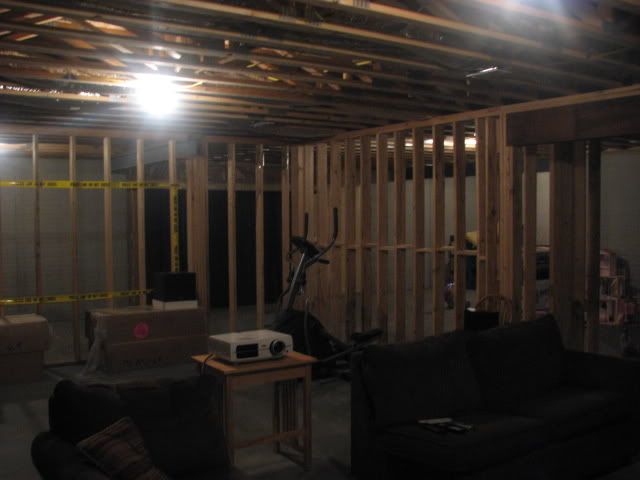 Just another shot of the room, we currently have a lot extra junk in there.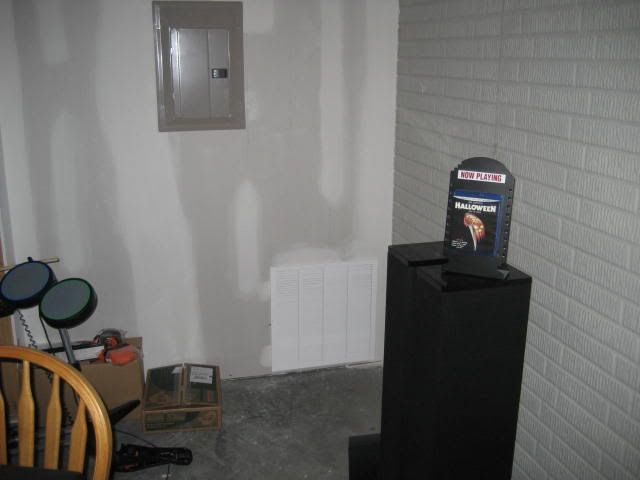 This is where the back of the theater will be. Unfortunately, the large return feeds into A/C unit that sits on the other side of this wall (which has another large return that faces the back side of the basement). It was put in before I caught it.
I also plan on putting the equipment rack back here. 120 Amp panel is ready to go.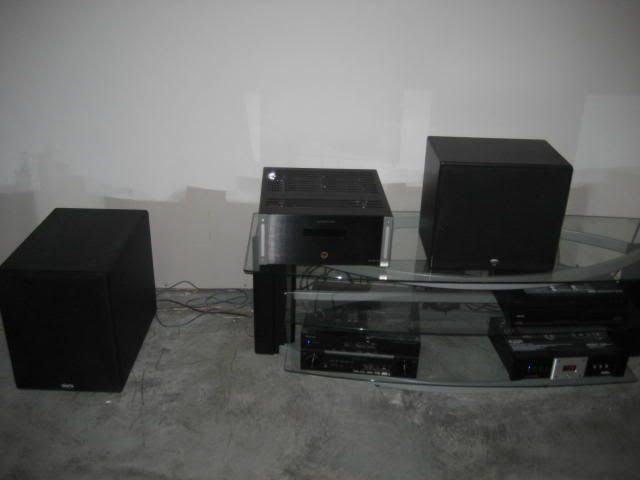 Last but not least, Klipsch THX Ultra 2 speakers and a Emotiva XPA-3 that came from Santa Claus.
I am sure I will have lots of questions, thanks in advance. Can't wait to get going..........