Thanks for all the feedback. Here is the silkscreen for PEQ3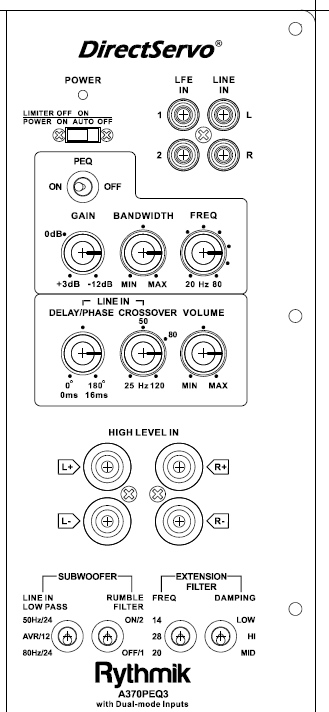 Quote:


1) What are the differences between the PEQ2 and PEQ3 amps, specifically (other than what you already detailed above)?
2) When will the 12" silver drivers again be available?
The main difference is the auto on is back and the limiter is on when auto on is selected. I figure I cannot possibly please everyone with one switch only. But the above arrangement should get the most votes.
Silver cone DS1200 will be in this coming shipment. So is the F15/F12 black matte finish.
Quote:


Will your solution be in a component case that can be placed on a shelf or mounted on a rack? Or is it some sort of plate amp (with extra speaker outs)? The former would be helpful in keeping the electronics centralized and only having to run speaker wire from my rack (like I do for my other speakers).
The goal is to have a plate amp solution first and then proceed to rack mount. With rack mount we can add some useful display features. But rack mount is more expensive.