After MONTHS of kicking around ideas, I finally have started a build.
I'm looking to build new subs because I want to get better low bass output then my present sub offers. So after shopping around and doing countless drawings and plots, I made a deal to purchase 2 Ascendant Audio Avalanche 18 drivers. Price along with performance played the major roll in picking this driver. It's funny, I started out looking at multiple 12s, then moved on to multiple 15s and somehow I ended up with dual 18s. The wife knows I'm getting new subs, she just doesn't know I went with 18s, I think she's going to be shocked at the size of these monsters.
I plan on building a 309L sealed cabinet for each driver (not deducting the volume of the driver and bracing), 22 wide x 21 deep and 47.5 high. I like the narrow tall style cabinet because it fits my space well and matches the style of my existing speakers (they are very narrow and vertical). I all my speakers are crossed over at 45 Hz and they sound very good, so all I need to do is fill in the bottom. I really don't need max SPL, just flat output down 15 Hz (lower if possible) with good SQ. But it is always nice to be able to crank it up to reference levels on the better movies or crank a good tune.
Here is the WinISD graph. This is one passive radiator sub vs. one sealed sub. So building two sealed subs should bring me right uo to a single PR sub's output.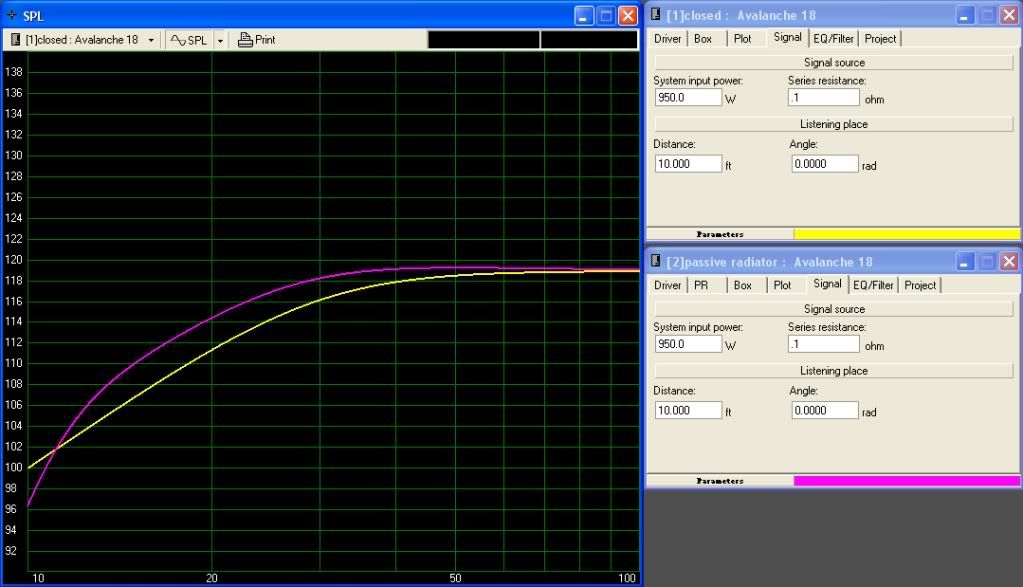 The room size (once the HT is built) will be 4500 cu ft and pretty well sealed off from the rest of the house. Each sub will be driven off one channel of my Yamaha P7000S and receive 950 watts, I could pick up another amp if needed down the line. WinISD calculated the output for a single sub at 112db @ 20Hz and 107db @ 15 Hz. I will assume another 3db will be added with the second sub so the out would be a respectable 110db @ 15 Hz.
I am using ¾ marine grade plywood throughout with the front baffle at 1-1/2 thick. My brother-in-law Bob is a retired carpenter and we are doing the build in his shop. Sure is nice having all the right tools to do the job. I braced the cabinet with window bracing because this is the best support for the lowest volume. The braces were cut out of solid blanks for maximum strength. All the bracing is mounted with dado joints and will be screwed and glued. The Qtc is calculated at .69 so I don't think I will need any stuffing, but we'll once the subs are done. I do have a few sheets of Black Hole 5 I have laying around so I will add them behind the driver and on the sidewalls next to the driver.
We finished all the panels on Saturday and plan on gluing them up this weekend. Bob went ahead and dry fit the cabinets as shown in the attached pictures. Still undecided on the finish I will be using, torn between a nice paint job or oak veneer. More to come as the project moves along.......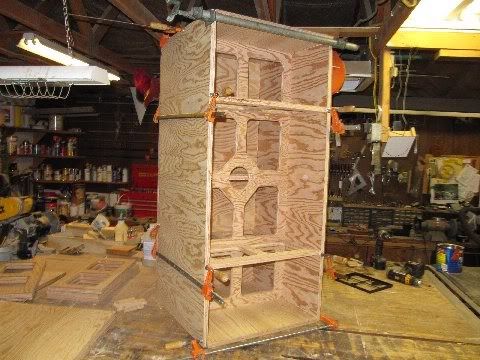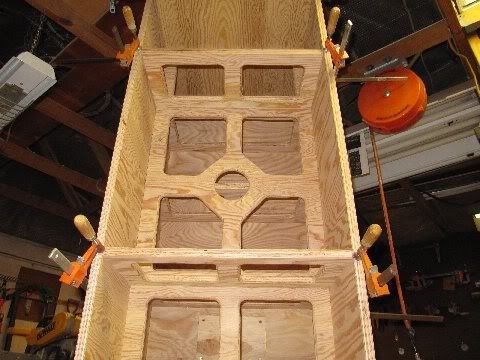 A good point Bob made. When screwing the wood together, predrill the holes in the first peice with a hole large enough for the screw to pass through and only thread into the second peice. This will allow the pieces to suck up together better and form a tighter joint.
Dry fitting is complete and all went well. The cabinets are being glued up now. One is completely done, the other only needs the front glued on. All the joints were glued with Elmer's Probond wood glue and we used Gorilla Glue on all the inside seams to make sure they were sealed. The foaming action of the Gorilla Glue I think will work really well for this. Here are pictures of the glue when applied and the second when it is cured.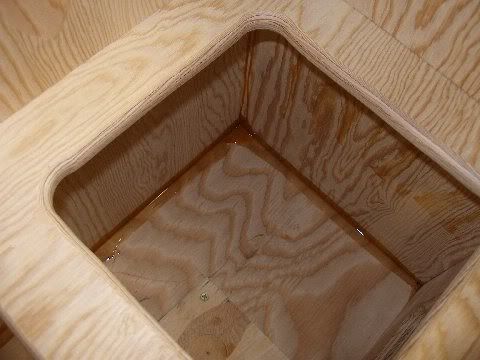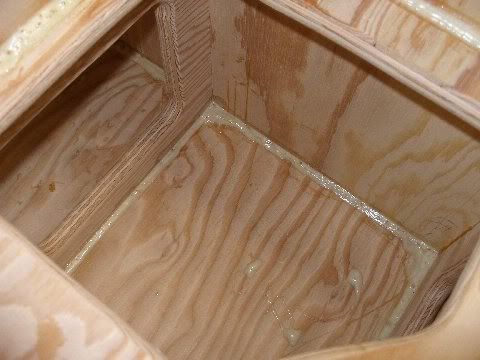 Now the fronts are glued on and the sanding begins