AJ, I notice that you take every opportunity to say something derogatory about audiophiles. This is a pattern that I noticed back in 2009 when I became acquainted with you as evidenced by this post from the Parts Express Tech Talk forum: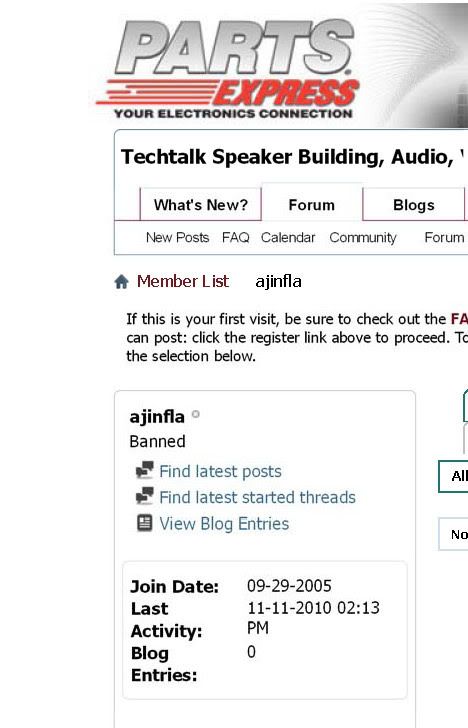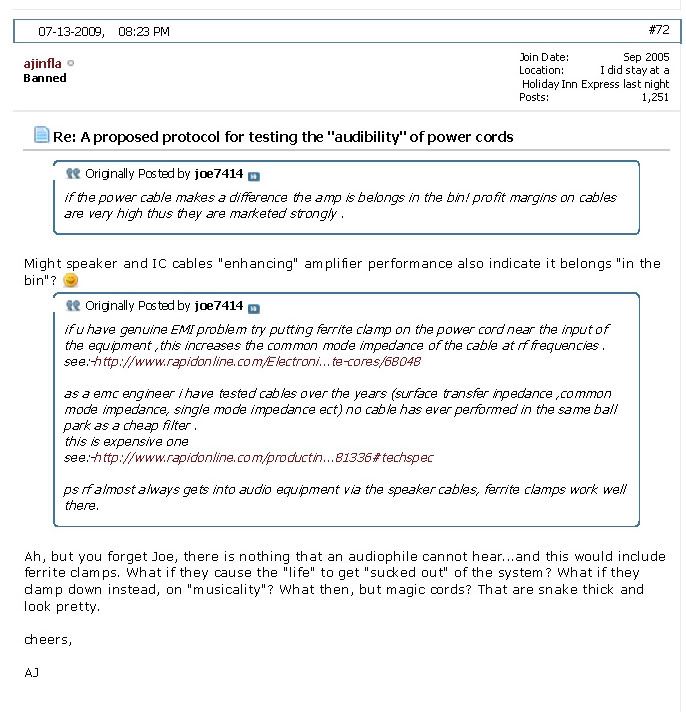 You seem to have a extreme disrespect for all audiophiles, yet on your speaker company website (
http://soundfieldaudio.net/Home.html
), you make the following curious comment:
"Our first product has been launched, the Monitor 1, after the overwhelmingly positive reviews from seasoned audiophiles, at Capital Audiofest 2011."
I don't understand the apparent discrepancy between your mocking discourse toward audiophiles on Internet forums, yet you welcome their opinions, and I expect also their
CASH
, when it comes to marketing your speakers. If you have any audiophile customers, do you express to them in person how you really feel about them?
It is incredible that you think one post made in 2003 describes the totality of my experience in audio evaluation. I hope you don't take a similarly narrow-minded attitude when designing your speakers. To answer your question, yes I did consult with psycho-acousticians.
I would put the same question to you. Did you, as a stereo speaker designer, consult with psycho-acousticians?
Quote:
Originally Posted by
AJinFLA
Of course it did! Being an EE or MD or whatever, doesn't exempt one whatsoever. "It" being the very same imagination, placebo effect and personal bias you acknowledge, which is why I pondered why you would call it an "experiment" earlier. I mistakenly thought you meant an audibility experiment, but I'm clear now you wanted to show how easy it is demonstrate imagination, placebo effect and personal bias leading to experimental error. Bravo, you did well. Very amusing commentary too as to how the imagination can run wild during these causal listening/viewing/knowing events.
When you attend Capital Audiofest this year and demonstrate your speakers, I think you should amuse your audience with some anecdotes of the validated imagination, placebo effect and personal bias of audiophiles. One of my friends met you at last year's Capital Audiofest. He said you actually were very cordial and professional in person, with none of the braggadocio and constantly derisive behavior toward audiophiles that you display on the Internet.
Quote:
Originally Posted by
AJinFLA
I'll take a look, but what a bizarre place to put it. Why do you cite IEEE literature for Otala, TIM, isolation effects etc, the use some sort of cooking site for your work? Does it make the IEEE type papers, like Otala, suspect? Was Otalas TIM listening methods valid and consistent with your methods? If not, why are you citing them...or any IEEE "audio system" related papers?
Read the title of the journal. Next, read about the purpose of the journal. I wrote a paper about the application of sensory science principles to audio evaluation and I submitted it to a premier sensory science journal. It is amazing that you consider that bizarre.
If someone says your speakers sound great, should I accuse them of imagination, placebo effect, personal bias and common sense? I mean, wouldn't it make more sense to buy a speaker from an established manufacturer with a solid record of quality and customer service?
Actually, I did not buy the Tiptoes, they were given to me. If you, as a speaker manufacturer, are not familiar with the concept of "construction standards", I feel sorry for your customers.
Since you were not present when I did the evaluation of the amplifier's sound improvement with the Tiptoes, it is presumptive of you to categorize it as imagination, placebo effect and personal bias is it not?
Do you think the "seasoned audiophiles" (I will refrain from making a joke about spices here) who gave your Monitor 1 "overwhelming positive reviews" were suffering from imagination, placebo effect, personal bias, and lack of common sense? What assurance can you give that the opinions of these "seasoned audiophiles" were accurate and that others will hear the same good sound they heard?