For those who now must purchase either the Wagner Control Spray Double Duty (self contained) or "Plus" model (separate Turbine), this Thread is intended to show the difference in both spray technique and how those units can put up more paint faster than previously shown.
I speak much about "balance', and in spray painting Screens, what you want is a balance between the amount of air pressure mixed with the paint volume. With HVLP painting, the term High Volume-Low Pressure means more Air is mixed directly into the paint (not pushing it), creating a fine, atomized mist. To do that, the paint cannot be too Thick. But with the BIG increase in air pressure available with the "DD and Plus" Wagner, a degree of 'cutting back' on the water used for dilution would seem a quick and sensible "fix".
In order, the first video shows my first spray attempt using the "Plus' model. The Mix was diluted as usual so in the respect I was already committed. I was using the larger Tip that comes with the "Plus" as well. The force of delivery surprised me.....as did the "height" and consistency (density) of the pattern.
Disclaimer: DO NOT try to go immediately back over an area after the first coat. I "very quickly"did because I thought I needed to even up a couple sparse areas, and in doing so I came extremely close to getting multiple runs.

LOUD AUDIO WARNING !!!The following Videos have not been edited for volume or length. As such, PLEASE turn down your PC's Speakers before playing as the Turbine noise is quite loud due to the Camera being located close to the separate Turbine casing.
1st WoW coat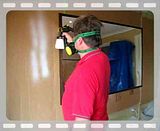 Second Coating w/ Larger Tip
2nd coat
3rd Coat using the Smaller Tip from a Wagner Control Spray I had brought with me. You can see how very much slower I could/was going. After the 1st two heavier coats, I surmised that all I needed was one more normal coat, so I applied such at what would be the normal speed using a standard Wagner.
3rd Coating
THAT was almost a disaster as well. Even with the smaller Tip, the "Plus" was laying down considerably more paint than the standard CS ever could/would. As a result, I did get 2-3 very small runs. But since they were on top of previously painted (...AND dried....) coats, they dabbed off easily with a slightly dampened rag and it was impossible to see those spots afterward.
Moral; Always assume that you are better off "Dusting" two finish coats that trying to lay down 1 thicker coating. Because....you are.
These next videos are from Memphis, TN where three Screens were painted under VERY windy conditions out in a Parking Lot!
This first Video shows just how windy it was. I had serious concerns that the spray would even hit the surface before being dispersed by the wind! (...never mind the risk of wind-blown debris...) But as the Restaurant/bar had just gotten both Carpet and painting done, painting 3 screens inside was not possible....or advised.
With the first attempt, painting 2 screens at once. Because of the brisk wind, I used the larger Spray Nozzle (Front End Kit) and simply scooted along faster than normal and at a further distance than usual. Between doing such, and with the wind blowing about 15 mph+, you can see how much paint is being blown away from the screen. Yet still, the "Plus' is managing to lay down a pretty even coating.
I must repeat this warning, and assurance that had I not been faced with such adverse condition for painting (wind) I would NOT have used the larger Spray Nozzle.(Front End Kit)
[font="Impact"][color="Red"]
http://s586.photobucket.com/albums/s...rstspray-2.flv
This second video shows the 2nd coat going up on the dual mirrors using the smaller Nozzle (Front End Kit) because blessedly, the wind had died down. Note the difference in painting speed across the surface. Distance "Spray Tip from Surface" was 12" - 14'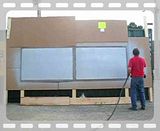 This last video shows the first coat going up onto a larger Mirror (96" x 54") in what can best be described as less than optimal lighting.
But really, spraying with the Wagner is so easy, you can almost do it with your eyes closed.
But really, the consistency of the spray pattern is such that if you start 5'% off the top edge, and then drop no more than 505 of that distance to overlap each coat, as long as you can see your hand and the surface, you can be certain the coat is going up just fine.
(...assuming the gun isn't surging or sputtering in any way....)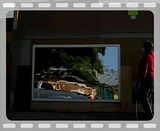 Watching the last video, I found it amusing how the gradual loss of the mirror's reflected light resulred in the entire image going to "BLACK". It WAS that dark outside. And I applied two more coats after that as well.
Also watch that flexible Air Hose!
It's just expanded 1.5" plastic Hose, and crush-able when stepped on. And crushing shuts off the Air...which upon returning with "Plus" force will hurl large spatters of "backed up paint". I mean LARGE! (quarter sized)
But once again, if such an occurrence happens on top of dried paint...no problem. With such diluted wet paint, you can just dab off the bulk of it, them wipe off the rest and dust over the spot. The next full coating will cover. A fresh Mirror? SOL baby.....ya gotta wipe it all down and start over if the splatter runs onto freshly laid "Dust" because having an even Duster coat over a raw Mirror for a primer/base is very important. It's not called "Dust' because sections are overly slick with paint.
In summery, you can paint a screen using a Wagner Control Spray PLUS without having the smaller Nozzle that comes with the extra "Front End Kit", but EXTREME care must be taken to not dally, hesitate, or slow down as one moves across the material. Nor can one risk going "directly' over a just painted spot to correct a weak/missed area, beyond the overlapping that occurs with each row.
Soon I'll be trying a Screen job out using a less diluted Silver Fire Mix and using the "as it comes with" Front End of the "Plus'. I expect similar results as I got using my old Pressure fed HVLP Gun and it's wide 2.2 mm Needle/Nozzle. A slightly coarser finish. That might actually be a good thing now that PJ are as bright as they are and there is less a need for a Mirror smooth Flat finish
( smooth reflects more light directly....while a slightly coarser finish refracts light and widens viewing cone,)

I'll post the results at this Thread location.
Also I invite questions, comments, and requests for further instructions, and invite any other member who paints his Screen using one of the Wagner Control Sprays to post any Video showing the use thereof, within this thread.