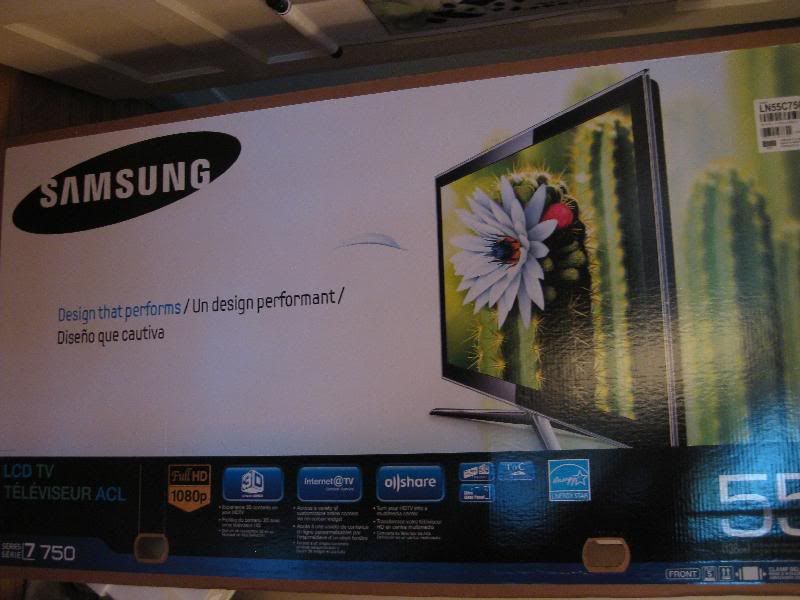 Just wanted to share a quick review/observations of the LN55C750...
Screen/Panel: glossy and reflective like its B750 predecessor. According to the SN label, this unit uses the "SQ01" panel. The box says the screen is "ultra clear" if that matters to anyone. The tv is currently set up in the attic with a lot of sun light, and reflections are very noticeable. With the drapes closed, daytime viewing is fine. The colours are quite vibrant and had the same type of "pop" as the B850 plasma and C8000 (they were side-by-side) in the store. However, the C750's whites were much whiter than the B850...but I guess that's inherent in LCDs.
Blacks: Caveat: I haven't had a chance to calibrate it, but out of the box, the brightness and backlight are set quite high. Turning these both down slightly allows the image to blend with the borders nicely. Haven't noticed bright spots in the corners, or any flashlighting and clouding while watching a few scenes from Planet Earth. Part of the reason I went with the C750 was that it didn't have the bright corners as the C7000/C8000 (and the fact that it was quite a bit cheaper as well).
Lag: I tried playing Modern Warefare 2 on my xbox (both on and offline) and noticed lag in normal mode. No noticeable lag with "game" mode on.
Remote: nothing special here...
Aesthetics: Clean look, with a 1.5" black frame and a clear plastic border. Not as striking as the C8000, however. The chrome stand is growing on me, but would have preferred the regular stand from 2009.
3D: no content or hardware to test. Based on the demo of Monsters v Aliens, i' think i'll hold off on adopting this tech.
Overall: the 55" is massive...I think it's way to big for my tiny attic of a room. The image is crisp, colours are vibrant and I like that fact that it's not edge lit. I like the fact that I do not have to use dongles to plug in component cables...and the fact that the power cord is NOT attached to the unit.